How to Save up to 20% of Your PPC Budget By Finding Thousands of Non-Trivial Negative Keywords
We frequently use exact match, broad match modifier or phrase match as our keyword matching options in AdWords.
As for negative keywords, this aspect is often overlooked even though it is vital for AdWords campaign optimization.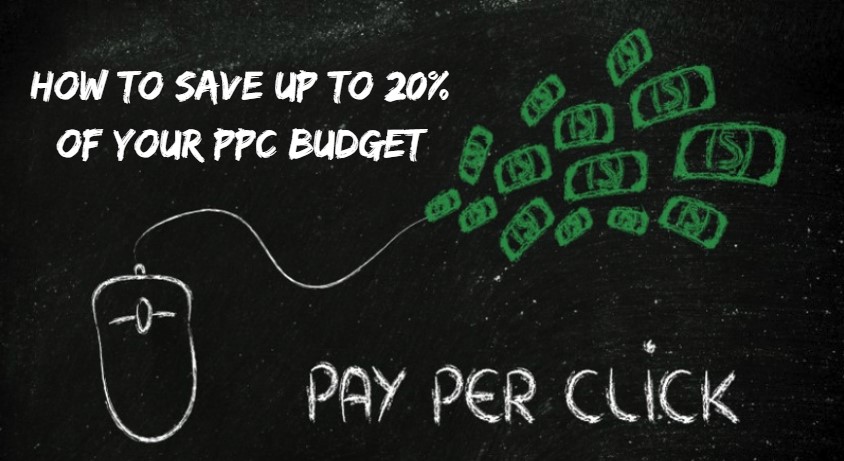 Negative keywords are vital to AdWords campaign optimization. There are many guides on how to correctly identify and create a negative keyword list.
We will not split hairs on how one should manually insert negative keywords to AdWords. What we really need is a huge list of negative keywords that will eliminate a large portion of irrelevant search queries and save a significant amount of a PPC budget.
How Can Kraftblick Help Your Software Company?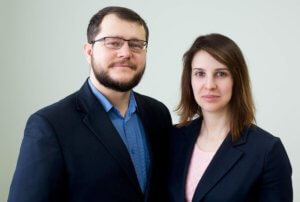 See you soon 🙂
First, let's take a look at an example of where your ads could end up should you completely forget about negative keywords.
Let's say someone wants to advertise their company which develops mobile apps.
Their advertisers select AdWords for their website promotion but aren't especially worried about negative keywords.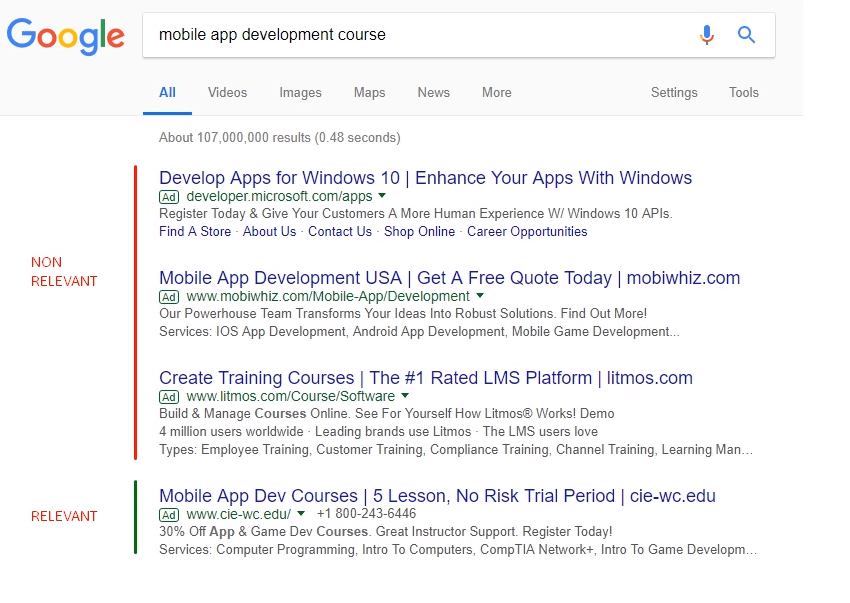 Source: google.com
As a consequence, the ad is displayed for a user who wants to learn how to develop mobile apps with the help of educational courses—that is not what the advertisers wanted or intended.
In this article, we will tell you:
Why we should embrace negative keywords.
What consequences keywords absence brings.
What standard approach to the negative keywords additions is and describe its disadvantages.
How to add negative keywords in the least time-consuming way that will save you plenty of effort.
A Standard Approach to Adding Negative Keywords
Before we dive into a standard approach to adding negative keywords to AdWords, let's consider what consequences advertisers would face should they skip this part entirely.
As you can see, mobile app developers in the example above suffer from their ads being shown to a user who is absolutely not interested in purchasing their services.
They face two problems, one worse than the other.
The first is a low CTR. The person who created the google search on trying to find a development course is not their target audience.
Low CTR is pretty bad, but the worst-case scenario here is the one where the user clicks on the ad, makes the advertiser lose ad money and, inevitably, doesn't convert as he was not interested in the service in the first place.
These problems were addressed back in far 2012 on Rand Fishkin's Moz.com by Keri Morgret. Way to go, Moz marketers! They have indicated the problem that is more than relevant even six years later.
To avoid this, an advertiser should insert negative keywords when creating an ad. They can add negative keywords at any stage of the campaign.
The campaign manager only has to have a look at the search terms report in AdWords to find off-target keywords.
This approach has the following disadvantages:
Manually placing negative keywords in AdWords is less effective as not all the irrelevant search requests will be detected.
The bigger the set of negative keywords, the more time-consuming (effort, money) the task.
To avoid spending countless hours of manually entering negative keywords, we suggest automating the process by acquiring a list of thousands of negative words to optimize your AdWords campaign—this can save you a decent amount of money on your PPC campaign.
Smart Ways to Add Negative Keywords to AdWords
These are step-by-step instructions on how to fill your AdWords campaign with a large set of negative keywords.
You will need some software programs to obtain a negative words collection. Among these programs are Ahrefs, Keyword Researcher, and Key Collector.
Analogs may replace some of this software, but the screenshots and the guide are made with the help of these programs. We find them suitable for the job, and this software is sold at a relatively low price.
So, let's take it step-by-step.
STEP 1: Collecting all the relevant keywords
1) To begin the process of collecting keywords, log into Ahrefs and choose Keywords Explorer. Then type in the keywords we are interested in – "Project Management Software."

Source: ahrefs.com
What we need is "Keyword ideas"— you will get quite a nice long list of over 6,000 keywords similar to the one we have just put in.
Source: ahrefs.com
After getting all of the keywords, the only thing left to do is to export them. Use the small Export button in the right upper hand corner to perform this action.

Source: ahrefs.com
2) You can also get a list of keywords with the help of the main keyword, and the Google autocomplete function.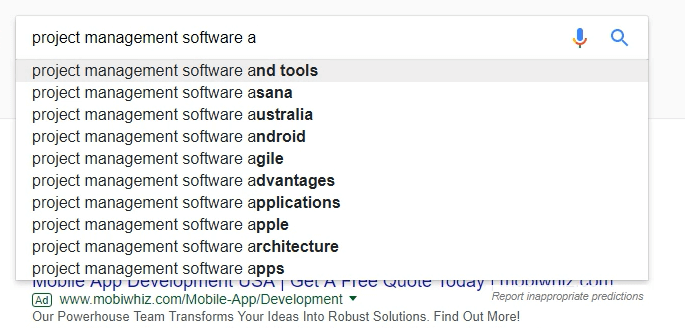 Source: google.com
There is no need to collect all the tips manually as there are plenty of software programs (including free) that can help us with that. We use Keyword Researcher.
After entering in the main keyword, we select depth from Aa to Zz as shown in the image below. Next, press Play and wait a small amount of time to receive the resulting keyword list.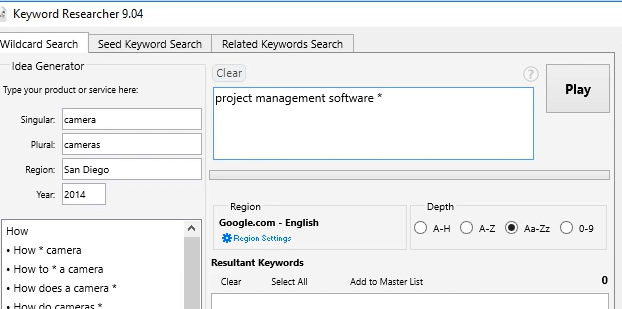 Source: Keyword Researcher 9.04
By now you are done and through with collecting a decent list of keywords. You now have to analyze them and find the negative ones.
STEP 2: Importing the keywords to Key Collector and analyzing them
After receiving the keywords, it's time to group the words and find the keywords that you would like to refuse in your PPC campaign.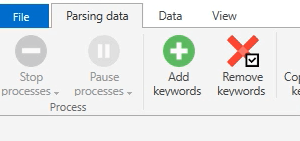 Source: Key Collector Software
First, you have to add the keywords that you've collected to Key Collector. Choose the tab "Parsing data" → Add Keywords.
All you have to do after pasting the keys (or selecting the file the keys are in) is to add them to the data table.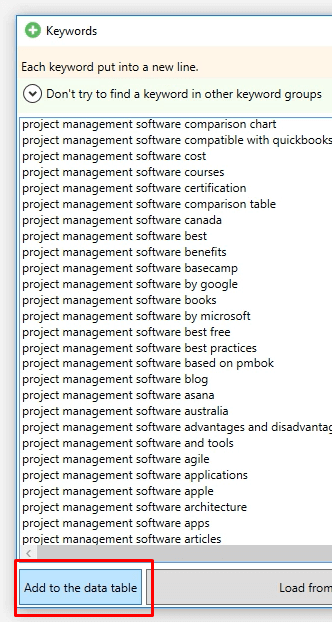 Source: Key Collector Software
To get the keywords grouped, dive into the "data" tab → analyze groups.

Source: Key Collector Software
After analyzing, it's time to select the groups that definitely contain keywords that will not be helpful to your AdWords Campaign.

Source: Key Collector Software
As you may have guessed, you have already started the process of finding negative keywords for the campaign. So let's move on to the next step.
STEP 3: Getting rid of irrelevant keyword groups
Select all the groups with words that are not relevant to you.
After this, right-click and select "Send all words from the definitions of full-checked groups to the stop words tool" option.

Source: Key Collector Software
You will have an opportunity to double check the words before sending them to AdWords as negative keywords. Take another look at those keyword groups as you add them.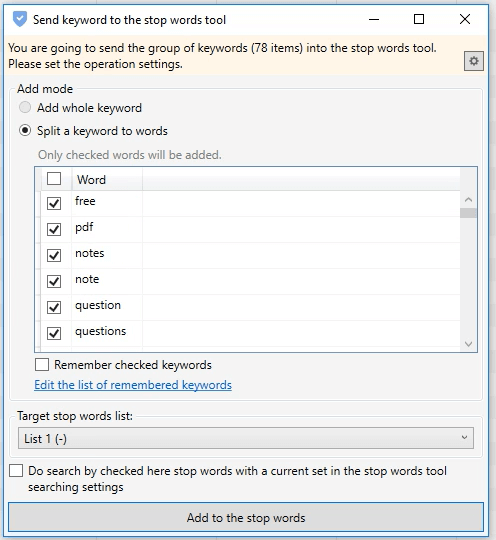 Source: Key Collector Software
As a result, the advertiser will get a long list of negative keywords that would help him/her save money on their PPC campaign budget without spending extra time, effort and money.
At this point, the only thing you have to do is select all the stop words and add them as negative keywords to AdWords.

Conclusions
Marketers and advertisers cannot stop emphasizing the importance of negative keywords. Yet, they continue to undervalue them in practice.
I like how HubSpot calls them "the classic way to filter out unwanted, irrelevant clicks on your AdWords ads."
Instead of reading tons of material on "universal negative words" you "have to include into your AdWords campaign," we gave you practical advice on how to create and implement lists with tons of negative keywords
Tell us if you find this info useful, or maybe you have some other ideas to increase your PPC campaign efficiency?
*The article is prepared (structured and formatted) by Terenty Marinich.
Done with reading? Now you may want to check this: