Why Creating Relevant Content Is One of the Best Search Engine Marketing Strategies
Content. All SaaS companies know they need it — they are particularly well-placed to benefit from the magic of content. Publishing skyscraper content means you will stand out.
But did you know that it can also improve your standing in search engine results pages (SERPs), drive more traffic to your site and attract more qualified leads?
Read on to learn which strategies will increase your visibility in SERPs and attract more qualified leads.
Search Engine Marketing Strategies to Increase Visibility
You may have already published a lot of content but found that it's not performing as well as you'd like. There's a lot you can do right now to increase your search engine visibility, which we'll go into first.
Attract Inbound Links from High-Authority Domains
The lion's share of good SEO is arguably the promotion of your content once it's published. If you already have some impressive content then you're missing a key trick if you haven't asked other domains to link to it.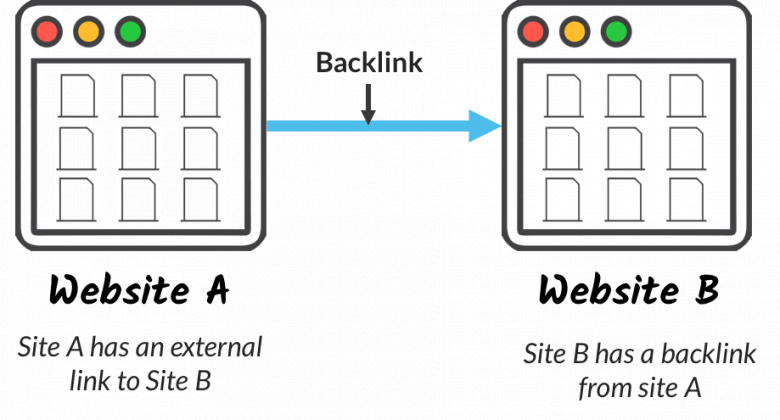 Image source
You can't really control whether other website managers will want to link to your post, but if you have written quality content already you can do one of two things:
Guest post for a relevant blog and ask the owner to include a link from your guest post back to related content you have already published.
Email outreach to relevant websites with strong domain authority to ask for backlinks.
It's hard to ask for something without giving in return and it's forbidden by Google to pay for backlinks. One of the best ways of getting backlinks is to network with influencers in your niche, then ask them to link back to content in which you have mentioned them.
Restructure Your Existing Content into "Pillars"
External backlinks increase your visibility but so do internal links.
That's why structuring your content in pillars (or "topic clusters") has been shown to significantly increase your search engine visibility.
Here's Hubspot's visual representation of how to structure your topic in clusters: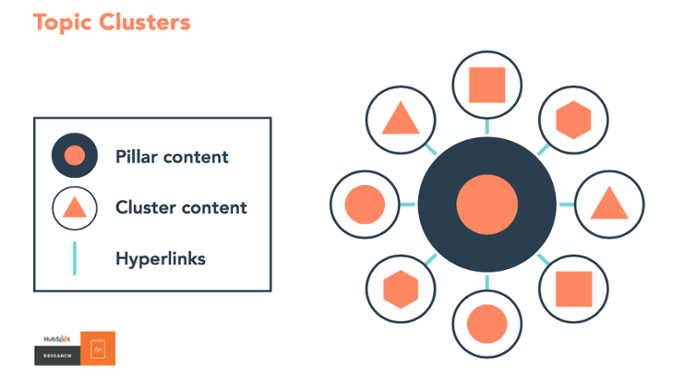 Image source
It's all about linking your content together within broad categories to gain more authority on a topic. Google wants deep-dive content that will accurately serve users the information they're looking for.
The pillar page is the central page linking together all your deep-dive topics. It gives a broad overview to users who then click through to other pages when they want to learn more.
There are many other ways to increase your search engine visibility, including publishing content your users are actively searching for. We'll go into this approach in more detail next.
How to Come Up with Content Your Users are Searching For
Your current and potential customers are a fantastic source of content ideas.
We've already written a couple of posts on how to generate content ideas that really convert. You can read them here:
To go further afield you can use tools like the Google Adwords keyword planner or SEMRush to find popular keywords and keyword strings being typed into search engines. BuzzSumo will tell you what published content is most popular right now so you can start outdoing it.
When choosing your keywords, look in SERPs for content gaps, meaning places where there have been no new articles published in the last few years, or an absence of top brands.
What Sort of Content Should You Publish?
Much of the search engine marketing advice out there is written by marketers for other marketers. This makes it seem harder than it is. If your target audience is marketers, you have to up your game to provide value for the experts because there is so much content already
Lack marketing resources?
Need quality traffic / qualified prospects / cheaper leads?
We help software companies get affordable leads through SEO and PPC.
Click here
to ask for help.
Chances are that you have the information your customers are seeking within your domain. Your content should reflect the insights you have as a company operating in your space.
If you are a company selling payment processing software for SaaS, your domain of expertise is subscription pricing and related topics. This is what your content should be about.
Even if you outsource content creation to specialist freelancers or agencies, you must showcase your own authority in your niche. You do this by publishing content that is better than what's out there in your domain. Sound hard? It's not as difficult as you may think.
Dig deep and specialize your content, making it so targeted that one specific group can gain crazy amounts of value from it. Be as honest as possible so your customers will start to trust you.
Marcus Sheridan has published his taxonomy of the "Big 5" of content marketing topics. Your topics can cover:
Pricing and costs (costs of different software solutions)
Problems (problems a customer might have that could be solved by your software)
Comparisons (comparing different software solutions)
Reviews (reviews of different software in a space)
Best in class (showcase top software in a space)
Your Turn
Using content marketing to increase search engine visibility is a strategy for the long term. When you use the techniques mentioned here, the results can be remarkable.
Content marketing has huge potential for SaaS companies to market their brands, build traffic and generate more leads.
Focus on:
Attracting backlinks from high-authority domains
Restructuring your content into clusters
Providing customers with answers they're seeking
Using real data to find content topics
Publishing unique content in your niche
Create content that is honest, specific and relevant, and that shows up in SERPs. Watch your website traffic soar as you attract more qualified leads.
Done with reading? Now you may want to check this: