How Proper SEO Benefits Your Content
SEO and content marketing are completely different concepts, but they tend to be pretty closely connected. Top-notch content online must be created to meet all industry SEO guidelines.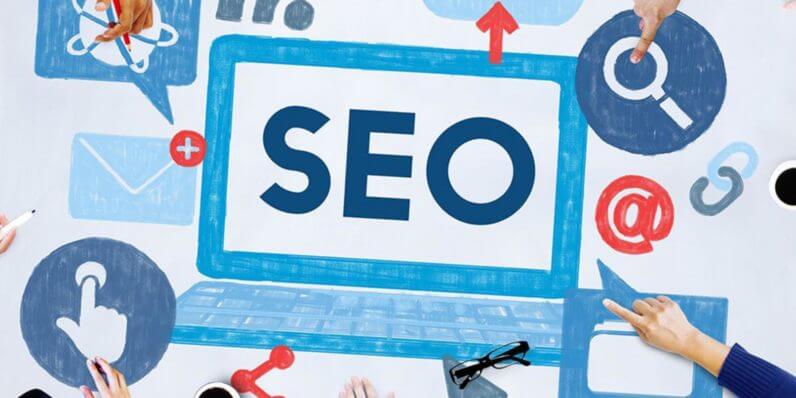 Image Source: dmnews.com
Here's another way of looking at this interaction.
I can't say that I am a huge comic books fan, but I do read them occasionally and watch some superhero movies from time to time. Sony Pictures' "Venom" debut trailer hit the Internet recently and it looks badass.
While Tom Hardy and a dangerous lab substance that got into his character's body have made a really interesting combination, we don't know how good of an anti(?)-hero Venom will turn out to be in the final version of the film.
What we know for sure is that the correct integration of SEO and content is able to create a nice symbiosis that will get your website to the top of search engines results pages (SERPs).
Forbes contributor Jason Demers says that, "content marketing and SEO share the same space frequently [due to] … the same implicit goal and mechanism".
The ultimate goal is to attract as many people to the website as possible. Preferably, not just any people, but the ones that will convert. Content marketing uses one way of reaching that goal, and SEO uses the other.
How Can Kraftblick Help Your Software Company?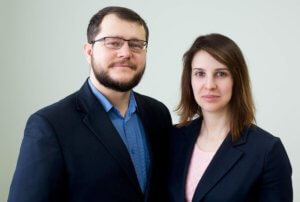 See you soon 🙂
In this article, we will speculate on the connections between SEO and content and their mutual efforts towards website promotion, the ways SEO improves content and vice versa, and the techniques we use at Kraftblick to improve our results.
How Closely are SEO and Content Marketing Connected?
It is safe to say that it is hard to work at SEO or content without touching the other. They are that closely linked.

Image Source: landerapp.com
Jason Demers advises to find a balance to cover both ends of this spectrum rather than making a choice between SEO and content.
In fact, SEO specialists have put a lot of effort and time into trying to figure out factors that get pages to the top of Google searches. In most cases, studies made by various companies confirm that the highest-ranked pages usually contain top-notch content.
SerpIQ's study shows that pages that rank the highest in Google's SERPs tend to also have the highest amount of content.
There is also a famous Google Q&A conference from March 2016 where one of the company's executives, Andrey Lipattsev, confirmed that two top factors for Google ranking pages are links pointing to your site and content.
Later that year, Backlinko's study of one million Google requests confirmed this. The number one finding of the study was that, "the number of domains linking to a page correlated with rankings more than any other factor."
There are also plenty of findings that confirm the fact that content contributes strongly to being in the top places of Google searches.
The average Google first page result contains 1,890 words. That is quite lengthy. By comparison, the article you're reading right now has only about 1,300, and we wouldn't say that it is very short.
Google has leaned towards semantic search recently, so the correlation between title tag keyword optimization and ranking wasn't that big, according to the materials from Backlinko's study.
Nevertheless, there are quite a few situations where SEO is able to show the way for content to develop. More on that in the following section.
How SEO Can Help With Content Improvement?
SEO can help with many aspects of content. Truly effective content strategies begin with research, including keywords research. For this article, we analyzed search volume and keyword difficulty using Ahrefs software, a keyword research tool.
There are many decent tools available for this purpose in the market, though. High search volume combined with low keyword difficulty is what you are looking for. Software comes in handy for comparison in manual research.
1) Prioritization of low difficulty topics. The lower the keyword difficulty, the easier it is for the post to go higher in search engines.
Choose topics that will benefit from low competition in the niche and that will be a positive moment for overall traffic and lead generation.
Unless you're already an established, authoritative brand, you're going to have to prioritize lower difficulty topics. Targeting these less competitive spaces will guide your content marketing strategy, helping you focus your efforts where they will make the most impact.
2) Getting backlinks. The higher your website and its posts rank in search engines, the more willingly will they be quoted by other marketing resources.
We have briefly touched on the subject of backlinks in the previous section of an article. SEMrush and Entrepreneur.com authors can't stop talking about how important of a factor they are in Google (and other search engines) rankings.
So the overall content strategy has to include ways to get backlinks.
We work hard at getting backlinks from respected sources. There are plenty ways of doing that:
For instance, we write guest blogs. One we've written recently describes our editing process with new management software called "ActiveCollab".
We add infographics to many of our posts to make them more shareable, as another source of promoting articles.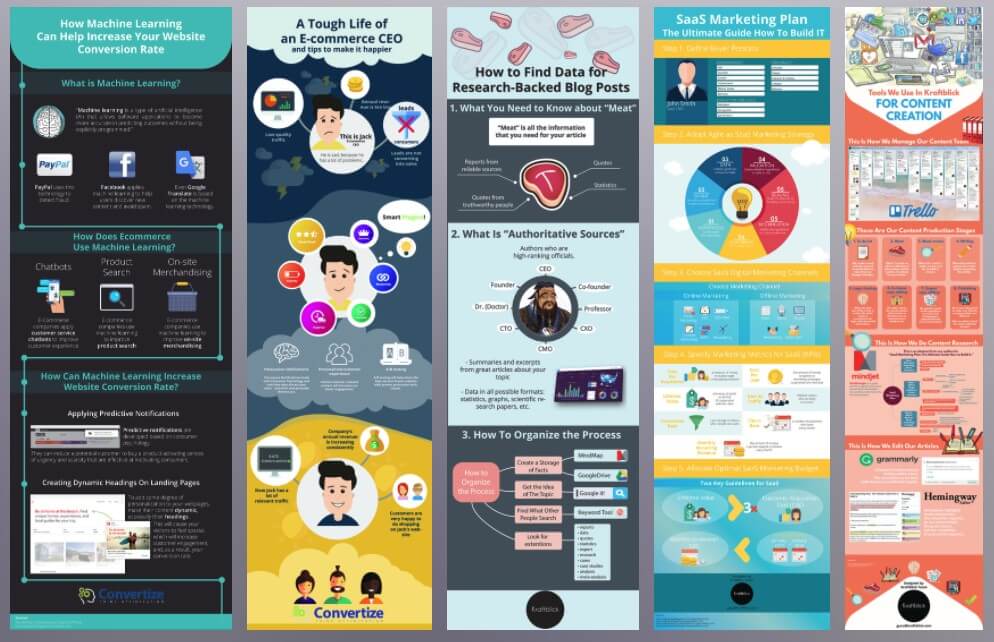 3. Also, don't be afraid of quoting other people's useful pieces of content. The leading marketers are glad to credit the source they take info from.
QuickSprout is not shy in that respect with its awesome guide, "The Beginners Guide to Online Marketing". It has 793 external links from 114 root domains.
We at Kraftblick link every quote and all the stats we take from other marketing sources.
To get a free quote on content marketing, SEO services and many more options (PPC, for instance) contact us and we will be more than happy to help your business out.
How Else Do We Use Successful Symbios of SEO and Content in Kraftblick?
We have more or less covered the subject of backlinks, but these are not the only links in our blog posts. Yoast's Meike Hendricks says:
"In addition to understanding the relationship between content, Google divides link value between all links on a website".
We are very well aware of this, so we have a checklist for all of our articles. Every blog post at Kraftblick should have at least 3 links that lead to other articles at our website.
Also, we have in-article CTAs that lead to the "contact us" section.
What do we also do?
Interlinking of our articles is something we pay close attention to.
Sometimes we don't work at new pieces of content.
It makes perfect sense to go back and update some old pieces of content with new relevant keywords, for instance.
Regular adjustments of content for SEO help it fare better in Google search, and sometimes those articles get a new life and a new source of traffic as they are ranked higher.
This is an easy and obvious way SEO is able to help content.
Even some of our other follow-up articles that underperformed start to get traffic eventually after their SEO adjustment. An example of such an article: "This is How We Create Content in Kraftblick: 2018 Updated Version".
Conclusion
When it comes to the symbiosis of SEO and content marketing, there is very little doubt that it is extremely useful for website promotion. SEO helps content, content helps SEO, and everyone's happy.
To sum up, we have highlighted the following ways to improve content with SEO and vice versa:
SEO helps with prioritizing low difficulty keywords topics.
Backlinks in content are great for SEO optimization.
Internal links also help with search engines.
Updates of the current topic can sometimes be the key for new life of a content piece.
What do you think of the SEO and content dynamic duo?
Done with reading? Now you may want to check this: