Scheduling Blog Posts Efficiently (Kraftblick's Editorial Calendar Revealed) [Infographic]
This article is dedicated to the way we at Kraftblick release blog posts.
Scheduling blog posts contributes to ensuring regular releases, and that helps in building a reliable base of readers.
The thing is, our blog isn't the only thing we are constantly working on. We also have clients we're creating content for.
To provide them all with high-quality articles and not forget about our own blog and its promotion, we have to build and keep up with a release schedule.
We'll show you how we do that and, to complete the article, share what we know about other convenient editorial calendars. We will also offer some calendar tricks for releasing and promoting content that are used by other marketers.

How We Release Articles
If you are familiar with some of our processes from previous articles, you might already know that we have monthly, weekly and daily plans.
Our monthly plan includes all the articles that have to be written during the course of an upcoming month for our website and the blogs of our clients.
Maintaining a consistent publishing schedule keeps the blog relevant to people interested in the topics covered in articles
How Can Kraftblick Help Your Software Company?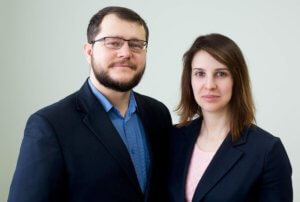 See you soon 🙂
HubSpot's Any Smarty says she has been blogging for a while and has never faced burnout, thanks to using some tricks. The thing is, she has a well-structured process behind posting.
To keep things simple, we use a Google Calendar for our use in planning the editorial calendar.
Here is how one of our old monthly plans looks.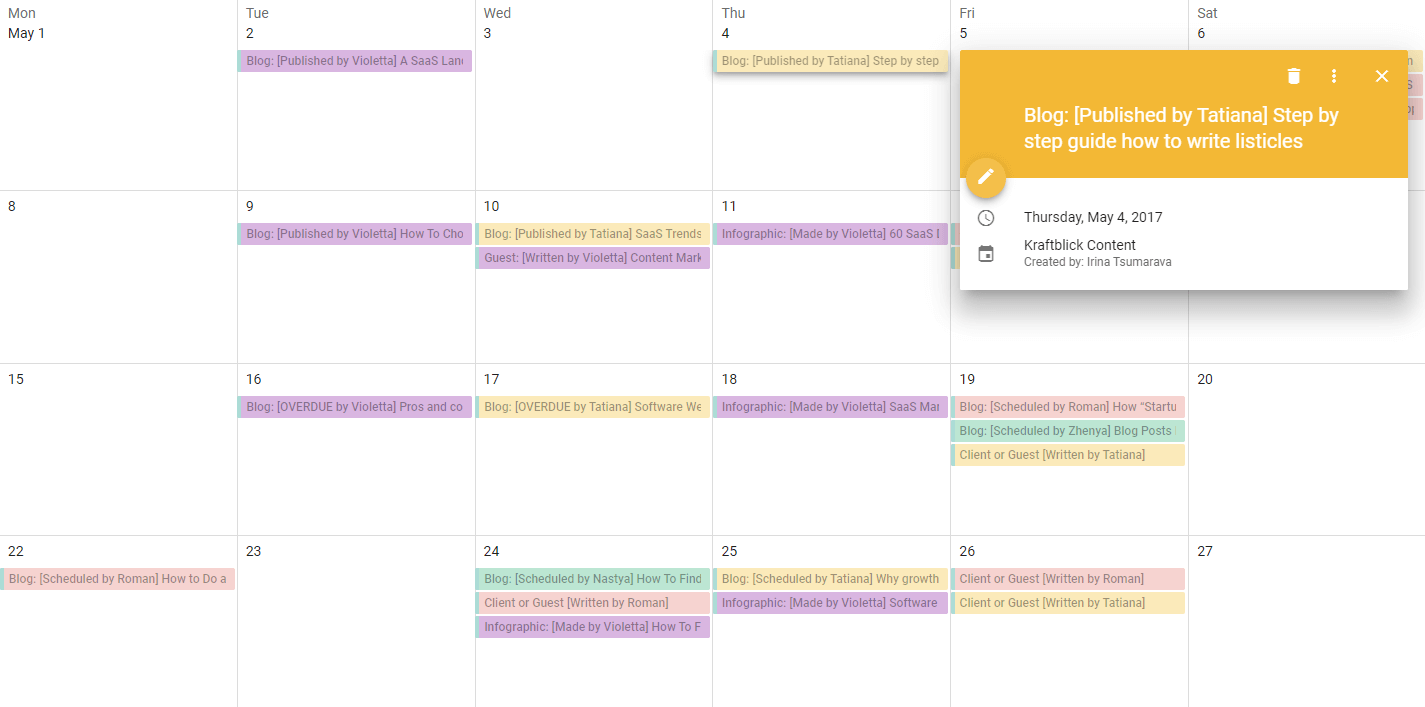 By the way, if you are interested in content marketing that can help bring you new qualified leads, and many of them, contact us. Perhaps you just need some help with planning? Either way, don't hesitate to ask us just that.
Though Google Calendar is kind of a default option, it comes in very handy in workload distribution. For instance, we can easily reschedule some articles, something that happens mostly when our editors see the material is unlikely to arrive before deadline.
Even the biggest online publishers, such as Forbes, Time, and Inc, use and sometimes even share editorial calendars. This is common practice.
And it's not at all surprising, considering that those business websites have to sell ads for their upcoming editions. Advertisers love to see when a certain article is about to be released, so as to buy advertising at a time when it's most compatible with editorial content.
Content-wise, this is why editorial calendars make sense, according to Co-Schedule, guys who produce those particular editorial calendars:
"When you force yourself to start at the highest level and work your way down through the food chain (yearly to monthly planning), you see everything from a grand perspective and consider each detail along the way."
We are staying traditional with respect to our editorial calendars. All we really need is a user-friendly interface — and Google Calendar is more than a good fit here.
How Marketers Schedule Blog Releases
Blogs built on WordPress have plenty of calendar plugins at their disposal.
CrazyEgg contributor Sharon Hall offers two potential solution for editorial calendars: EditFlow Calendar and CoSchedule, which was just mentioned.
Note that there are plenty of other offerings on the market; we've randomly selected these two calendars. Other software might have better features. We by no means are interested in promoting or advertising any of these calendars.
However, after briefly studying of each of these two simple calendars, we found some features that might convince us to consider using one of them in the future.
EditFlow Calendar is pretty convenient for providing a month-by-month view into your content.
It is integrated into WordPress and speeds up the process of publication, as the calendar is already there and you don't have to open up additional software to check it.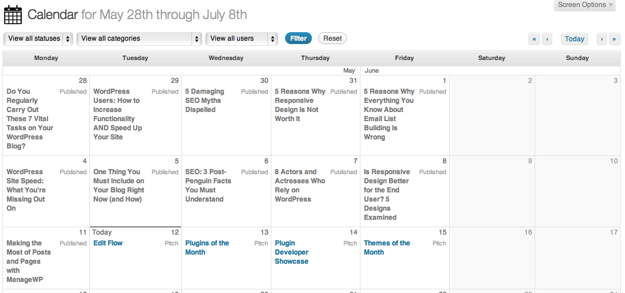 Source: editflow.org
As for CoSchedule, it allows perfect content planning visualization. You can see that in the image below.
If you drag a post from one date to another, all the social media promotion plans will be moved with it accordingly.
CoSchedule Calendar is also integrated right into WordPress.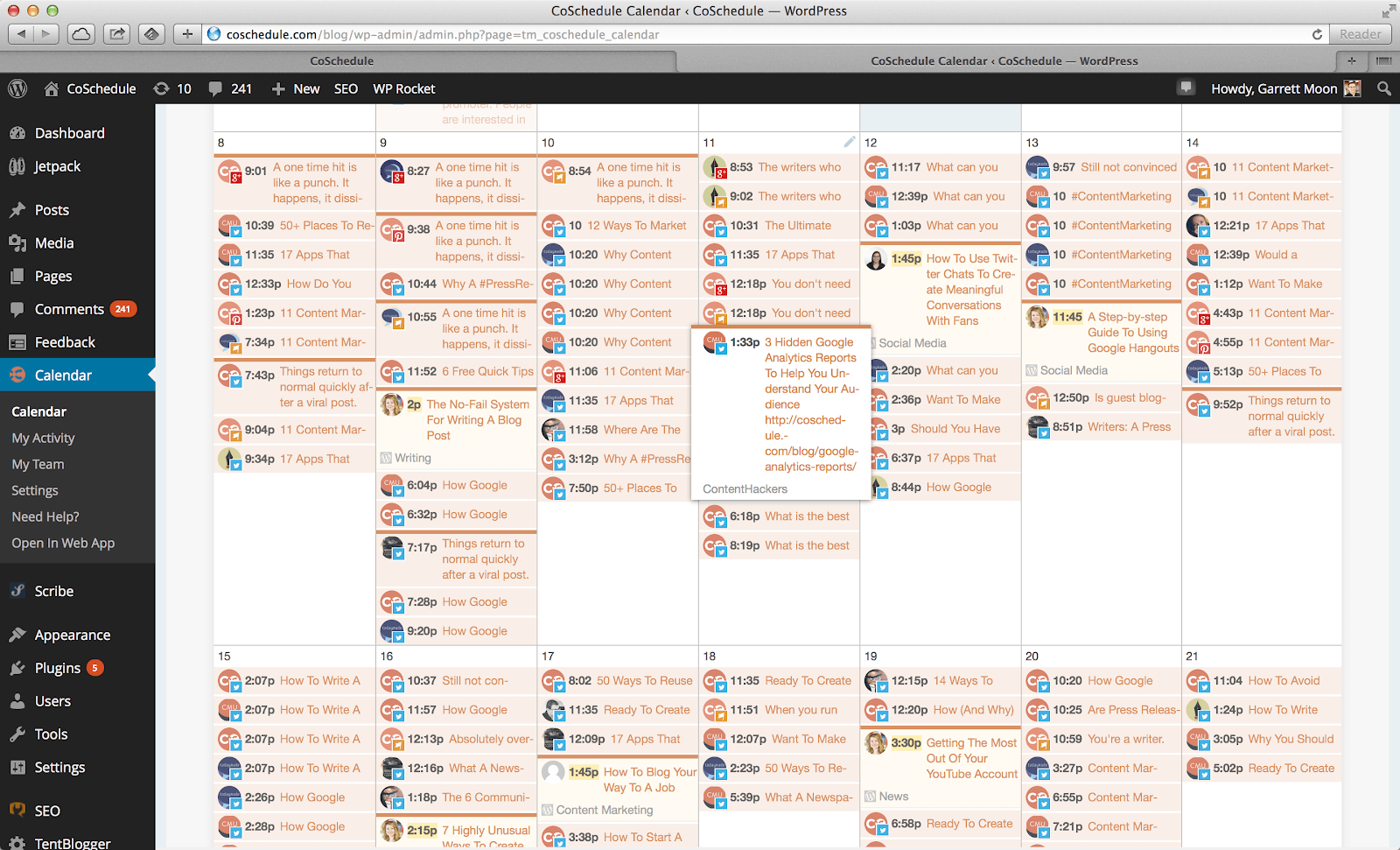 Source: coschedule.com
There are many calendars on the market, including free ones.
You can try Google Calendar or execute one of the options for editorial calendars out there.
Top Tips On Release Time and Date
Tip #1
Every day is a holiday for a certain profession or a certain country, somewhere. Of course, you wouldn't publish your marketing case study on Thanksgiving or Christmas, as those are hard to forget about. But what about minor holidays?
There is a huge number of minor holidays when a significant part of your target audience won't care about reading your post.
If you are not a sports fan, for example, you might miss Super Bowl Sunday, or the date of a World Series decider, and the number of leads you'll get if you publish that day may decrease, at least from a certain area.
This is especially important if you plan on promoting your article with the help of social media.
Our suggestion is to check out HubSpot's ultimate calendar, which includes minor holidays that might turn out to be important.
Tip #2
It is important to know the perfect time of day when leads come to your website. Google Analytics can help you with that. The process for doing that is described in the screenshot below.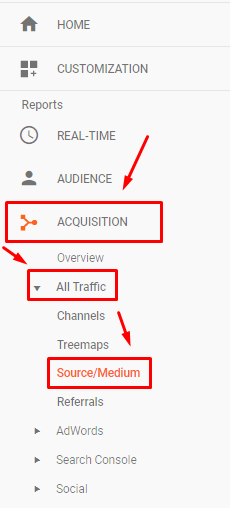 Source:  analytics.google.com
Most of the contact forms at our website are filled between 1 p.m. and 2 p.m. and between 7 p.m. and 8 p.m. EST. So we are publishing most of our posts an hour or so before these time periods.

Source:  analytics.google.com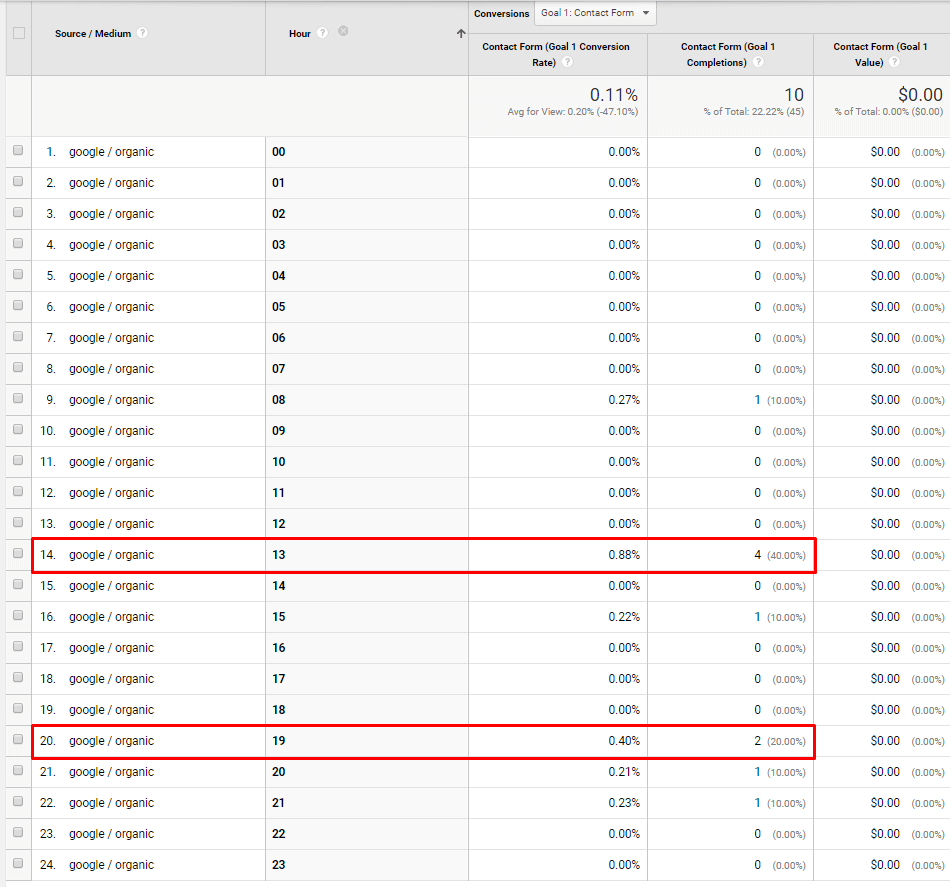 Source:  analytics.google.com
Take-aways
The process of publishing articles is hardly an art, but it is something that requires careful thought. To track activities within the release schedule, we use Google Calendar.
There are many other templates that could be useful as an editorial calendar. You may find an option online pretty quickly.
As for us, maybe one day we'll consider a transition, but for the moment we schedule our releases according to our monthly plan, and Google Calendar solves our problems.
What difficulties do you face while developing your content marketing plan?

Done with reading? Now you may want to check this: