How to Make Your Content Team Do More Tasks At the Same Time (Our Daily Planning Process Explained)
For many months, our company has been improving its planning process to make it as convenient and effective as possible.
First, we had an editorial calendar, and all the writers worked only according to the calendar and weekly plans.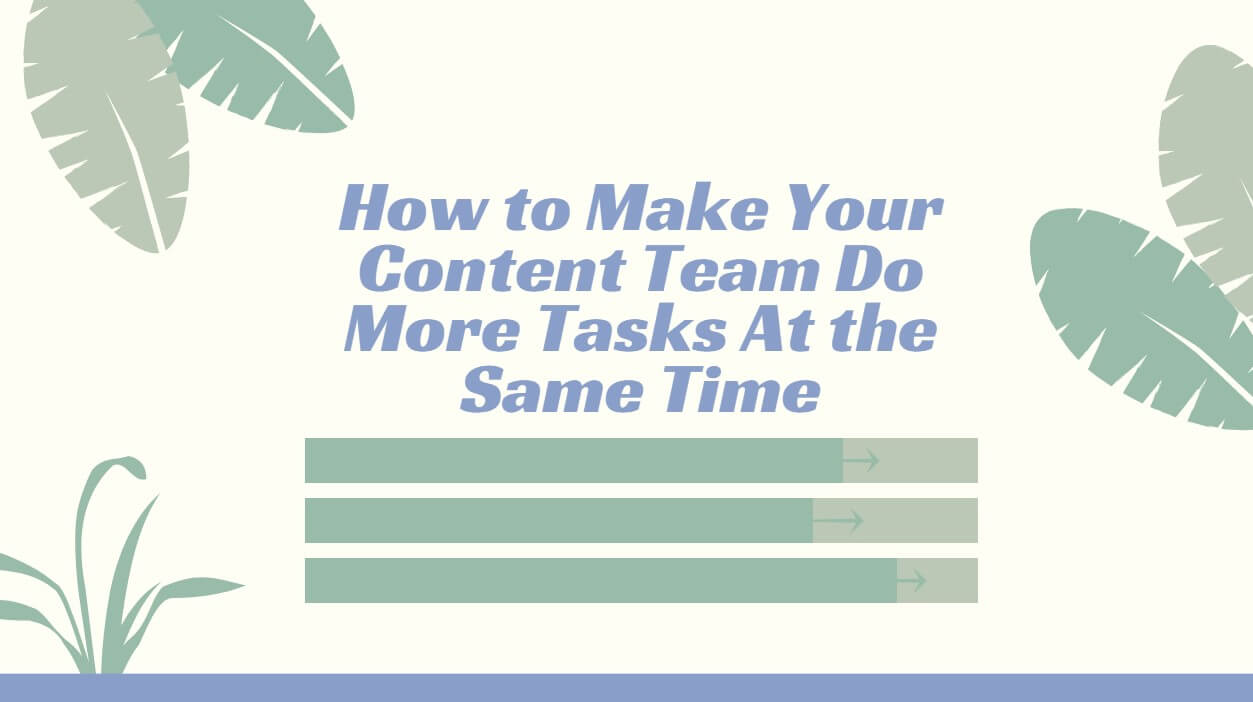 Then we introduced daily plans with strict guidelines on the number of words written daily. We later canceled these plans because of inefficiency, for reasons we'll discuss in more detail shortly.
After a lot of suffering and many lessons learned, we came to an important realization: no matter how you work with content, you should take daily planning seriously.
How Can Kraftblick Help Your Software Company?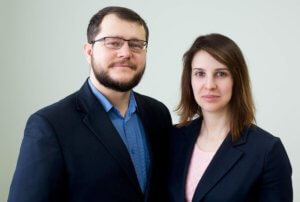 See you soon 🙂
In this article, we describe how a proper process for daily planning can make your content writers create at least six full-fledged articles per month, and also quickly make edits.
How Daily Planning Can Make Your Content Department More Productive
There are two tangible positive consequences of proper daily planning.
1. Your company's writers will feel you taking control and will take deadlines seriously.
Source: Comics Born Loser
Each of your writers will have a daily plan and will be obliged to report on the progress the next day.
It's difficult to juggle when you know that reporting is inevitable.
2. Your company's writers will never procrastinate because everyone can see when a task is at a standstill.
In our work, we managed to almost completely eliminate situations where tasks stop progressing.
This was all thanks to the rule that if a task is not completed for two days, the rest of the team helps the writer. This helps quickly identify and solve problems and ensures that no task is idle for more than a couple of days.
We used to have situations where tasks got stuck at a certain stage for too long. (You can read about the stages of our content creation process here.)
Because of this, entire weekly plans could get messed up, so the team had to come up with measures to help minimize such situations. We decided that two days would be sufficient to identify a writer having some difficulties.
This rule resembles the principles of so-called lean manufacturing.
In short, this is a manufacturing system focused on waste minimization that originally came from Japan.
One of its most important principles is to quickly solve problems that arise in the process of working, and our daily planning system's target is pretty the same.
Now let's discuss what exactly needs to be done so that the planning process works as it should.
How To Build The Daily Planning Process
For convenience, we'll tell you what exactly you need to do, using a FAQ format.
–          Should I just create a daily plan for my content department and that's it?
No. It is important to create weekly plans based on a monthly plan, and make daily plans that contain tasks from the weekly plans.
We realized the importance of linking plans after our company made a mistake last year.
We calculated that if our writers work for five days a week, then in a month, they should be able to produce 14,000 words. Based on our standard 1,500 words per article, we concluded that this would be nine articles per person.
Then we implemented daily plans at 700 words a day, expecting to receive nine articles from each writer per month.
At first, everything seemed to work: writers met daily expectations in terms of the number of words. But by the end of the month, we had not received even five articles from each writer.
Why did this happen? We realized that our mistake was precisely the absence of a link between plans. A daily plan can't exist on its own. The daily plan is only subject to the weekly plan, which in turn, is subject to the monthly plan.
It is necessary to create a monthly plan first, and then tie your daily plan to it (not vice versa). In this way, everything will work: monthly content plan à weekly content plan à daily plans for each writer.
Solutions:
Have your editor create a monthly content plan, weekly content plan, and then daily plans for each content writer.
If you do not have an editor, then entrust all the work with planning to your content marketers, or do it yourself.
–           How many tasks must be done by each writer daily?
Your editor should calculate how long it takes to complete a task and decide how much time has to be allocated depending on the length of each specialist's workday.
At first, your editor will most likely overestimate your writers' powers and estimate less time than is needed. Then writers may miss some deadlines, and the editor will have to make corrections to the writers' plans.
From our experience, creating an article outline can take an average of 5 hours, but the writing process may take from 6 to 9 hours or even longer (for example, when making a data-backed post).
Here is a piece from the outline for the article you are currently reading. It may not look very impressive, but believe me, creating and verifying the outline can take several hours.
Taking into account the average time needed to complete a task in your company, the editor must decide how many tasks are needed to fill each employee's workday.
Solutions:
Entrust your editor to calculate the average time to perform certain activities. He or she should know exactly how long it takes to create an outline, write an article, make corrections, and publish and promote an article.
Entrust your editor to distribute content writers' daily workloads based on relevant calculations.
For example, if writing an article takes seven hours, and making corrections three hours, do not give both of these assignments to one writer in one day.
–           Who should give daily tasks to writers and how?
The editor should compose each specialist's daily plan of incomplete tasks from previous daily plans, and add new tasks from a weekly plan.
For example, our editor created special cards for planning in Active Collab, a project management tool we use now.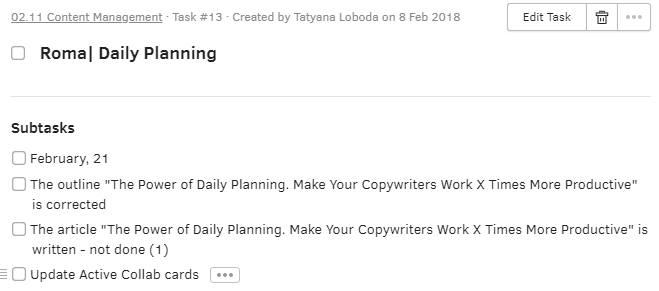 Here is an example of our card with daily planning.
Either, company writers can send their daily plans to the editor by email.

Here's what a letter with a daily plan might look like.
Solutions:
Instruct the editor to make cards, or make the editor instruct writers to send daily plans.
–           How do you ensure that the content team keeps up with weekly and monthly plans?
To make sure that every writer has enough work to keep up with plans, the editor should check that writers document their daily tasks every morning.
It is also important that tasks are written down in the form of deliverables. We have learned from experience that if tasks are written differently, specialists can perform tasks more slowly or make mistakes.

In this formulation, the result is replaced by a process, thus, the specialist is not actually responsible for the result. One thing is to report for the task "the outline is corrected", and another thing is to report for "to correct the outline."
It is better that the tasks are formulated like this:

Now the specialist will have to report on the fully completed task, not just a process of its execution.
It's also important to add a due date and time estimate for each task.
A due date won't allow writers to sit forever working on one task and will make them come to the editor immediately after finishing their tasks.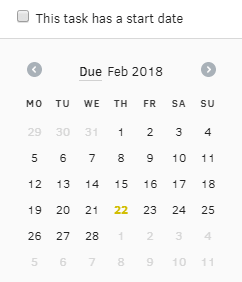 In our project management tool, we can set "Due date" like this.
"Estimated time" will help the editor analyze whether the work is done on time, or if it went past due.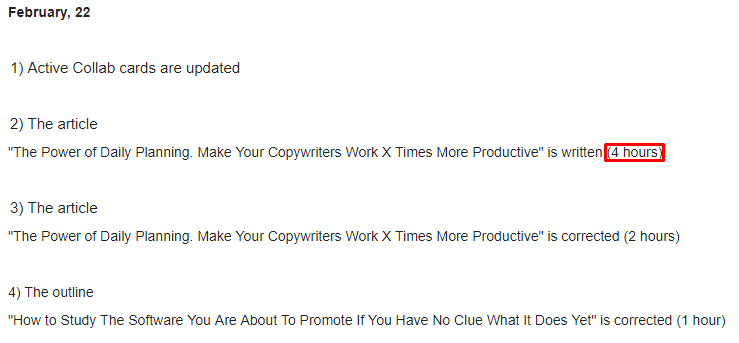 This parameter can be set both in your project management tool and emails.
Solutions:
Instruct the editor to make writers list their daily tasks each morning and set "due date" and "estimated time" parameters.
–           How can I monitor the progress of content writers' work?
Your editor should make writers set the status of tasks and discuss new daily plans with them each morning. For example, writers can leave "done" or "not done" notes near their tasks for the previous day. This helps the editor determine if a task has been accomplished and then provide new tasks.

That's what your writer can note when he or she does not finish this or that task.
We've already mentioned that in our company two days is a critical period. If the task is not finished for two days, the team will come in to help the writer.
Solutions:
Instruct the editor to check status (done / not done) of writers' tasks daily and to make adjustments to the writers' daily plans if tasks take too long or the writers fall behind the weekly plan.
Takeaways
After many months of optimizing our planning process, we realized how important it is to build a proper connection between our monthly and daily plans. Without this, daily planning will not bring a positive result.
To build the daily planning process correctly—and have our writers produce the largest number of articles in an available time period—we do the following:
We create a monthly content plan and a weekly plan, and based on them, daily plans for each content writer.
We calculate the average time for accomplishing certain tasks (writing, editing, etc.)
We distribute daily workloads according to time estimates and workday length.
Writers send daily plans by email for the editor to review.
Writers list their daily tasks each morning and set "due date" and "estimated time" for the tasks.
The editor checks task execution status daily with the help of "done" or "not done" notes near each task.
The editor makes edits in the writers' daily plans if the writers begin to fall behind the weekly plan.
How do you organize the daily planning process in your company?

Done with reading? Now you may want to check this: