Get It, Then Promote It: Our System for Studying Clients' Software
Our agency's work regularly involves cooperating with client companies and writing articles based on data from their software.
For example, one client's tool gave us access to a huge amount of data on thousands of display advertising campaigns, so we decided, with its help, to create a data-backed post demonstrating how it works.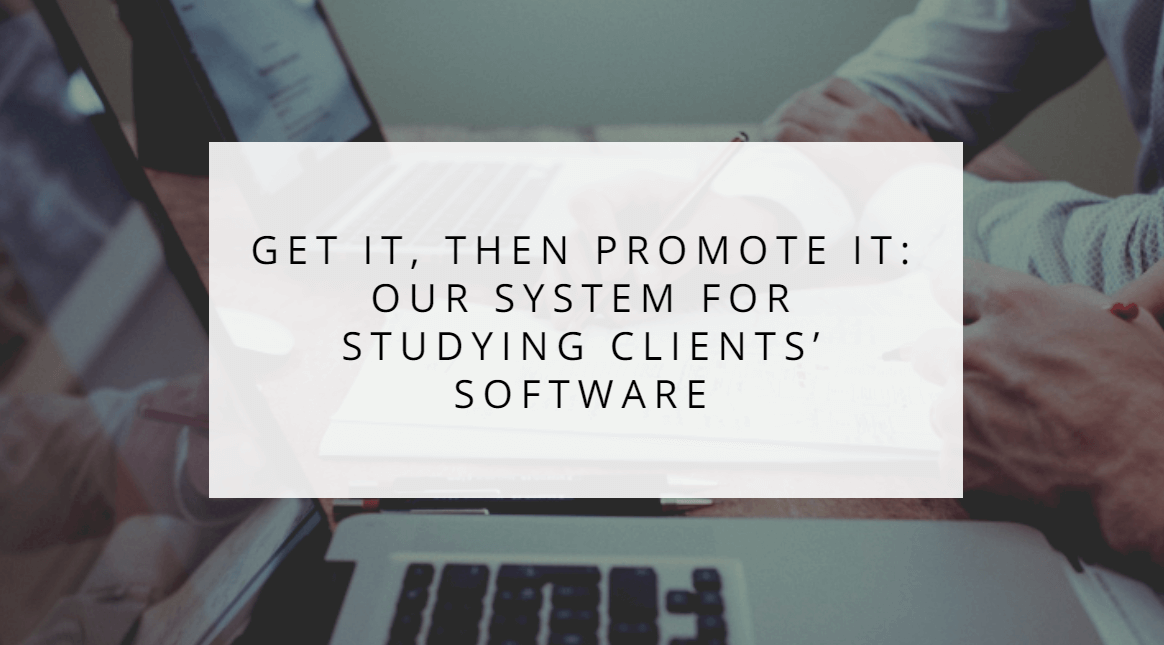 Another tool was rather complex project management software, and we needed to understand its advantages over competitors' tools in order to write specialized and relevant content.
We've worked out a systematic method that allows us to quickly but deeply study the software produced by our clients and create content based on our expertise.
How Can Kraftblick Help Your Software Company?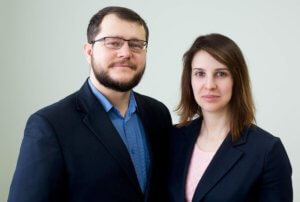 See you soon 🙂
In this article, we'll detail how we engage in this kind of software study for our clients, share some of our experiences, and explain how this affects our work.
Why It's Important to Study Our Clients' Software
What benefits do we get from a deep study of our clients' product? Here are a few.
Writers make fewer mistakes in the articles they produce
It's easy for writers who do not know the client's software very well to make embarrassing mistakes while writing an article.
These errors can range from misuse of terms to complete inadequacy of the data obtained.
Once, we wrote an article that analyzed banners related to Christmas holiday events to help advertisers improve their banners for the next Christmas.
To get the necessary data, we entered the keyword "christmas" into our client's tool and analyzed all the banners received.
Later, it turned out that the software showed not only banners related to a particular event, namely Christmas, but also banners that wormed their way into the search results for other reasons.
For example, religious organizations use the word "Christmas" or parts of it in their banners not only during the holiday season but over the whole year.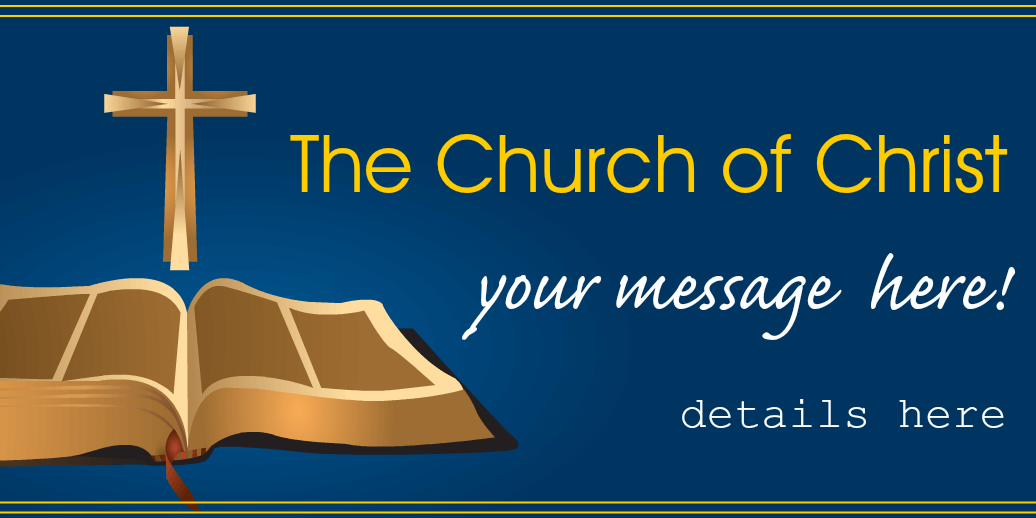 We got a lot of banners of this type. (Source: bestofsigns.com)
Thus, our data was not precise enough, and we had to separate out Christmas-related advertising banners in some other way.
If we hadn't quickly learned that the tool had captured a lot of irrelevant banners, our article wouldn't have been of much value to readers and might even have brought harm.
Clients are pleased to see us taking their brainchild seriously
Almost all our clients adore their software, and any technical questions about their tools always evoke an eager response.
The client also feels glad to see our agency trying to study their product as deeply as we can.
According to Leigh Tomas, a marketing guru and CEO of Dare, one of the main pain points that can destroy the customer/agency relationship is when "agencies do not understand their clients' world."
In this sense, the deep study of software helps us better understand our client's world and its specifics.
How We Study Our Clients' Software
Now we'll describe the algorithm we use to study the software of our clients as well as possible.
Or you can contact us and we will be happy to create a data-backed article for your blog. Thus you'll be able to see all of our skills in practice.
1. We ask for full access to a client's tool
At the beginning of cooperation, we always ask clients to grant us full access to their software, because we never know which feature will come in handy.
"The best way for companies to remain competitive is to utilize every bit of information that is available at their disposal," believes Arvind Rongala, a marketing expert and Head of Global Training Delivery at Invensis.
For example, while working with one of our clients, we learned that the reporting function is only available for Premium accounts. So, having access to this account, we were able to minimize the time needed to obtain the necessary data.
Otherwise, we would have had to export the data manually, which would delay the writing of the article.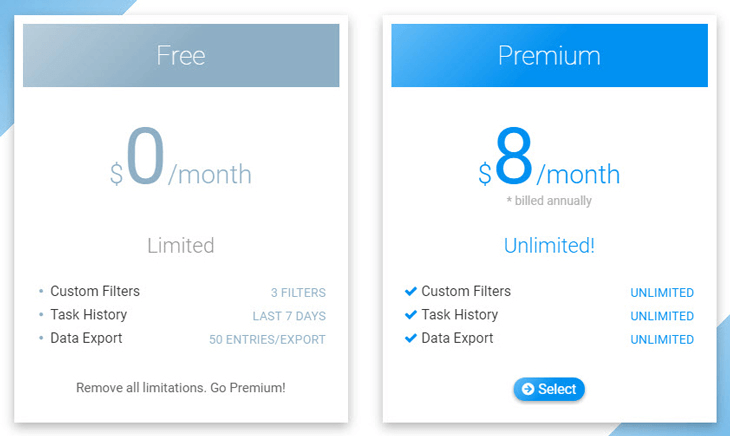 Here is an example of the typical difference between a free account and a premium. If we are to write great content, we'd better do it with untied hands and have all the tool's functionality at our disposal. (Source: bridge24.com)
2. We watch built-in training videos for using the tool and read the internal Wiki
Once we start using a new client's software, we always look first for the built-in training module.
Videos and Wiki help us understand the specifics of a client's tool quickly and get at least introductory knowledge about the tool's functionality.
This way, we can better grasp why our client's target audience uses the software, and understand what kind of content might be interesting to our future readers.
3. We spend hours trying out the software's functionality
This helps us consolidate the knowledge we gained while watching the training videos. (Without practice, that knowledge may still be a bit sketchy.)
So we just sit and start using the software as the client's potential buyers would.
Taking a practical look at the client software in action like this has often helped us.
For example, while studying the tool offering competitive research features, we realized that our client's target audience was interested in knowing how much other advertisers spend on certain banners.
This knowledge influenced the focus of the content that we produced later.
With another client, we realized the target audience was mostly concerned about why consumers add only a few products to the baskets of e-commerce stores.
This helped us to better understand the target audience and its problems and pain points.
Using clients' tools allows us to comprehend what our clients are trying to do with their product (since we typically still have questions after our scheduled calls with clients).
4. We make a list of questions to be answered during a follow-up call with the client
In the course of studying software, we create a simple list of questions for which we could not find the answers ourselves.
This step helps us fill in the gaps in our knowledge about the tool, from a person who knows the functionality of the software best of all.
Once we've been through these steps, we know the software thoroughly enough to feel there are no big gaps in our knowledge, and we can confidently start writing content based on data obtained from the software.

Wrapup
We have written articles based on data obtained from customers' software many times.
So we know first-hand that every time we get a new client it means spending time studying new software because if we want to write relevant content, we must deeply know the functionality of the software and target audience pain points.
For convenience, we have developed a small algorithm that allows us to quickly and deeply study the software of each new client:
Step 1. We ask to be given a premium account for the client's tool (if there is one).
Step 2. We watch the built-in training module (videos or Wiki).
Step 3. We study the functionality of the software in practice.
Step 4. We ask any lingering questions about the software of our client during the scheduled call.
How would you like the agency to study your software from scratch?
Done with reading? Now you may want to check this: