This is How We Create Content in Kraftblick: 2018 Updated Version
In May 2017, we published an article in which we described the entire process of creating content within our agency.
With time, we started to gain experience and began to realize that some of our working processes needed changes.
Before describing all the changes we've made throughout the latest nine months, we'll remind you what steps we make before the articles get released on our blog:
In fact, the life of an article just begin before the promotion stage comes into force, but that is the subject of another article at a different time.
As for now, it's time to tell you about how we produce content and what changes we've made during the past nine months of our work.
Organizing The Working Process
"A goal without a plan is just a wish"
Antoine de Saint-Exupéry

If I had to choose one thing that changed the most in the past nine months within our company, that has to be management, who does the planning and other specialties of working process organization.
If you've read our article on how we make content before, you know that we have a monthly plan. It includes all of the articles that had to be written.
This consists of a huge Excel table that contains the list of all the articles scheduled for the release during the course of the month with an estimated time for all the articles, their deadlines, due dates, and the current status.

Excerpt from Excel table with our monthly plan
Our editor-in-chief is responsible for tracking all the tasks.
Then there is a weekly plan.
How Can Kraftblick Help Your Software Company?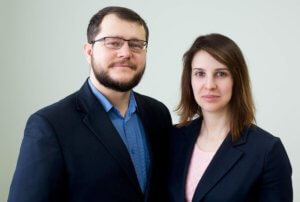 See you soon 🙂
It is very similar to the monthly plan, as the articles are just listed in the monthly plan. Their status of the weekly plan is more precise so that any member of the team is able to check how the things are going with the materials.
Here is a rundown:

Excerpt from Excel table with our weekly plan
We also have daily plans. Here is an example of a successfully fulfilled daily plan:

A comment to a Trello card
Usually, our tasks take no longer than a day or two.
If we failed to complete any task on our daily schedule, we write the number of days we're sitting on that long-built task.
If we fail to complete the task for two days in a row, the rest of the team will help with it on the day three.

We had these daily plans in our Trello cards.
We've made a transition from Trello to ActiveCollab a couple of weeks ago and will be able to share results of using new project management software later.
The principles we used during our content work are still the same.
Though Trello is free, user-friendly, and has many advantages–including real-time updates–we sometimes miss out on certain aspects that are not provided by this project management software.
That was enough for us to make a transition. However, we may reveal some processes we used to have for those who stay with Trello.
We logged our time with the help of what is called Plus for Trello to track how much we have spent for each article.
We also installed Trello work in progress limit WIP for Trello for fast finding if some stage take too much activity and blocks other stages.

We also embraced checklists for each article. In order to complete a certain stage of writing an article, one has to fulfill all the points on the checklist for all the articles.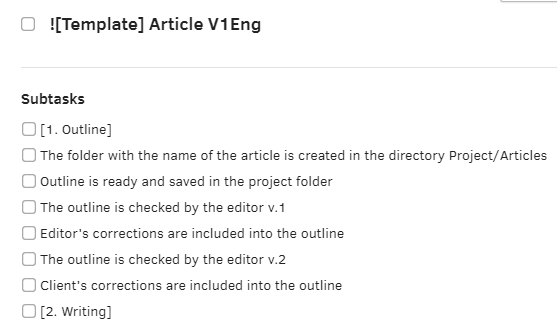 One of our templates in activecollab.com
Among the new things we do in those checklists:
Outline got double round of check-ups – each round from different editors
Writer suggests three title options for each article
Editor makes factual check-up after the process of writing
Organization of the working progress is the hardest part of the content making process. We could go on and on, but let's move on for now, as you have probably gotten the idea.
Creating Ideas for Articles
"What is the most resilient parasite? Bacteria? A virus? An intestinal worm? An idea. Resilient… highly contagious. Once an idea has taken hold of the brain it's almost impossible to eradicate."
Cobb, "The Inception" (Directed by C. Nolan)
Every great post starts with an excellent idea about its topic. We've got several criteria for the topic to correspond before we get it "into production."
The topic has to solve the marketing-related problems of our potential customers.
We also think a lot about whether we can offer some non-obvious or lesser known decision for our article to be truly (not artificially) helpful.
The best way to identify generic articles is to google the topic you're about to suggest. If the first three pages of Google Search are full of articles on this topic, you'd better start finding a different angle.
We also try to base the topics of our articles on our past experiences.
More than a couple of articles are written thanks to non-standard findings to the problems by our co-founders, Eugene and Irina. Most of these articles are based on their PPC campaigns experience, and they all offer the decisions they had to come up with:
Also, while choosing a topic for the article, we have to imagine what genre the article will be written in.
We've embraced several new genres. Among them are interviews with experts (we will elaborate on this in the following chapter of the article).
We also had the joy of writing data-backed posts. More on that in this material [link to Roman's Article about data-backed posts].
Researching Information for Articles
"If we knew what it was we were doing, it would not be called research, would it?"
Albert Einstein
The research is the fun part. The author has to get some useful information somewhere. We have improved our information gathering process.
We no longer use Mindjet to keep track of all the information we've gathered in Google or by using other channels of getting information. Instead, we make detailed outlines of our articles using Google Docs.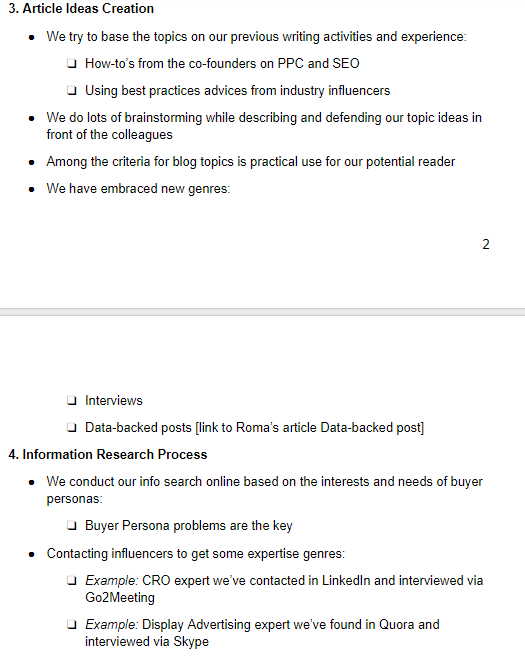 Google docs outline for this article
That way it is much more convenient in terms of instant editing because this process significantly speeds it up.
We've already mentioned that we've interviewed some experts in the field for some of our articles. This is very helpful in our research work. Experts explain difficult nuances in simple words so we can pass this information to our readers in the best possible way.
Here is an example.
One of our clients hired us to write about display advertising. We had some experience working in this industry but felt that it wouldn't be enough to give in-depth look at some aspects to our readers.
We asked some questions on Quora and contacted one of the experts in display advertising. He was happy to answer our questions in detail during an hour conversation via Skype in return for short mentioning of his company in the article.
Writing Articles
"There is nothing to writing. All you do is sit down at a typewriter and bleed."
Ernest Hemingway
There is not much we can tell you about the process of writing. It is fairly simple – you just sit there and type. It hasn't changed much during the past nine months; only the number of sources we gather information from have increased.
All the information we've gathered in the process of article research has to be written down. We still use Google Drive as information storage.

Writing is nice and easy. Editing of the article is where the hard part begins.
Editing Articles
"When you write a book, you spend day after day scanning and identifying the trees. When you're done, you have to step back and look at the forest."
Stephen King
Remember 9 circles of hell in Dante's Inferno? That's how writers feel when we have to make corrections for many hours, circle after circle.
It all starts with the self-check process.
Grammarly app helps us with… well, grammar. We usually choose American English.
It corrects all our possible typos and makes sure we put all the commas where they belong. The minimum required score for the full article has to be over 90.

To make sure, the author is not the only one who is able to read what he was trying to say, we use Hemingway editor.
Grades the AI inside the application gives us a fairer than a hypothetical school teacher of English Ms. Strict would have given us.
It also suggests some alternatives to the phrases which are written in a sub-optimal manner. The lower the grade, the easier the text to read.
Six works fine.
All our articles have a grade no higher than eight.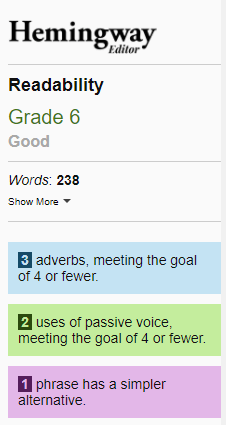 After self-check procedure is done, one of our editors starts his work on the article. He or she checks the logic of the article. Everything has to be in the right order.
Another round of corrections takes place after the second circle of editing – factual checkups.
The second editor, who has enough expertise about the topic of an article makes an extra check. All the practical advice in the article must be checked. We wouldn't want to recommend our readers something that wouldn't actually work.
After that, we send the article to native speakers, who make the final language corrections.
Publishing Articles
For publishing articles, we still use WordPress and a plugin called Wordable.
We've heard the authors have sold the plugin and it no longer belongs to original creators.

It still helps us in posting the articles from their initial state in Google Docs. In the process of publication, we leave cross-domain links to other our articles. That is one way of promoting them.
We have also started to use in-article CTAs. That way we incent readers of our blog to get to know more about the services we are able to provide them with.
That is all we have to say about this stage, that precedes the promotion of the article.
However, that is a subject for another story. As for now, we have described in details the changes we've made on course of nine months since we have first revealed our working process.
Wrapping It All Up
If you thought that content marketing is easy, before starting to read this article, we hope that you realized you were wrong. If you still consider it easy, or as they say in video games, "EZ", well, think again.
We put enormous effort into making our content as close to excellent as we possibly can.
What do you think of our changes – which ones are most likely to help with the growth of our company?
Done with reading? Now you may want to check this: