1 Easy Way to Create Great Blog Topics Like Neil Patel
If you're in charge of your company blog, you may come up with good topics in several ways.
For example, you might do it with the help of competitive research, or based on keywords that get high volume traffic.
It's common for content marketers to use the competitive research features of Ahrefs and base their blog topics on ideas competitors are using.

Considering how similar blog articles often are, we can surmise that this is a favorite button for a lot of bloggers.
Others may use services like Google Keyword Planner to find popular keywords and base their blogs on those.
These aren't necessarily bad ways to come up with good topics, but you can't be sure the articles that follow will actually bring leads. They may simply get lost in a sea of similar articles by other authors.
"The challenge that we content marketers face these days is not what content to create, but how to make it stand out from the rest of the blogs out there covering the same topic,"
says Benji Hyam, co-founder of Grow and Convert.
In this article, we'll describe a way to come up with topics that are more likely to be unique and valuable to your target audience.
You'll also learn how to devise interesting topics for articles on an ongoing basis without investing additional resources or money, and using only your own experience.
Why Experience-Based Topics Rock
We use this experience-based method we adopted in Kraftblick, so we can say with assurance that it works!
Almost all of our articles created with this method either became popular or quickly bring leads.
For example, our article "This Is How We Create Content In Kraftblick" became the most popular on our blog in 2017.
Another article, "How to Get Leads for SaaS Companies from AdWords at a Lower Cost," brought us a lead just a couple of days after the release.

That's what this reader wrote to us.
Now let's talk in more detail about the superiority of experience-based articles. Here are some of the advantages of creating topics using your own experience:
First, you don't need to use and pay for any third-party software to come up with topics (such as Ahrefs).
All you need is your brain and your (or company's specialists') expertise.
Second, articles based on your real experience will almost always be of interest to the audience, because readers like to learn about the internal processes of companies.
"Never discount your own experiences when thinking about what your readers are interested in,"
confirms Brittany Berger, a famous content marketing expert.
As we pointed out earlier, our article about how we create content became the most popular in 2017.
Third, you are constantly gaining new experience; thus, you have access to an inexhaustible supply of topics (because the more experience you have, the more potential topics you get).
Fourth, experience-based articles display your expertise and consequently attract leads from readers who see that you have the experience and skills to solve their problems.
For example, our article "How to Get More Leads With PPC By Leveraging Seasonal Budget Adjustment" rather quickly brought us a few leads.
Fifth, experience-based articles are more likely to be unique and stand out because your experience itself is unique (and the uniqueness of content is one of the keys to its success).
Rand Fishkin, a marketing guru, characterizes great content this way:
"It's got to be considerably different in scope and in detail from other works that are serving the same visitor or user intent."
How to Come Up With Topics Based On Your Experience
Let's discuss the whole process of creating topics step by step.
1. Make a list of all the processes that take place in the work of your company
To come up with themes based on your real experience, you first need to collect in one document a list of all the inner processes of your company.
Of course, we don't mean tasks such as "calling a cleaner" or "ordering water for the office." That would be weird.
List processes that are directly related to the business of your company. For example, if your company develops software, then you can surely list such processes as "conducting a kick-off call" or something like "engineering" and "testing."
Once you have your list:
Create a Google spreadsheet
Make a simple spreadsheet with several columns in it.
These columns can be named something like "Unit" (in this column, you will write what type of activity this process is related to), "Process" (list the processes), and "Deliverables" (what the process should lead to).
Below is an example of such a document.
List all the processes in it
Now, gather together all working processes in the document.
Write them down, being as specific as possible, and try to break up large processes into several small ones.
Here is an example list of some of our company's processes, related to content marketing. Use it as an example for your own list.

Note that we are a marketing agency, and our processes reflect the specifics of our work. Your company's processes may differ, but this list should help you come up with topics relevant to your business sphere.
2. Create several topics based on each of these processes
Now let's create some topics.
Go through the list of processes and consider which of them might be of interest to your target audience
This step helps ensure the relevance of the topics you choose.
For example, if your target audience is Chief Marketing Officers, you should select topics that in one way or another relate to marketing or to improving how marketing departments function.
If your target audience is specialists engaged in display advertising, select those processes that are somehow related to the display ads sphere.
Consider whether there is something interesting or valuable you can write about for each of the appropriate processes
Is there something you can tell your target audience about one of these processes that they may not already know?
First, maybe you know how to improve this or that process (for example, you can tell your readers how they can save money or increase their profits).
Once, we looked at the process of PPC budget allocation and thought about whether there was something useful we could tell others about.
Based on our experience, we knew that in many companies monthly budgets are allocated by simply dividing an annual budget by twelve.
But if these companies began to take into account the "seasonality" of their business and learned how to allocate monthly budgets based on this factor, they would be able to get more leads for the same money.
Using our knowledge, we wrote the article "How to Get More Leads With PPC By Leveraging Seasonal Budget Adjustment."
Second, maybe you can solve a problem or warn your readers against something.
For example, once we noticed a fraud that could damage many AdWords users.
In short, scammers made a fake form that looked like a Google ad. This form was meant to trick users into revealing their AdWords logins and passwords and thereby gain access to multiple Adwords accounts.
We thought that many users would not notice the forgery and lose their money, so we wrote the article called "How Scammers Break Into Your AdWords Accounts With The Help of AdWords Ads" to warn readers.
The article gained several thousand views right after release, and many readers thanked us for the help.
In any case, you need to think about what you as an expert can tell people who are not very well versed in your business sphere. It is this knowledge that will give value and uniqueness to many topics you will create.
Create a topic for an article based on the process and your knowledge that can represent some value to your audience
After you've selected several relevant processes and considered how your valuable knowledge could help your readers, it's time to come up with some examples of topics for the articles.
For example, you selected the process "Hold a daily briefing," and you know that holding a daily briefing at a specific time or in a specific format allows your company's specialists perform their work faster or better.
Then, you might create a topic "How Holding Morning Daily Briefings Can Make Your Company Writers Work 3x Faster."
Of course, this is just an example, but you get the point.
Try to brainstorm ten or fifteen similar topics. Some of them will definitely deserve to become full-fledged articles.
Here are some topics that we came up with according to our methodology: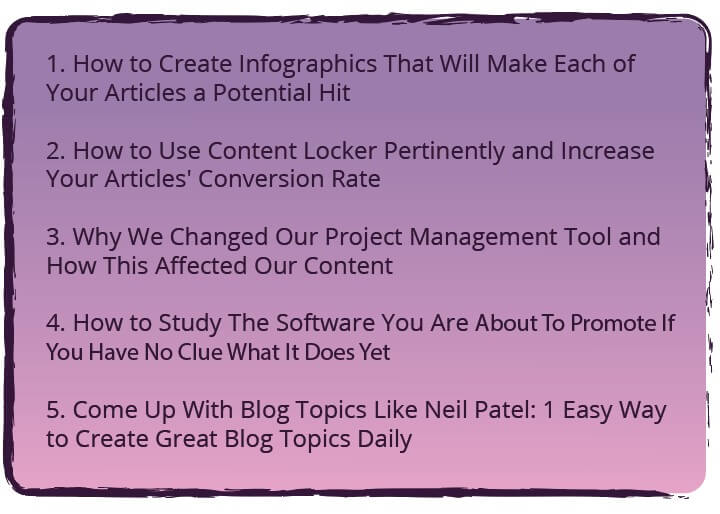 You can use them as an example for your own topics.
Also, if you can not come up with a lot of topics from the first time, do not despair. Over time, the process of creating topics will be easier and easier.
As John O'Nolan, founder of Ghost, says,
"Coming up with ideas is a muscle that needs exercising. The more often you do it, the stronger that muscle becomes."
We know that our readers strive to achieve the best results. We would be happy to help you increase the number of leads. Just click
here
to contact us
Wrap-Up
The most interesting topics for any target audience are topics based on real-life experience.
Our own company blogging experience shows that people really love to read articles about inside company processes and articles based on the real experience of their authors.
Articles based on experience have not only a great chance to become popular but also spotlight the writer's expertise.
Moreover, experience is a great source of ongoing ideas for articles (after all, experience grows every day).
So, to come up with such topics, you need to:
List all your company processes in one Google doc
Go through all processes and choose relevant ones
Come up with something valuable you can say about each of these processes
Create ten to fifteen topics based on processes and your expertise
So, what is your process of coming up with blog topics? What topics are the most popular on your blog?
Done with reading? Now you may want to check this: