How CMO Can Improve ROI By Delving Deeper Into Non-Obvious Google Reports
Not all Google Analytics reports lead to useful conclusions. Growth in traffic doesn't necessarily equal growth of your business.
In this article, we will address the issue of getting traffic that really matters and figuring out which traffic is useless.
We'll provide some insights on UTM-marks, which offer a great opportunity define your traffic channels more exactly.
Getting to know which channels are most effective is a great help in organizing your work.
In the third section, you'll also find some tips for SEO specialists and copywriters on prioritizing tasks.
This article is a survey of common problems a CMO might face when looking at the company's modest ROI numbers.
How Can Kraftblick Help Your Software Company?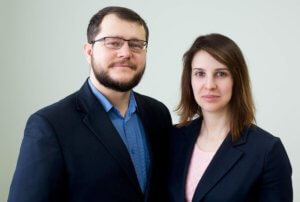 See you soon 🙂
Some of these problems could be easily solved (or at least get more attention) by having a deeper look at Google Analytics reports that are often overlooked.
Problem #1: SEO Specialist Reports are Optimistic, but Results Aren't That Great
This is a common situation, to be honest. An SEO specialist is happy to announce in his or her report that the figures look good, and analytics are generally growing in the right direction.
Websites seem to be indexed the right way, and traffic is growing steadily, but conversions… not so much.
So where do you look to find the core of the problem?
Google Analytics is great for defining sources of traffic, and may help you out here.
You may find that most of your traffic is coming from places that aren't useful to you. If the main target audience for the website or business comes from the U.S., and it is only third in the list of main source countries, that's not a good thing.
How do you detect traffic coming from countries you don't need?
It is fairly easy to find out how many visitors your website is getting from various countries. Click Source/Medium and then choose "Country")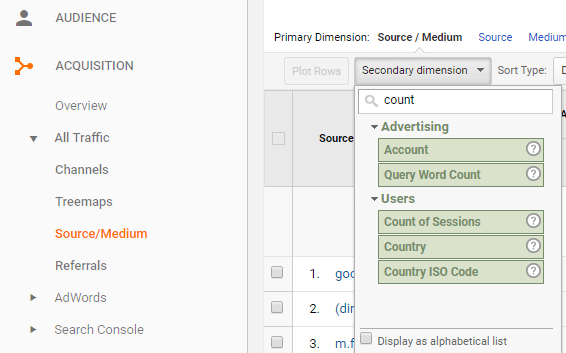 Source: Google Analytics
On the screenshot below, you can see that India (a non-targeted region for this company) brings three times more traffic than the U.S. and UK—the traffic that really matters, because it results in conversions.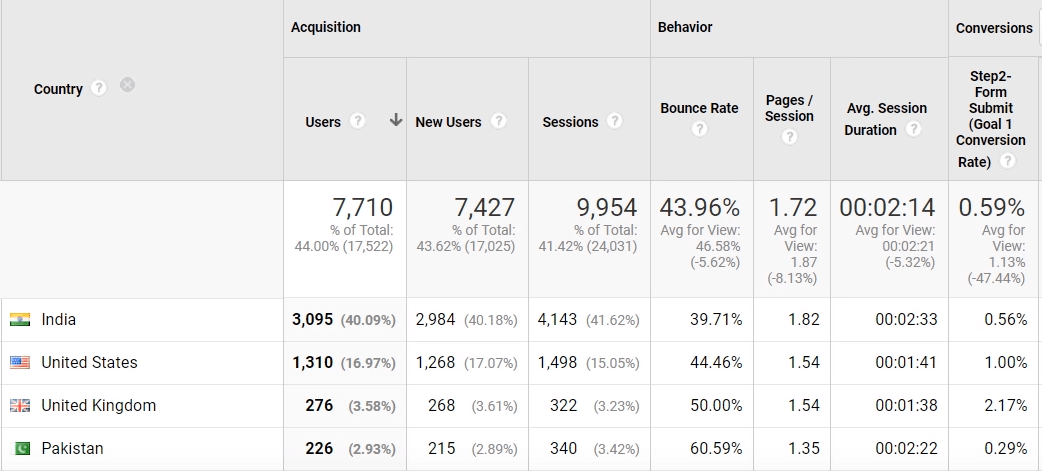 Source: Google Analytics
Dissected by country, the table shows the percentage of total traffic in the first column and conversion rate in the second one.
You don't need any special tools to detect this traffic deviation. (By deviation, I mean deviation from the normal course of business, when most of the traffic comes from regions where the targeted audience lives.)
Actionable steps for drawing traffic from the countries you're interested in:
This should be a wake-up call for your SEO specialist who wrote that sunny report. Traffic might be growing, but traffic that converts isn't.
The Chief Marketing Officer needs to bring problems with the quality of traffic, pertaining to its geographical origins, to the attention of the SEO specialist, to make adjustments to try to draw traffic that results in higher conversions.
Note, of course, that you can't manage streams of traffic from different countries to a huge extent.
Problem #2. A Certain Source Attracts Big Traffic, But It's Unclear Which Actions Were Successful
This happened to us at one point. We were answering some questions on Quora promoting one of our articles and left a link to the article in our responses.
We also implemented Urchin Tracking Module (UTM) marks. That way we were able to learn which questions brought the most traffic to the article.
This is easily found in Google Analytics: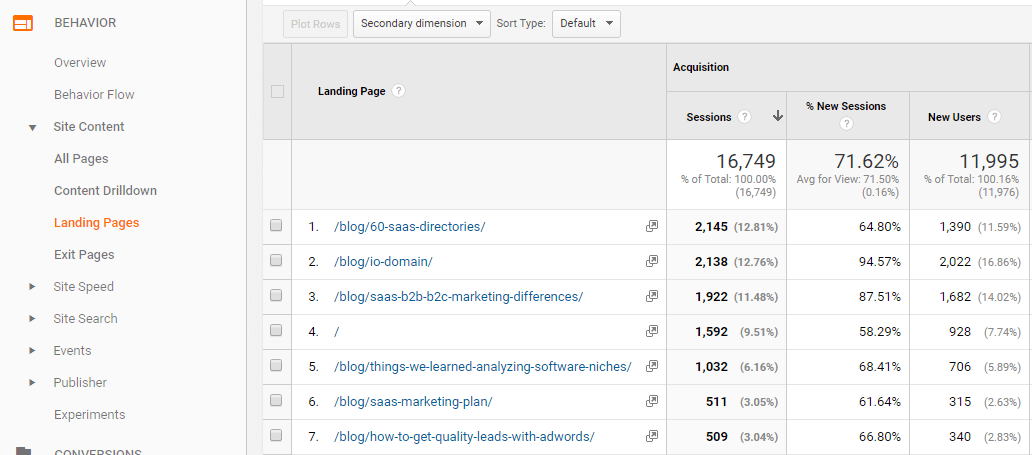 Source: Google Analytics
Actionable steps for installing the correct UTM marks:
Mark every activity you would like to track and analyze in the future. This is fairly easy to do and not hard to find displayed in analytics.
On the screenshot below, UTM marks are made for questions in Quora. They are also available for many other promotional options. Use UTM marks freely for Quora, newsletters, and other promotional activities.
Then, analyze why some queries collected more traffic than others, with a view to emphasizing promotional activities that appear to be the most effective.

Source: Google Analytics
As you can see, two of the queries on the screenshot above drew the vast majority of traffic to the article.
Think about what made these Quora questions (other activities) more attractive to your target audience.
This will help you make needed adjustments to your promotion strategy in future.
Problem #3. The Company Needs to Prioritize the Work of the SEO Specialist/Copywriter
Let's say you have ten pages at your website that need SEO optimization. As the hours of SEO specialists and content writers are limited, they can't work on all of them at once.
By the way, we do SEO and have plenty of free content marketers. If you need content marketing for your business, you may contact us for a quote.
In most cases, it makes sense to first work on improving blog posts/web pages that have already showed decent results in terms of traffic, to make the SEO display on these items even better.
The first step is to figure out which blog pages were the most successful and work at optimizing them.
"The poor stay poor, the rich get rich." The last time I heard that saying was in the Leonard Cohen song at the beginning of another mediocre DC Comics movie called Justice League. This line also happens to be a working marketing strategy.
If a particular blog post is not that popular, it may make sense to postpone working on it until the blog writers have more free time to tackle it.
Steps to prioritizing work on website pages:
In Google Analytics, choose "Organic Traffic" as a source of acquisition. This obviously shows you where search engine optimization has been most effective.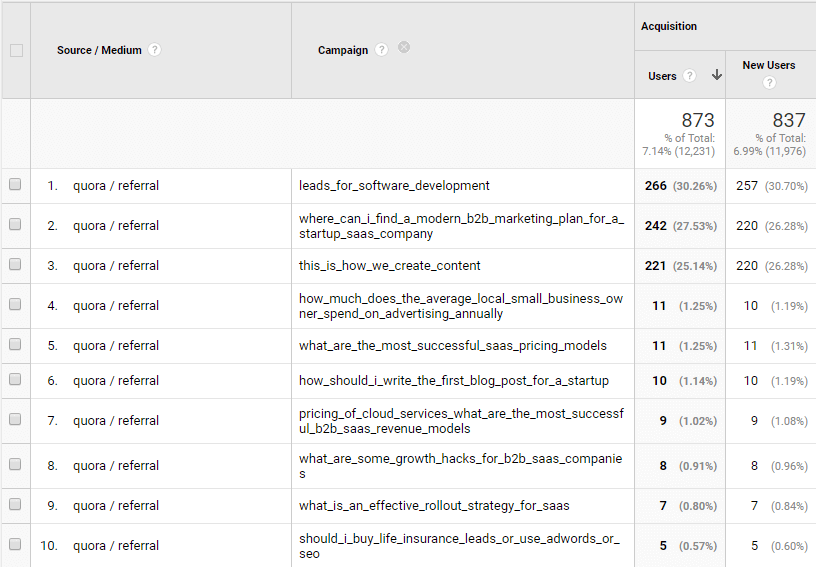 Source: Google Analytics
Next, look at Behavior → Site Content → Landing Pages to study the distribution of traffic between those pages.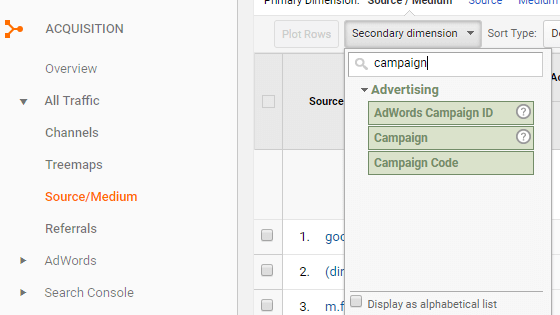 Source: Google Analytics
Pages that are already pretty popular are the ones you should address first.
You may then need to postpone or even cancel entirely working on pages (rewriting text and improving SEO) that don't get any views.
Examining the number of views and position of each page in Google Search will help the Chief Marketing Officer prioritize work for employees working on company web pages.
Takeaways
In this article, we've addressed several disparate problems that have one thing in common: they can be solved with the help of Google Analytics reports you may not have thought of using.
Sometimes, high traffic numbers can be misleading if much of your traffic comes from regions that are unlikely to produce conversions.
ROI may be improved when you discover which promotional activities are the most effective. We elaborated on how to find this precious knowledge using Google Analytics.
And sometimes there's a heavy load on the employer's shoulders when it comes to sorting out what most needs to be done with limited staff time, and we suggested one helpful way to set priorities for copywriters and SEO specialists.
Stay tuned to our blog to learn more. And tell us how deep you usually dive into Google Analytics looking for hidden ROI?

Done with reading? Now you may want to check this: