This Is How We Create Content in Kraftblick [Software and Tools Revealed]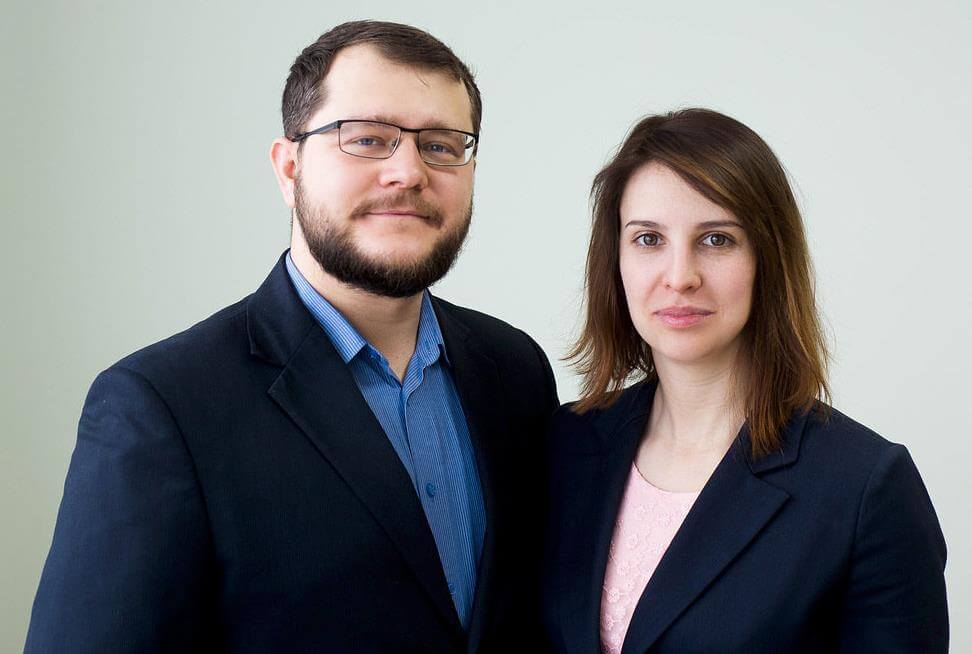 Through our own experience, we know that building a content production process can be extremely challenging and it often does not work right on the first attempt.

We have encountered many challenges when organizing this process. Our Trello board has already been altered several times as we are striving to optimize our content production.
Initially, our whole team was involved in checking the work after every stage, but with time we found that this type of approach requires too much time. Consequently, the work was completed too slow.
So, we decided to reassess our most important stage — information collection. After doing this, we delegated the review of the succeeding stages to one editor.
In this manner, after other members of our team have finished their work, one person reviews what they have completed. However, this is only one of challenges we had to solve.
It took us several months to figure out how to organize our content production. As such, in this article, we will share what this process looks like today.
How Can Kraftblick Help Your Software Company?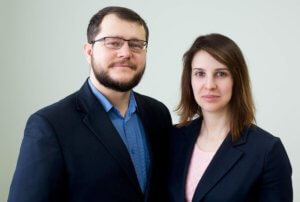 See you soon 🙂
Disclaimer: In this article, we will consider only one element of content marketing, and that is content production.
Content production is a vital stage, however, in most cases, it is not enough to drive leads for a company. Other crucial stages of content marketing such as content strategy, promotion, and conversion are needed to see a company's real advancement.
Now, before we go in-depth, here is a quick overview of our content production process.
Organizing the working process
Creating ideas for articles
Researching information for articles
Writing articles
Editing articles
Publishing articles
Let's consider them in more detail!
Organizing the Working Process
For us, this is the most vital stage. Here is where we decide upon the scope of work we need to do and where we determine daily, weekly, and monthly goals.
The tool we use for planning out our month is Google Calendar. With the help of this tool, we can determine and set the schedule for publishing our blog posts as well as creating guest posts and articles for our clients.
Here is what our plan for May looked like.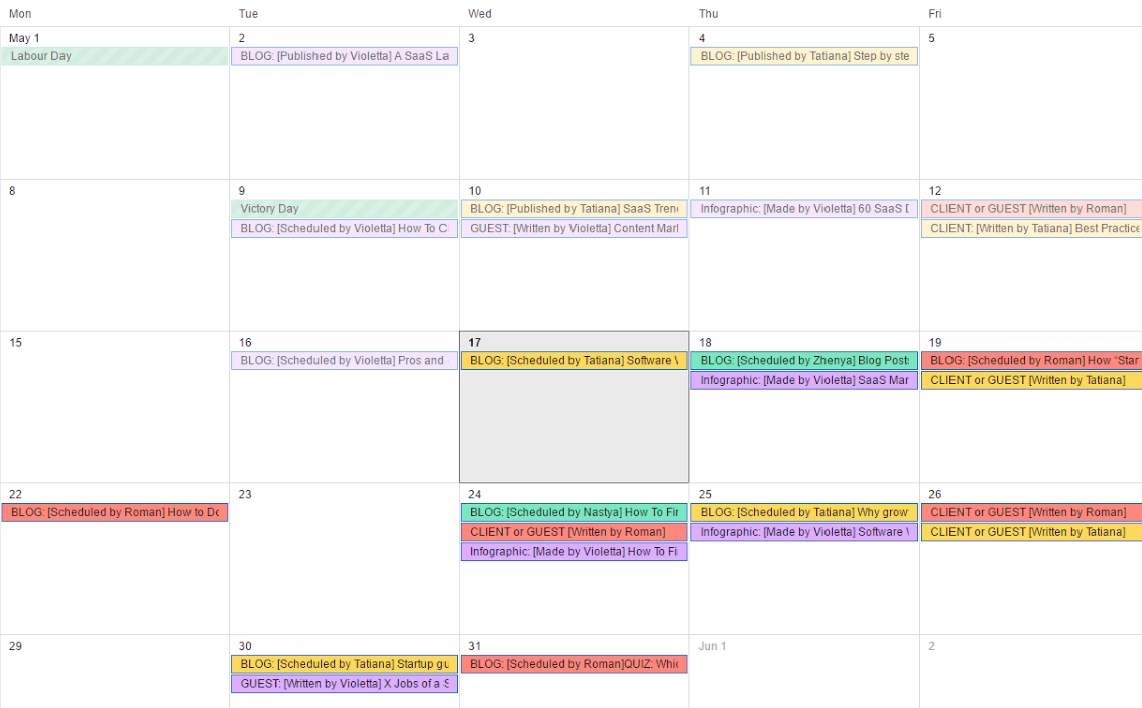 In this fashion, every member of our team can see how many articles he/she needs to complete and when they should be ready.
The primary tool that we use for organizing our process of content production is Trello which is a web-based application for project management.
We use it to track the progress of article creation and time spent on every task, in addition to communicating with other team members.
The process of content production here in Kraftblick resembles an assembly line: an article undergoes several stages until it is finished and ready for publishing.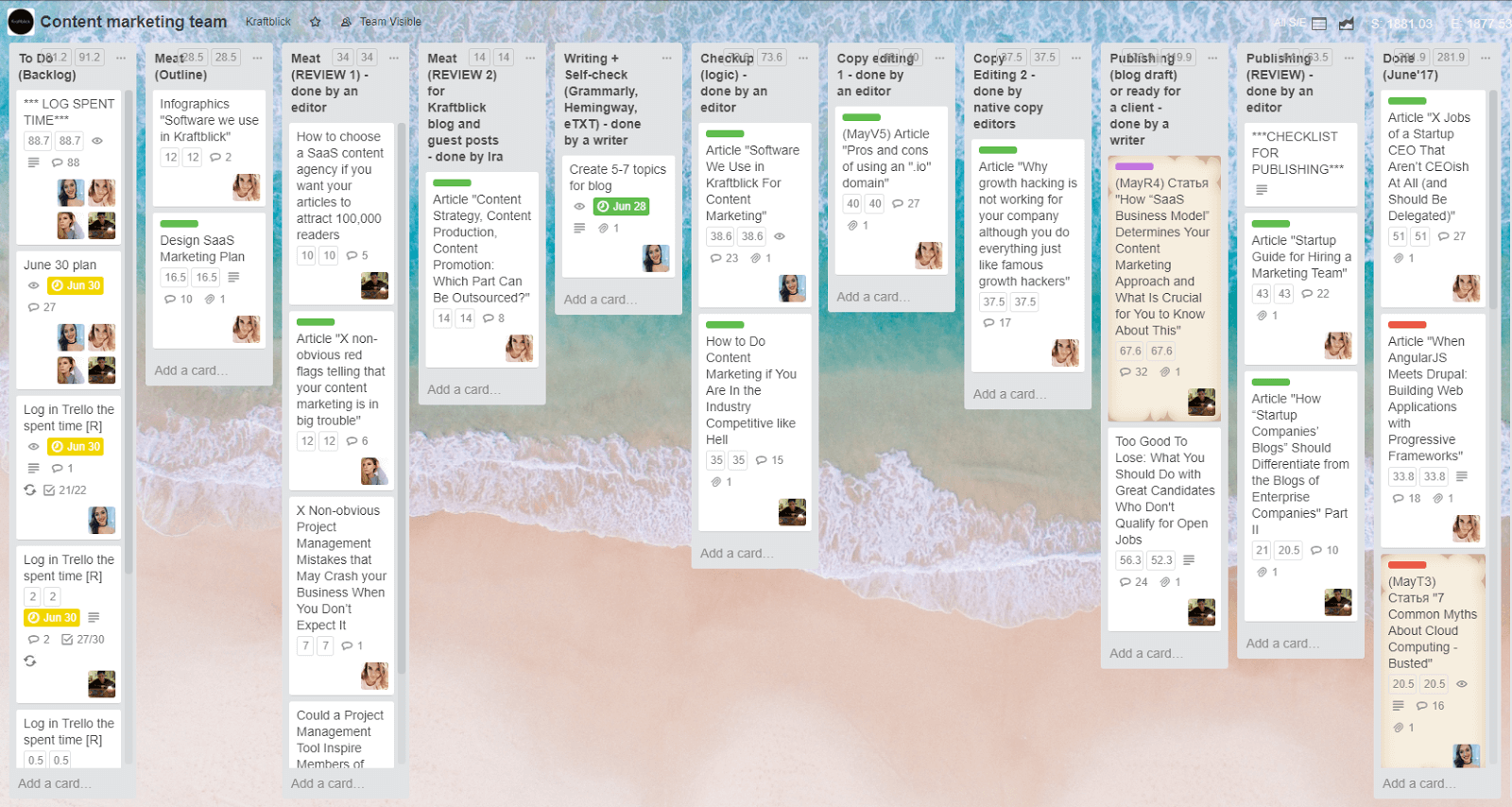 Our content marketing team board in Trello functions in the following way:
1. To do list. In this category, we create a card with the name of an article that we take from our Google Calendar.
On the card we appoint a team member to perform the task and set a due date by which the work should be completed. Once a person starts working on the task, they transfer the card to the next column.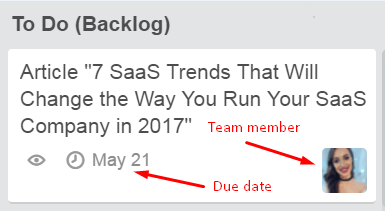 2. Meat. This is what we call our collection of information and the creation of outlines for our articles. The word meat resembles meat hunt; it is short and laconic and is convenient to use when communicating with the team.
Before the meat is ready to become the basis of an article, we perform a lot of work that includes thorough research on trustworthy sources, gathering the most interesting and useful information and organizing it in a logical outline.
Hint! We have a detailed and comprehensive post concerning how to research information for articles, you can read it here.
At this stage, and all the subsequent stages, we track the time spent on accomplishing each task. For this purpose, we use the extension Plus for Trello.
This tool helps us track the process of our work and how fast and effectively it is finished.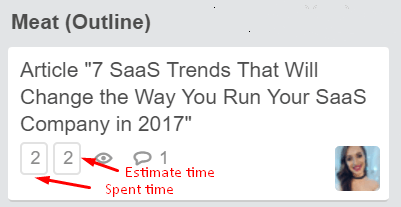 3. Meat review. When the "meat" is ready, we turn it in for review. An editor makes sure that the information gathered corresponds to the title of the article and that there are no fundamental inconsistencies that may later influence the quality of the article.
4. Writing. Once the editor approves the outline, the writer moves the card to the Writing column and begins composing the article.
5. Logic checkup. When the final text of the article is written, the editor checks it according to the logic of the presented information. If there are any inconsistencies, the author will need to correct them before turning it in for further review.
6. In-house copy editing. At this stage, the editor checks the revised version of the article so that there are no inconsistencies, mistakes, and so forth.
Based on our experience, we found that logic and grammar checks should not be performed at the same time because if there are inconsistencies in the text, there is no point in correcting them.
By separating these processes, we reduce the amount of unproductive work.
7. Expert copy editing. After all the in-house reviews are done, we send the article to our US copyeditors so they can ensure that the language of the article is appropriate and easy to understand.
8. Publishing (blog draft). Before publishing the final version of the article, we create a blog draft to make sure that the necessary blanks are filled out, so it does not get messed up when published.
9. Publishing (review). The editor checks the blog draft, and if everything is correct, the writer publishes the post.
10. Done (by month). Finally, after the work on the article is finished, the card can be moved to the Done category. On our Trello board, we create monthly Done lists to track how many articles we have written and published.
Now let's show in more detail how the process of content creation works.
Creating Ideas for Articles
All the content production work starts with creating topics for future articles.
This stage is crucial as a topic is the very thing that determines whether the target audience will grow interested and read the article and, consequently, convert into leads or not.
For this purpose, we use the following tools to discover relevant topics in which our target audience is interested.
#1 Buzzsumo allows us to track what content is the most shareable and popular so we can see what topics our target audience is most interested in.

#2 Quora is a platform where people ask various questions concerning their problems. Using this platform, we can track the questions and related topics of our target audience and see what their main issues are.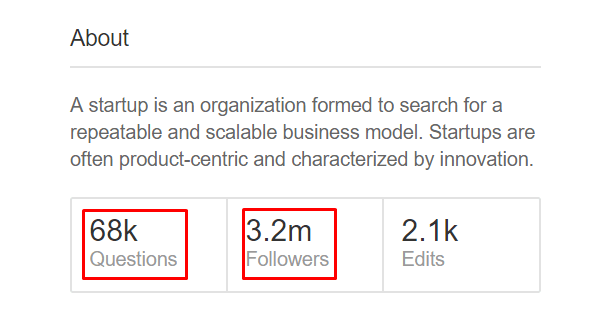 Thus, we are able to see what concerns our target audience has and write articles that provide solutions of these issues.
Researching
Mindjet MindManager is a great tool for organizing all your researched information for articles in the form of a structured plan.
This is how we structured the information for our article "SaaS Marketing Plan: The Ultimate Guide How to Build It."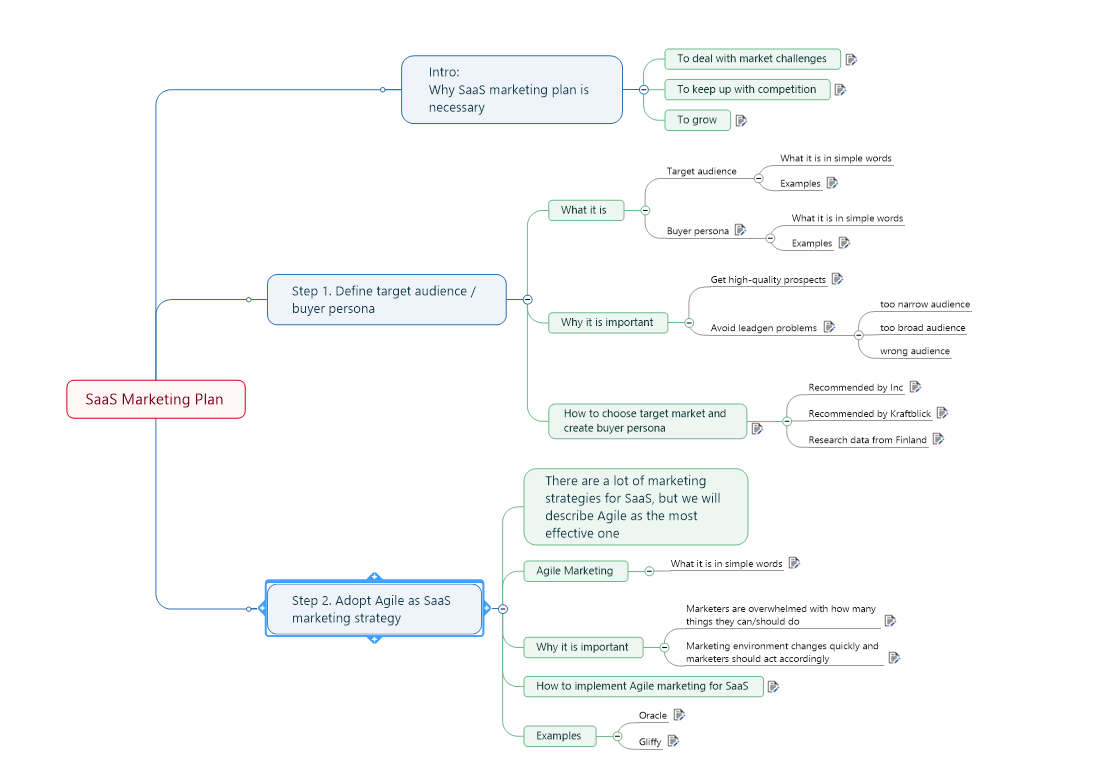 Additionally, before starting creating a mind map for an article, we define the buyer persona's problem.

This is a sample buyer persona problem for our article about listicles.
By doing so, we are attempting to understand the target readers' concern and why they need to read the article. This also allows us to stick to the topic of the article and present the information in direct relation to the main readers' problem.
Writing Articles
We use Google Drive for storing all our information concerning content production including our mind maps, articles, pictures, and guidelines on how to carry out various working processes.
Our Drive is organized as follows.

All of our workers can access the needed information at any time and from any place. As a result, we are able to correct any issues immediately.
So far, we consider Google Docs the best tool for writing articles. It is extremely convenient for several people at one time, and at any place, to edit a document.
Editing Articles
We always make sure that our articles are written correctly and are easy to read. For editing, we mainly use two tools — Grammarly and Hemingway Editor
Grammarly helps enhance writing within a text. The tool allows us to check both American and British English.
It corrects all the grammar mistakes and also highlights words and phrases that could potentially be better to replace.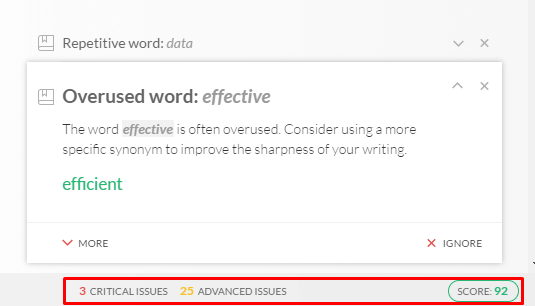 At the end, it provides an assessment of the text and a summary of all the issues.
The Hemingway Editor tool "makes your writing bold and clear." It assesses your article and determines how easy it is to read.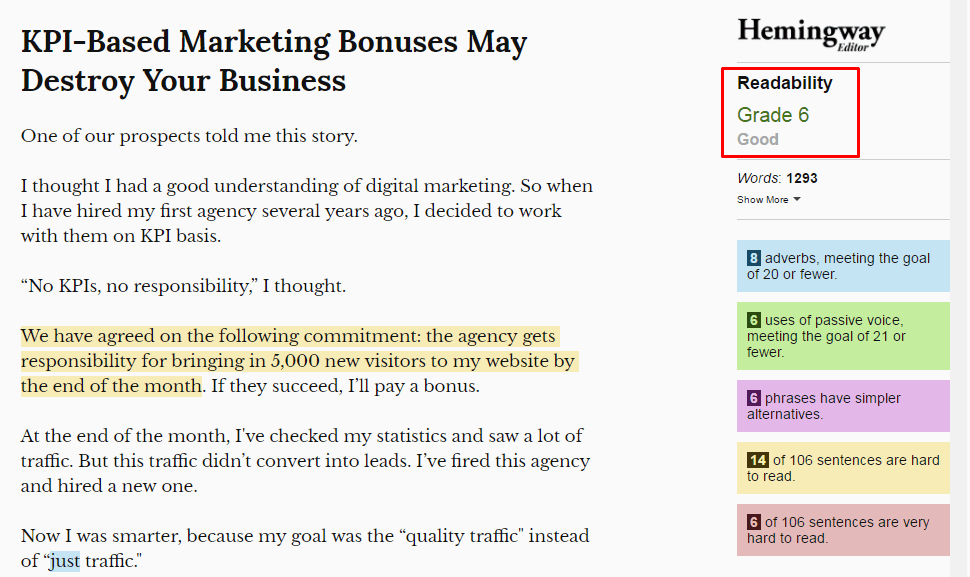 Here is one of our blog posts checked with the help of Hemingway Editor.
Hemingway highlights words and phrases that should be replaced. As you correct them, the grade becomes lower and the readability of your article improves.
We make our articles get grade 8 and lower so that they are nice and easy to read.
Publishing Articles
For publishing posts in our blog, we use WordPress. However, manual uploading takes a lot of time.
The Wordable plugin solves this problem because it automatically exports an article that is ready from Google Docs to WordPress and publishes it as a draft.

When publishing we also use the Yoast SEO plugin which allows us to improve the SEO of our articles which makes search engines rank them higher.
The plugin forces you to use a focus keyword and allows you to edit the snippet which is what the article will look like in the search engine results.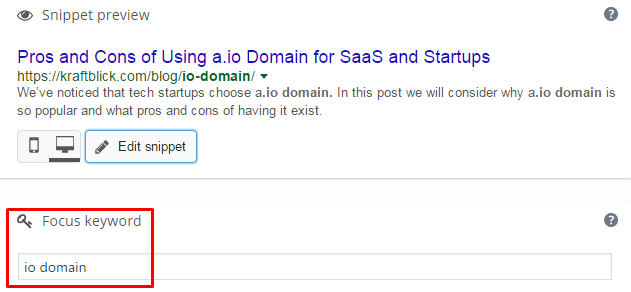 Conclusions
Today, content production is a need for every company. Potential clients will judge a company according to its content.
We know this, and that is why we approach our content production diligently. We allocate as much time as needed to create great articles.
Moreover, each time we strive to do them even better than before.
How do you manage content production in your company? Share your experience in the comments section.
Done with reading? Now you may want to check this: