How to Find Data for Research-Backed Blog Posts – The Ultimate Guide to Writing High-Quality Content
This article is big enough, so we've made infographic which reflects the main idea of the article and gives insights to it. Look it through first and then read the article for details and tons of useful tips.

If you need high-quality content, it's a terrible idea to write an article using the first three Google search results.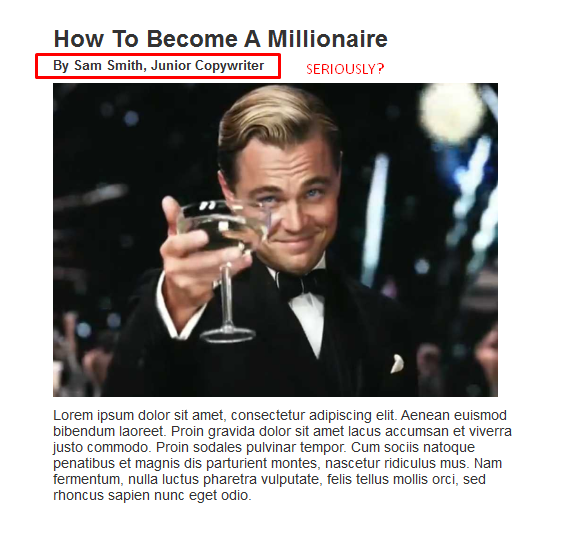 But even if you are not an expert, you can write an excellent post after you research the topic and find outstanding meat.
Meat means quotes, statistics, reports from reliable people and sources.
Here is a step-by-step guide on how to find meat for your post.
How Can Kraftblick Help Your Software Company?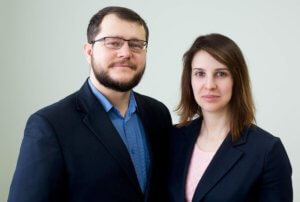 See you soon 🙂
Vital! Some of the steps will return zero results. It's ok. But you need to perform them all to do a proper research.
Part 1.
What You Need to Know about "Meat"
1. What's included and what's not included in this post
This article is about researching the information for blog posts. It does not explain the process of finding the idea or the process of writing the post.
If you already have a topic you want to write about, but no further thoughts are swarming in your mind, this article is for you.
2. Why you need meat for high-quality content

One person cannot be a professional in all areas of life. Posts written without in-depth knowledge of the topic look weak and not credible.
3. Do you need an article plan before the start?
We don't recommend preparing the article plan BEFORE you do the research. The reason is simple: to make a good plan, you need to know the thing you are writing about. And it's possible only after a well-performed research.
You need to define the working title, the main keyword, the purpose of the article and its type (listing, how to.., description). Otherwise, it's easy to start the research with SaaS Marketing and end up with Rambo 2 Kill Counts.
4. What information to look for
Before we begin the research, let's figure out what we are looking for.
To write a well-researched post, we can use the following types of information:
Quotes from trustworthy people
Summaries and excerpts from great articles about our topic
Data in all possible formats: statistics, graphs, scientific research papers, etc.
5. What "authoritative sources" mean
We need to find out an authoritative source to decide which sources are authoritative.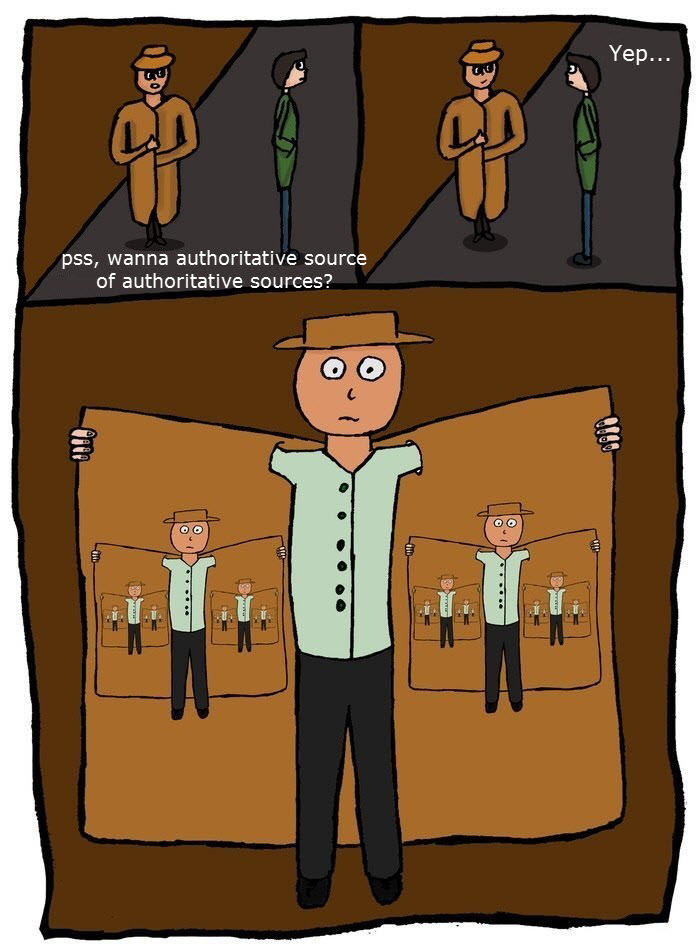 You can get the basic idea of how to work with sources in the Reuters Handbook (The Essentials of Reuters Sourcing chapter).
For our purposes, the following resources may be authoritative (you should adjust this list to your industry):
1. Your own eyes, experience or experiments. As written in Reuters guide, "journalist or camera is the best source."
2. Authors who are high-ranking officials. We assume they are smart. But that's not always true, so you need to be careful. Examples of these titles are:
Dr. (Doctor)
Professor
CEO
CMO
CTO
CXO – any Chief … Officer. For example, CIO – Chief Information Officer
Founder
Co-founder
3. Authors with job positions that are authoritative in your industry.
For example, if your post is related to content marketing, you can easily refer to the article of an experienced copywriter who writes about your topic. But it's not a good idea to refer to a copywriter if you prepare the article about cancer.
4. Articles on authoritative websites (such as Forbes) or in prestigious magazines (such as Nature).
5. Academic research papers, statistics, data from government portals.
Part 2.
Before You Start The Research
Note: for sample purposes, we will use two topics in this article: SaaS Marketing and Customer Lifetime Value.
1. Create a storage for facts and numbers
Create a new Google Doc file. Name the doc and write a header based on the post topic.
For example, we want to create a post about SAAS Marketing.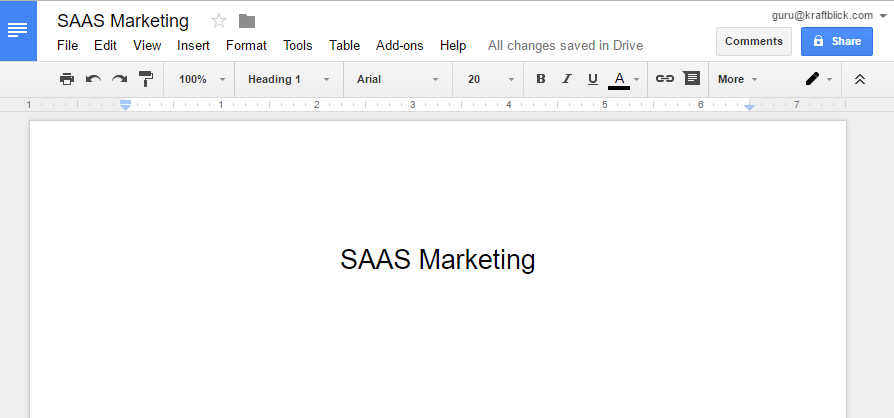 When you find something useful for your future post during the research, add the following information to your file:
The title of the note
Quote, thought, statistic or whatever info is available to you
Title of the source
Link to the source
The author of the article
Basic information about the author: title, job position
As a result, your file will look like this.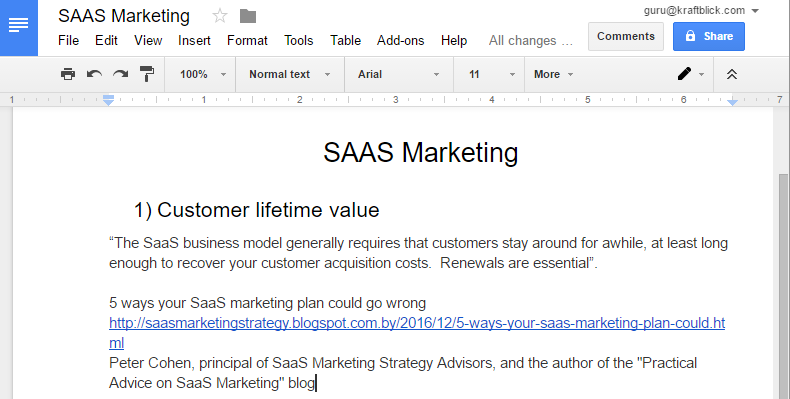 2. Get the basic idea of the topic
First of all, you need to understand the topic idea.
Google it and read first results carefully. That's what Google thinks is relevant for our research subject.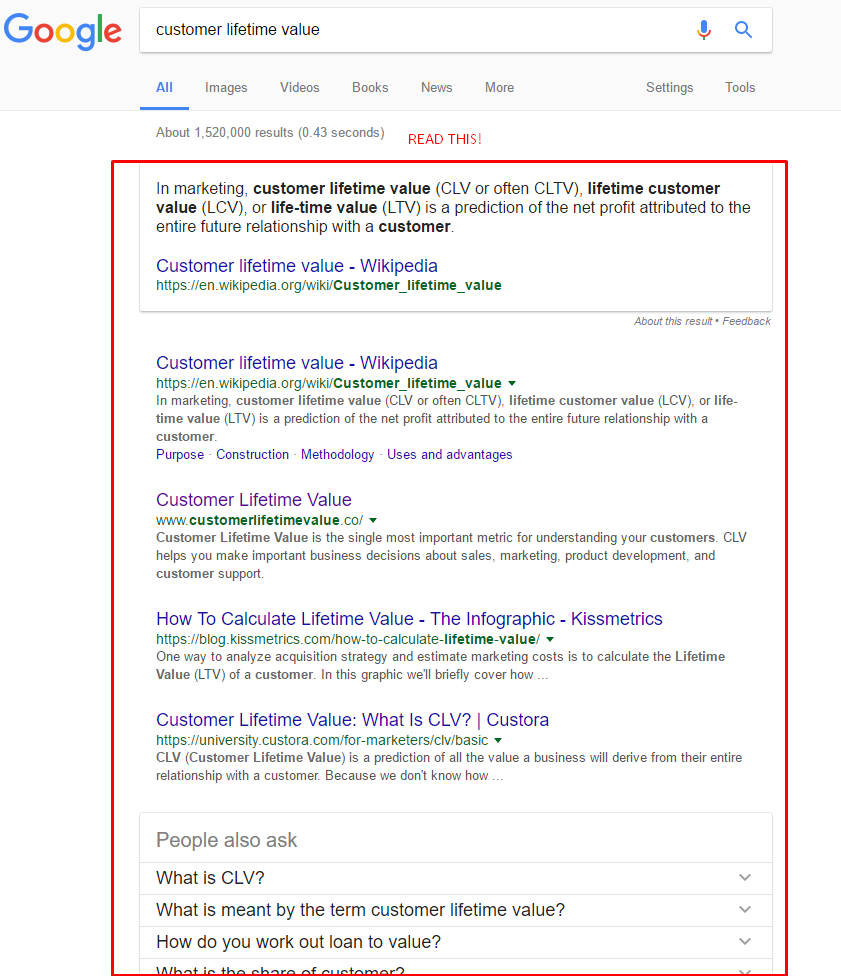 Apparently, there is not so much easy-to-read info. But it's enough to get the basic understanding of the topic.
Critical! We cannot take all we've found in Google and compile the post. Our post will be useless for most of the readers because they can google and read first results on their own.
3. Find out synonyms for your primary search term
If the same thing can be named in different ways, you need to know it.
Google [your term] synonymous or [your term] acronym.
4. Find out what people are searching for
People are usually specific when they are looking for something. We can use this human trait to come up with more search terms related to the initial one.
To do it, use Keyword Tool. Open the service and enter your main search term. You will get a lot of related search terms which contain your main one.
You can use this information in two ways:
To find more accurate information about your topic during the research
To create the plan for your post based on what users are interested in
5. Create the list of extensions
Searching for the term is not enough. We need to add some spice to get more relevant results.
We can achieve this by combining our most important keyword with some additional words.

Additional keywords can be:
reports
data
quotes
statistics
expert
research
cases
case studies
analysis
meta-analysis
You can update the list with other terms based on the topic, your goals and the info you've got from the previous steps.
Part 3
Research: Use Google Search Operators
You can extract much more information from Google if you know several tricks.
1. Filetype: operator
If you start the search query with filetype:pdf operator, only PDF files will be presented in search results.
And we know that pdf format is used to save case studies, scientific articles, and reports.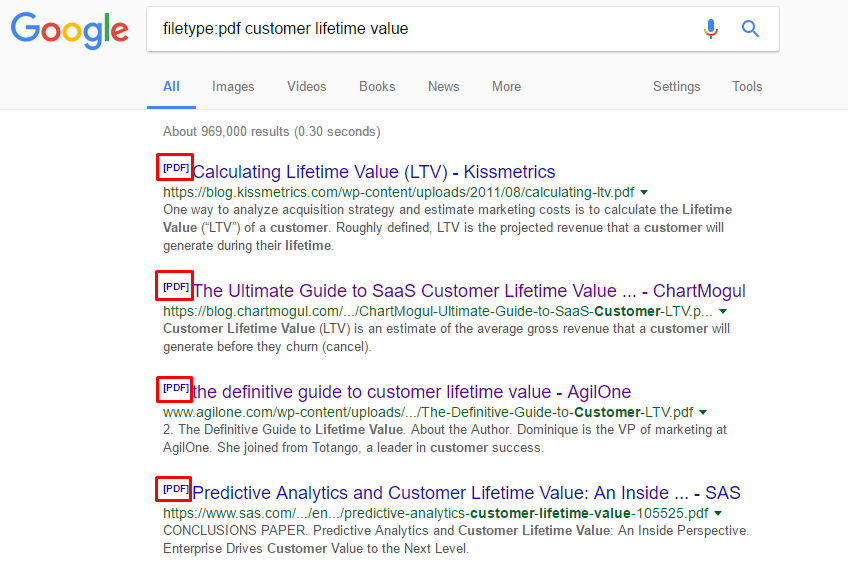 Now we need to verify that this document was created by an authoritative writer.
If the writer is not authoritative, do not use the info from the doc. However, you can find the sources this non-authoritative author links to and use them in your article.
If there is no author, or he's not authoritative, but the company or institution is reliable, you can still use the source.
After you have studied all documents, expand search queries with all of your extensions.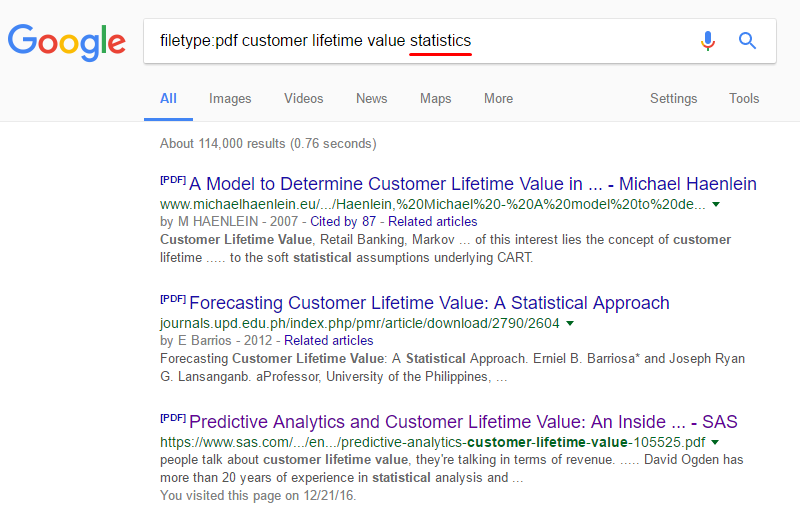 PDF is not the only format you can use. Presentations – ppt and pptx – may also contain useful information.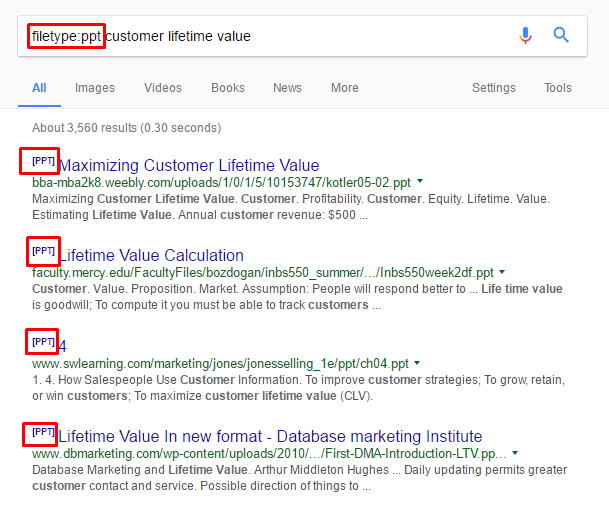 2. Allintitle: operator
If you type this operator before your search query, Google will return the results which contain your search term in titles only. These results may be more relevant to what you are looking for.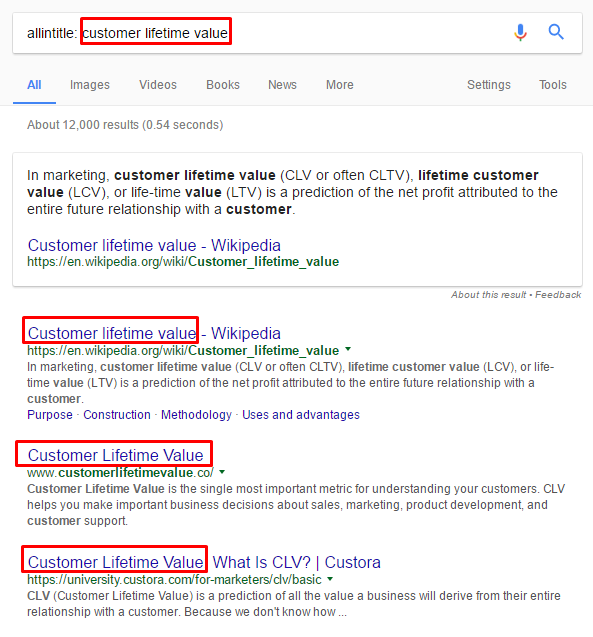 You can combine your search terms with extensions (statistics, reports, etc.).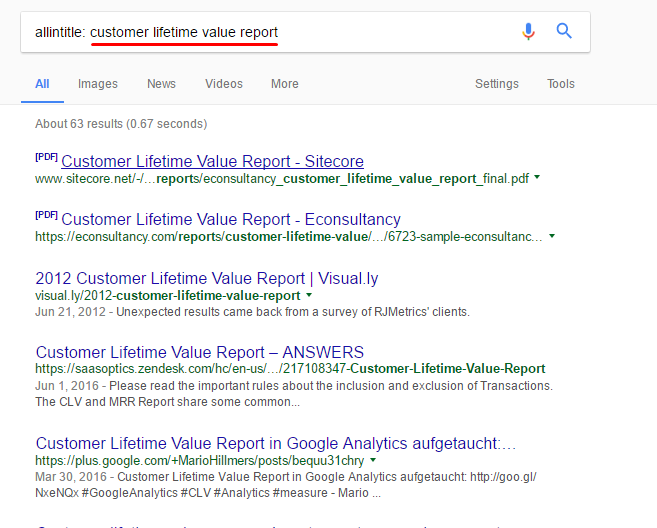 3. Site: operator to search on authoritative websites
The site: search operator restricts search results to articles posted on certain websites.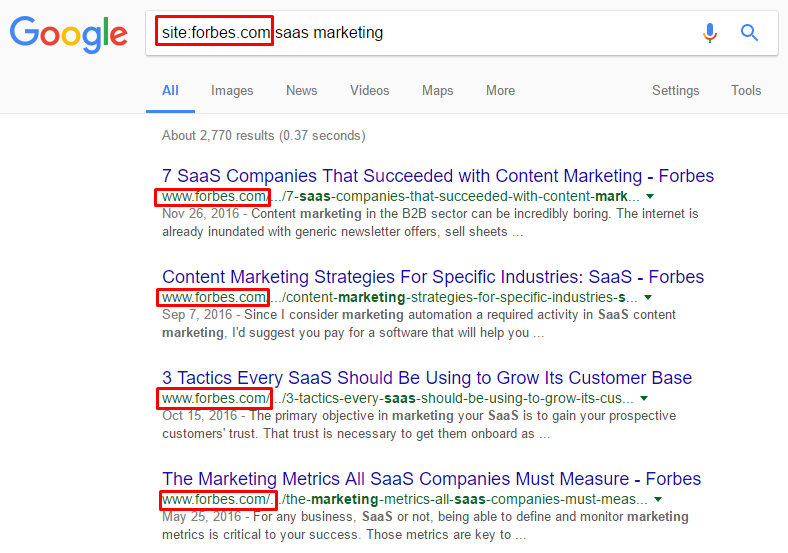 Explore search results on different authoritative website. To avoid lots of tedious work, use OR operator.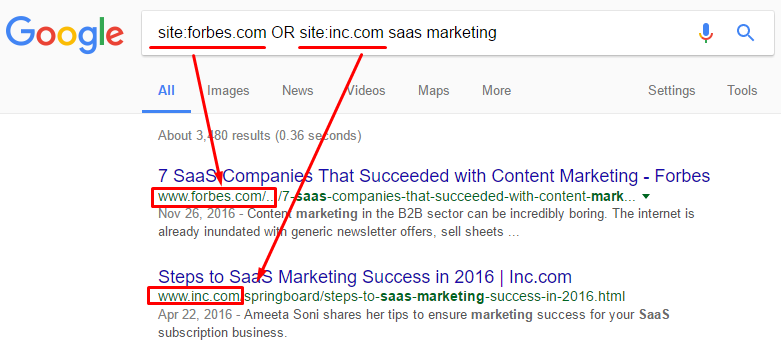 Here is the list of authoritative business websites:
forbes.com
wsj.com
businessinsider.com
marketwatch.com
ft.com
businessweek.com
Pro tip: you can combine search operators.
Example 1
allintitle: + site: + OR
allintitle:customer lifetime value site:forbes.com OR site:wsj.com OR site:businessinsider.com OR site:marketwatch.com OR site:ft.com OR site:businessweek.com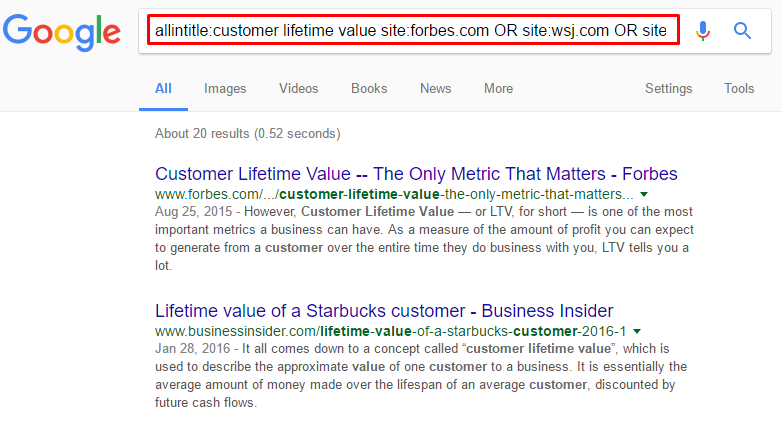 Example 2
"" + site: + OR
If you use quotes "", only the results with your search term in exact match type will be shown.
"customer lifetime value" site:forbes.com OR site:wsj.com OR site:businessinsider.com OR site:marketwatch.com OR site:ft.com OR site:businessweek.com

Example 3
site: + OR
The same as the example 2, but quotes are removed.
customer lifetime value site:forbes.com OR site:wsj.com OR site:businessinsider.com OR site:marketwatch.com OR site:ft.com OR site:businessweek.com.

4. Site: operator to search on industry leaders blogs
The basic scenario is the same as during the previous step, but instead of authoritative websites try to search on personal blogs of authoritative people.
For example, if you write about online marketing, you can search on websites like neilpatel.com or kaushik.net.
Research: Other Google Resources And More
5. Google Image Search
Images are useful, because they may contain graphics, diagrams and other information about our topic.
You can switch to images search by clicking the Images link below the search field.

Combine your search term with all extensions.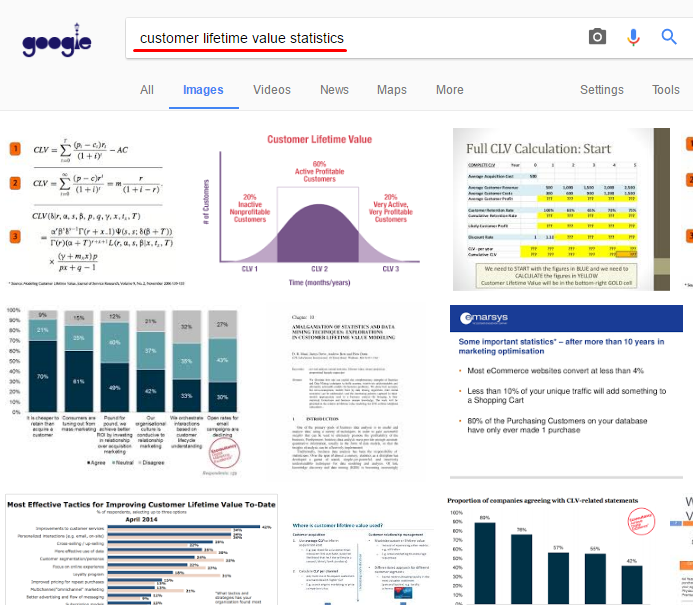 After you find something interesting, click on the image to increase its size. From there visit the original page where the image is located by clicking the Visit page button.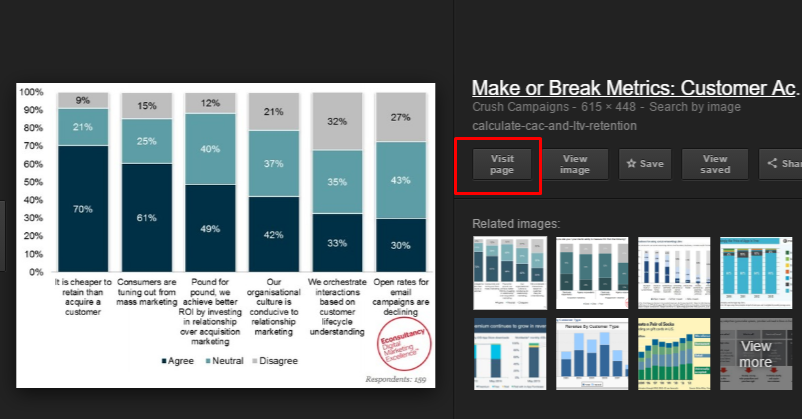 6. Google News Search
Google News search often contains results from news websites and blogs. It can also provide you with corporate reports, press releases, etc.
You can switch to Google News search by clicking the appropriate link under the search results.

Combine search queries with all necessary extensions.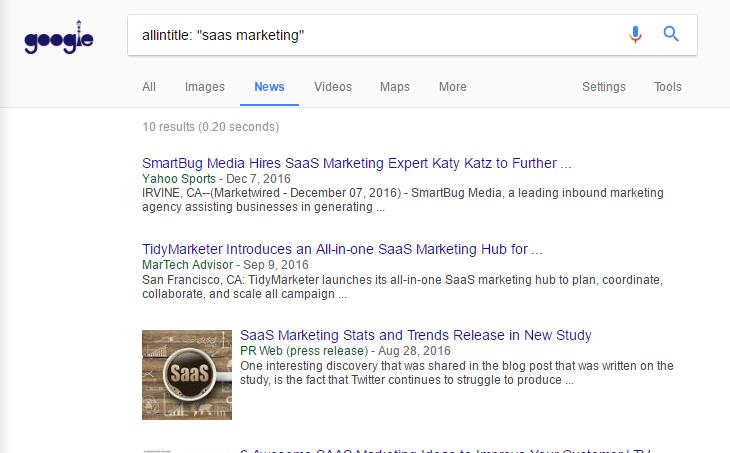 7. Wikipedia
Wikipedia allows you to get the basic understanding of the topic if you can find the corresponding article there.
It's a bad practice to use quotations from Wiki for every case. But the juiciest thing is the references section of each article.
Let's see what we can get. Type your search query. Wikipedia is almost always on the first page. If it's not there, type your search query with wiki postfix.

Open the article and read it. There you can find some good ideas for your post structure and content.
The most interesting sections for us are References and External Links.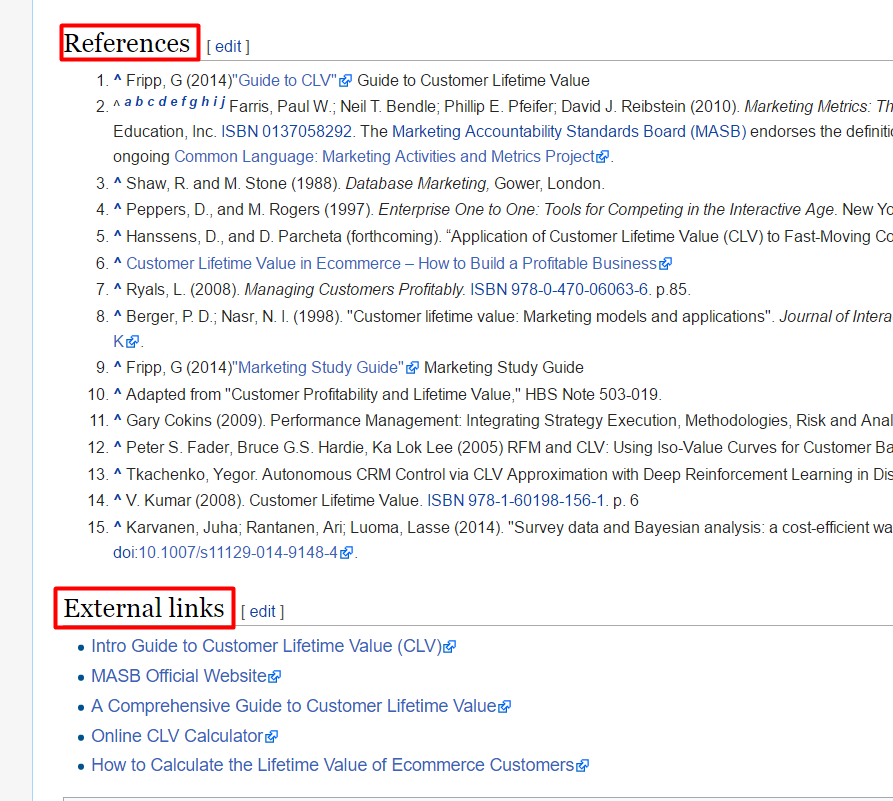 Open each link and carefully review each article or website. It should contain useful info if Wikipedia contributors decided to link to this content.
Let's check the first link in the References section for the Customer Lifetime Value wiki article.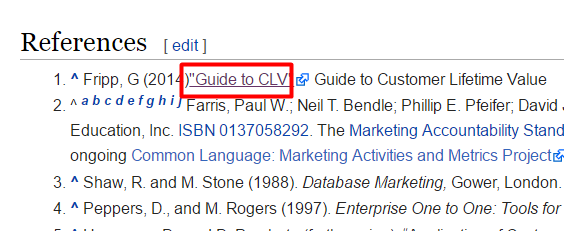 Wow, this is the website entirely dedicated to our topic. Looks promising.

Check out whether the author of the post is a trustworthy person.
Research: Scientific Resources
8. Google Scholar
Google Scholar search helps you find information hidden in scientific articles, books, and dissertations.
Uusually nobody reads it except for scientists. But these articles often contain interesting numbers, case studies and links, so they worth checking.
To start the search, open https://scholar.google.com/ and type your search query.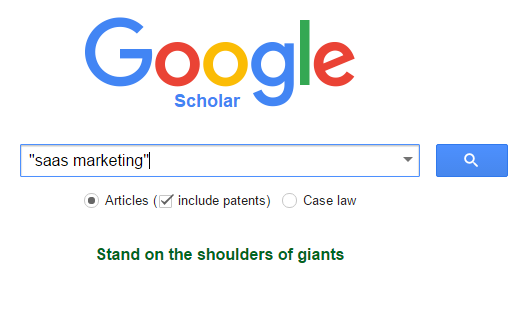 Tell Google to show you recent results only (not older than one or two years from now) by using the date selection drop-down.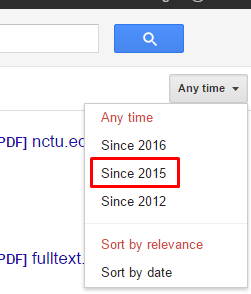 Don't forget to use extensions.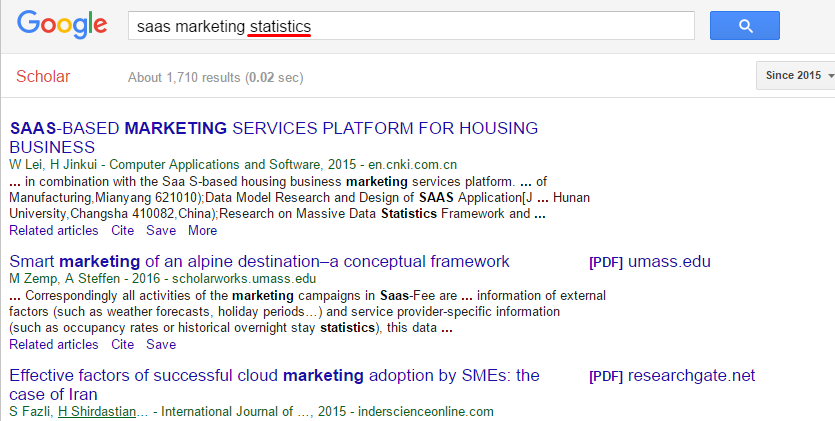 9. Scientific articles on PubMed
You'll make the most of PubMed if your topic is related to health.
Sometimes you will find juice results there even if you write about other industries.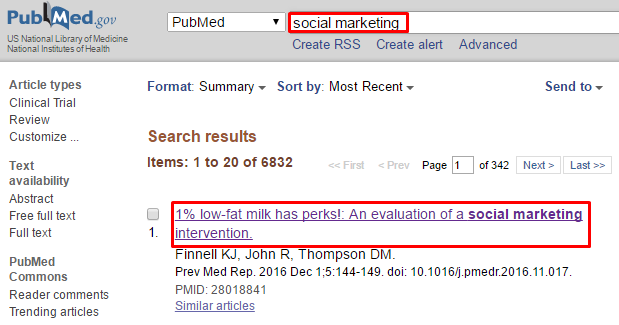 Do not forget to filter results by year. You don't need the outdated results.
Research: Books
10. Google Books Search
With Google Books search you can find the literature about your post topic.
To conduct a research, type your search query. Do not forget about search operators.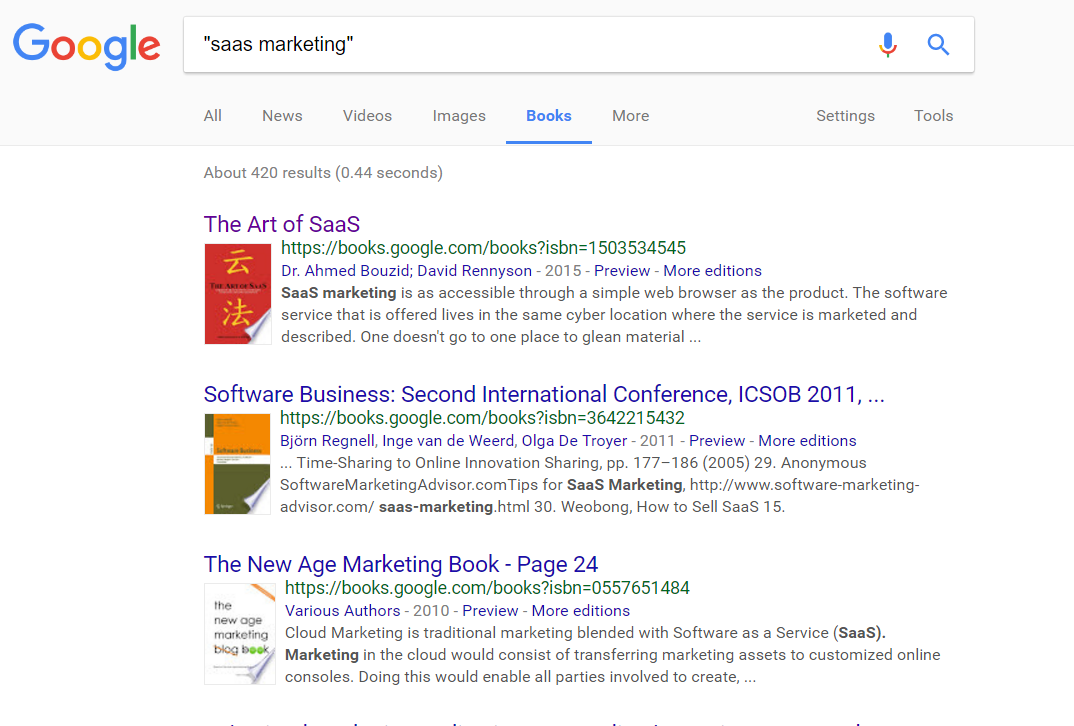 For most of the books a preview is available, so you don't need to buy them.
11. Amazon
Amazon is a great place where to search for and preview books about your topic.
Let's search for Saas Marketing in the Books department.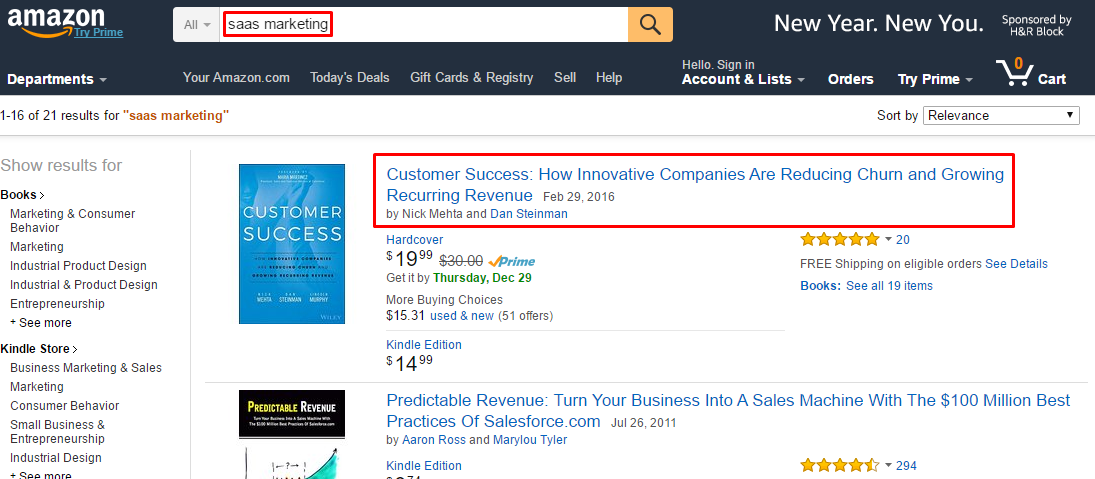 We've got interesting results.
The first book that is the most relevant from Amazon point of view contains neither saas or marketing. But if we check it more carefully, we'll see that it's about Reducing Churn and Growing Recurring Revenue. All these terms are related to SaaS Marketing.
Research: Social Networks
12. Linkedin search: interview experts in your topic
One of the best ways to find interesting content for your post is to ask an experienced person for an interview or at least a comment.
To find a qualified person, just type your topic into the LinkedIn search box.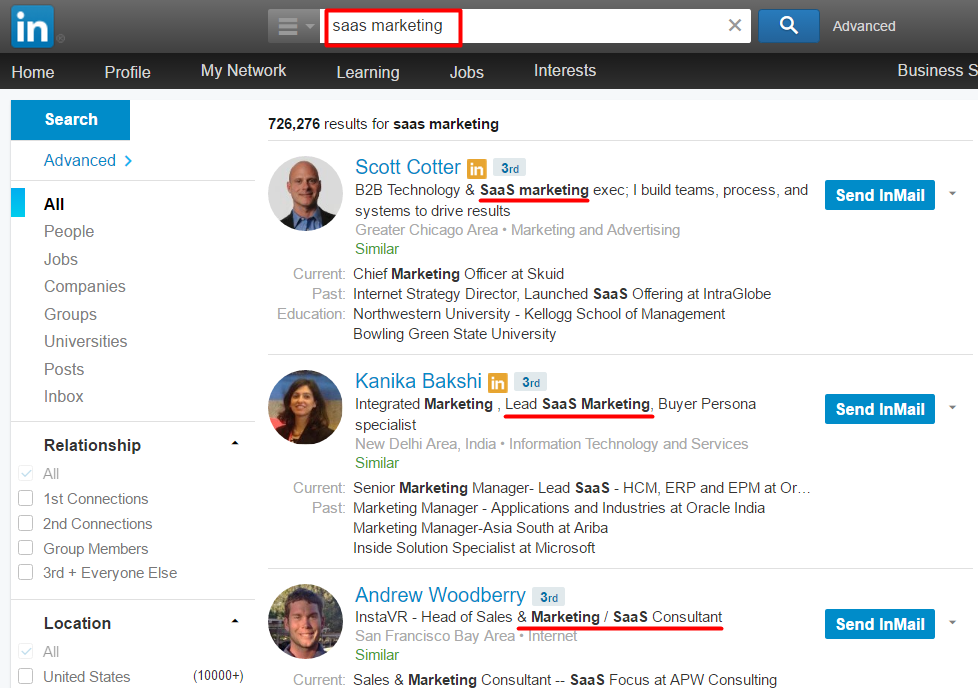 Now you can connect with all relevant individuals and ask them for an interview or a comment.
13. Linkedin search: find publications of experts in your topic
Another way to use Linkedin for content research is to find posts with your keywords published on LinkedIn Pulse. It's useful because you can quickly check the author's profile on Linkedin and decide whether he or she is worth your trust and quotations.
To find the posts, type your keyword, click the drop-down to the left of the input field and select the Post menu item.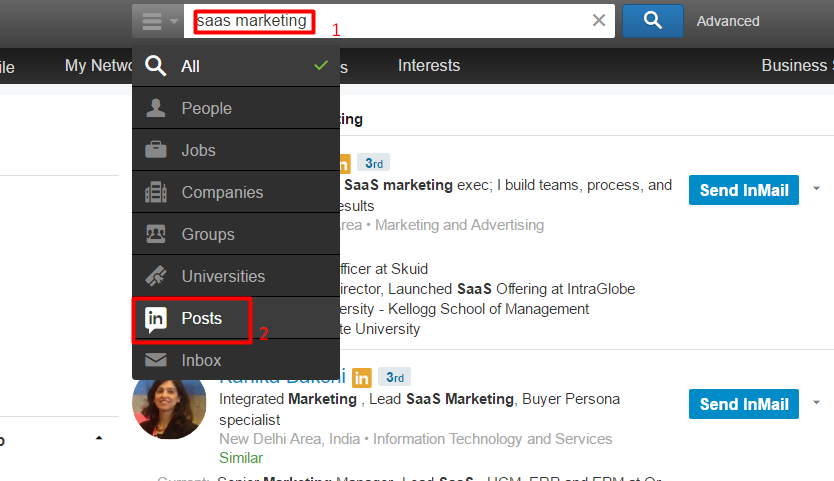 Press the Enter button and viola!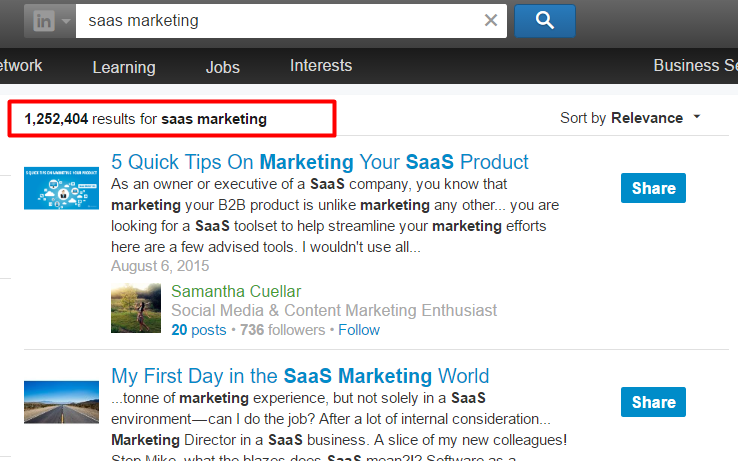 Do not forget to use quotes to make the results more relevant.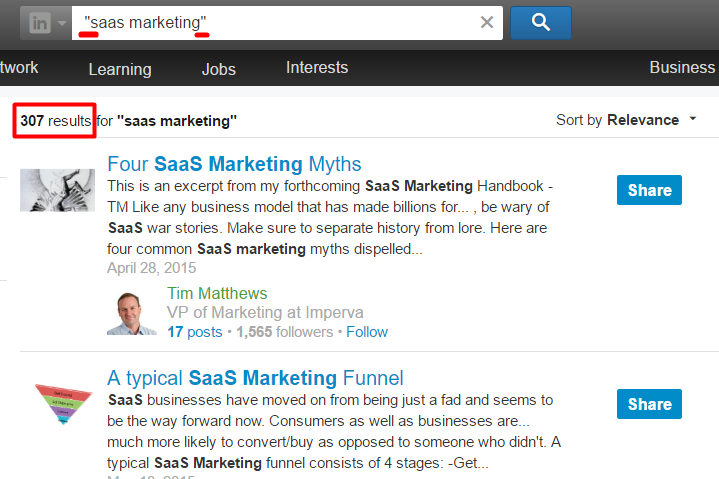 14. Quora
Quora is a place where people get answers to their questions from other users. This website contains tons of useful information. And, what is more important, a lot of influencers have active Quora accounts and answer questions on a regular basis.
To get the info, go to quora.com, enter your keyword into the search field and select the item starting with the Search: in the drop-down menu.
After that, click the Answers section on the upper left menu on the page.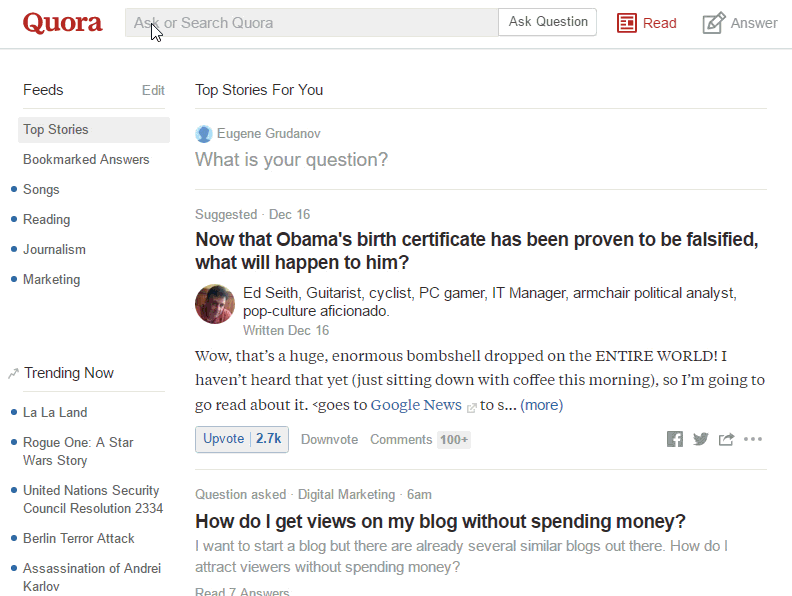 Most of the time you'll get a lot of results. A big portion of them will be written by professionals in your industry.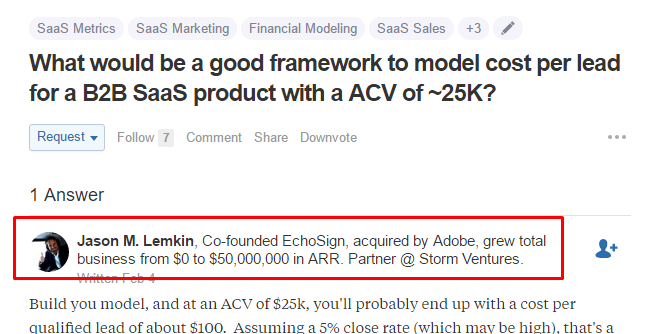 15. YouTube
YouTube is not only the place with videos picturing funny kittens.
Put your search term into the search field and check the results.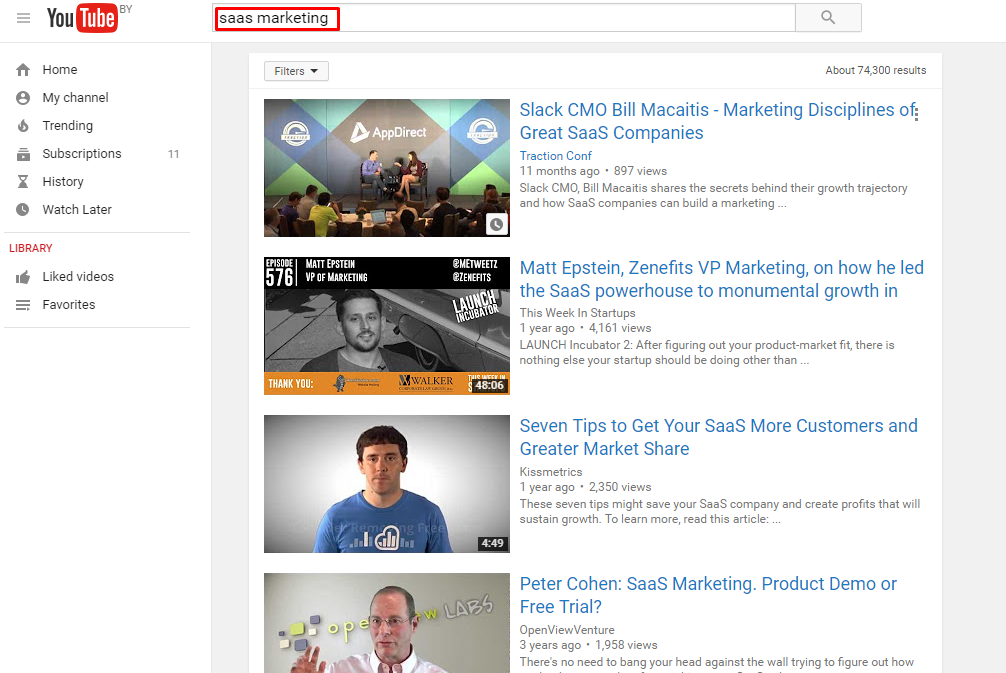 Pro Tip 1: If the video is long, increase the speed by up to 2X.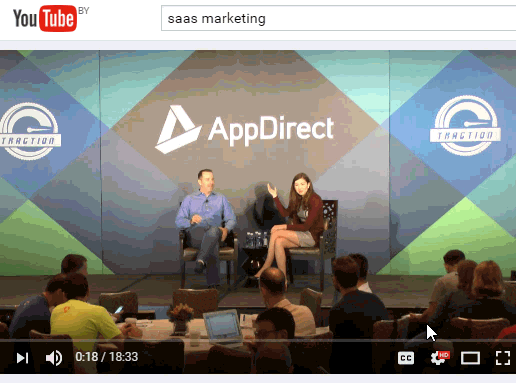 Pro Tip 2: In case you've found some useful stuff and you think it will greatly complement your post, embed the video. Сopy the info from the Shared -> Embed section and put it to the HTML version of your post.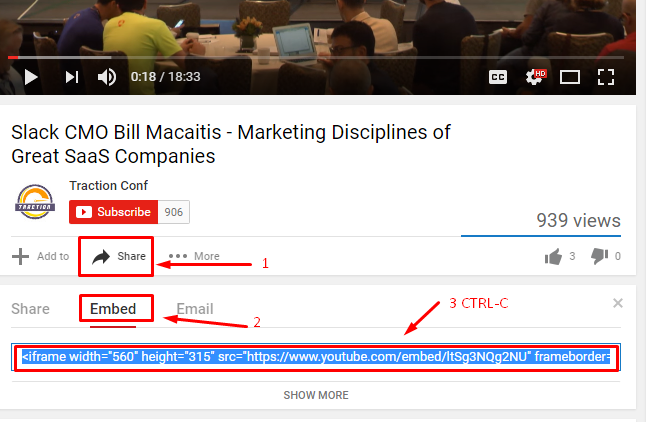 Research: Data And Statistics
16. Data and graphs on Statista
Statista is Google for statistics and facts. The portal contains millions of data sets.
There is a drawback, though. Lots of results are only available in the premium version of the service. But even a free version can provide you with insights and excellent information.
To start looking for the data, just type your keywords into the search field.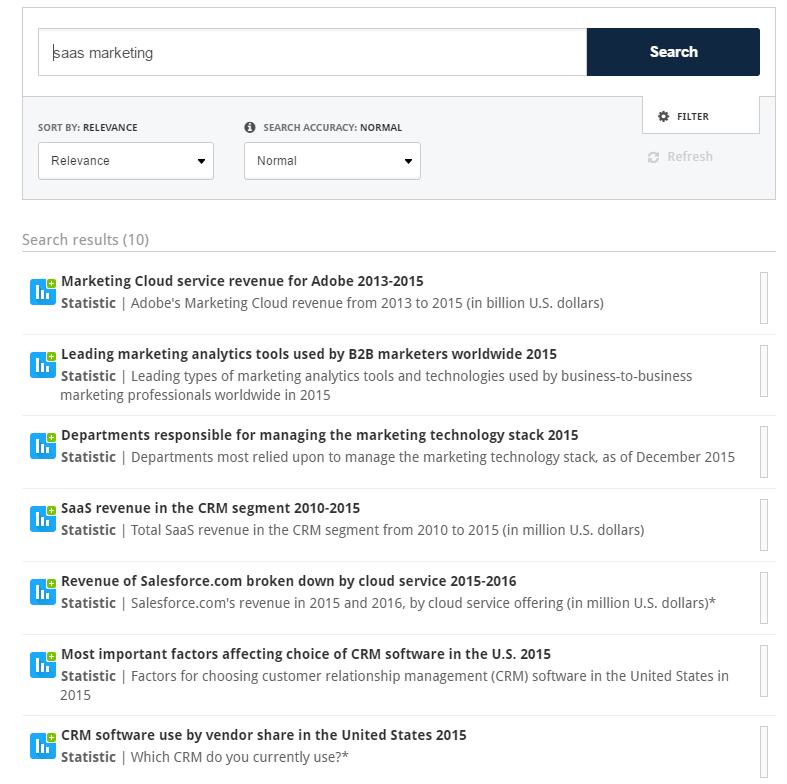 Some of these results are available for non-premium users, so that you can use them for your work.
Pro tip: in case you are not ready to buy a paid subscription, google the name of the report. Sometimes you'll see the source of the data or some articles where this data was used.

17. Data on Data.gov
Data.gov is another great source of information from the US government.

18. Data on other national data portals
If you write about some country-specific topic, check national data portals. Almost all countries have websites with loads of information.
To find these websites, google [country] open data.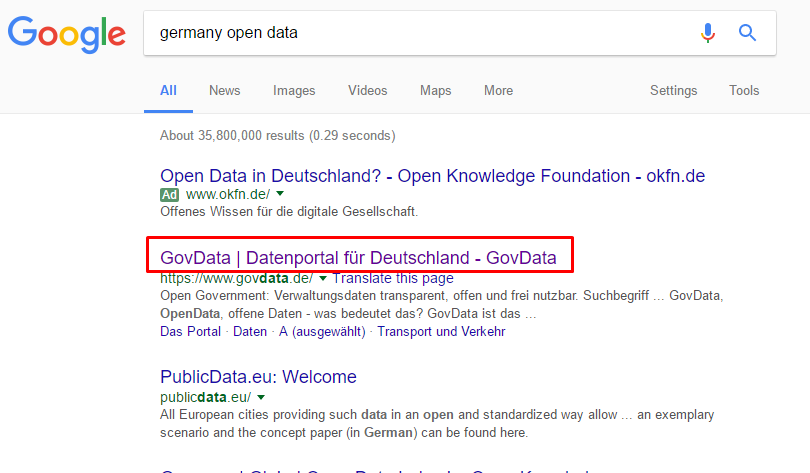 We know that googling is complicated, so we've found some portals for you.
Conclusions
Creating research-backed blog posts is a hard work compared to writing opinion articles. But in the end, these posts are worth the effort.
Familiarize yourself with Google search operators. They are Alpha and Omega of any successful research.
Remember that you have many ways to explore your topic.
Did we miss anything? Share your sources of high-quality data in comments!
Done with reading? Now you may want to check this: