How to Take Charge of Your SaaS Onboarding Process. Best Practices
Many SaaS businesses have problems with their churn rate: it is increasing, and they don't understand why. Sometimes it is because users find their experience with the product to be confusing and overwhelming. If this is the case, business owners should get acquainted with the concept of SaaS onboarding.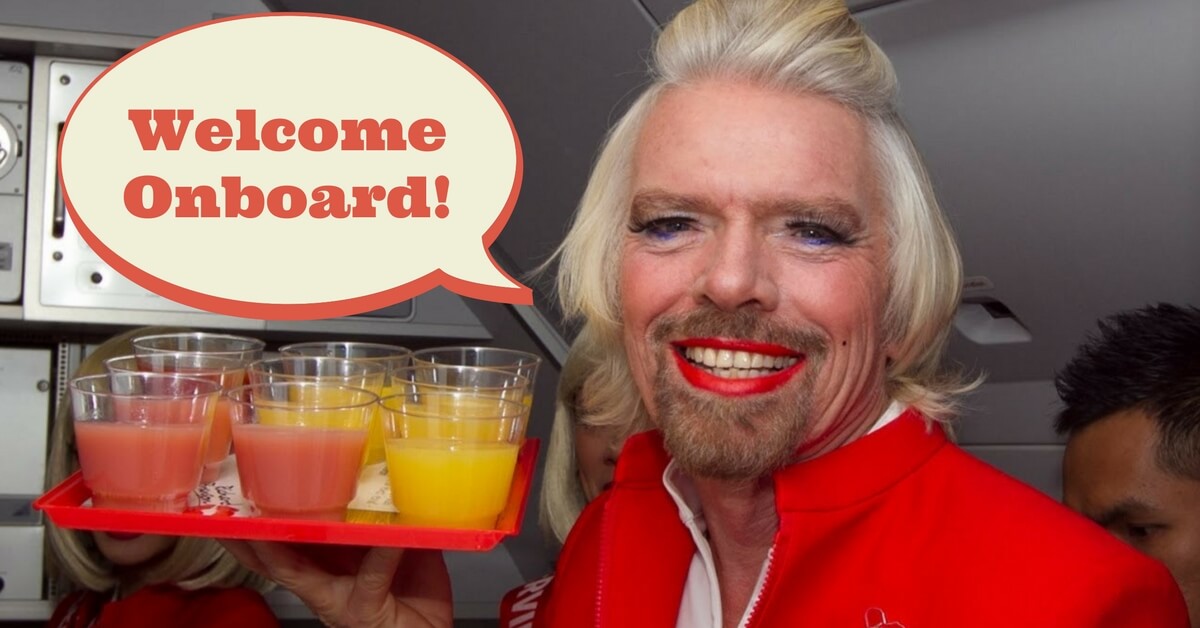 We wrote this article to help you do just that. We have also listed the most effective SaaS user onboarding practices and supported them with examples. 
What Do We Mean by SaaS User Onboarding?
There are many vague definitions of user onboarding on the web.
Wikipedia says, that "User Onboarding is the process of improving a person's success with a product or service."
Does it help with your understanding? Probably not.
How Can Kraftblick Help Your Software Company?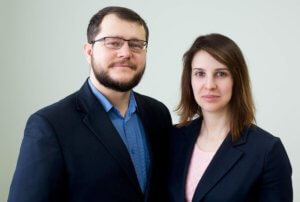 See you soon 🙂
Here is another definition, which is a bit more concrete:
"User Onboarding is the process and associated user experience by which new users become proficient in an application. User onboarding encompasses the initial experience in the application, online or offline training, and the customer success workflow that manages the user journey."
That's better, but it still doesn't give us all the details about the onboarding process.
Regardless of the obscure wording, we can say that the essence of user onboarding is to encourage the customer to use your product and gain constant benefit from it.
Claudiu Murariu, Founder at InnerTrends, wonders,
"Recognising where it begins is easy because the very first step is for a new user to signup, but where exactly does user onboarding end?"
And really, how do we know that the process is over and we can call a user "onboarded"?
Lincoln Murphy, Customer Success Consultant at Sixteen Ventures, prefers to
"consider a customer "onboarded" once they've achieved "initial success" with your product (consider this First Value Delivered – FVD)."
Although Murphy talks about customers, the free trial phase should also be considered as one of the initial parts of the onboarding process.
"Let's view free trial phase as a form of customer retention. They're not paying…yet. The goal is to retain them as a user right into paying phase,"
states Neil Patel, Co-founder of Kissmetrics.
So what is the trial phase if it's not a part of the user onboarding process?
It should be noted that user onboarding does not always start with the trial. The type of onboarding process depends on the specifics of the product itself.
Why Is It Important to Make the SaaS Onboarding Process Amazing?
Lincoln Murphy once said,
"The seeds of churn are planted early."
He means that churn can happen at any point in the customer lifecycle, including the very beginning, when the сustomer begins to get to know your product.
Thus, to prevent churn, business owners should carry out the correct onboarding strategy so that users can understand the value of their product as early as possible.
This also means that company executives need to immediately "catch" the audience, so that the customers keep using the product.
Since we consider the trial as one of the initial parts of user onboarding, this phase of the onboarding process needs to be set up properly.
This means that it is necessary to build your relationship with the user in such a way that once the trial is over, he or she wants to keep using your product and, eventually, buy it.
Let's take the example of Magoosh, an online test preparation tool. Magoosh's owners wanted to improve their onboarding process and began to implement some interesting ideas. One idea was to show a customer onboarding message to their new users.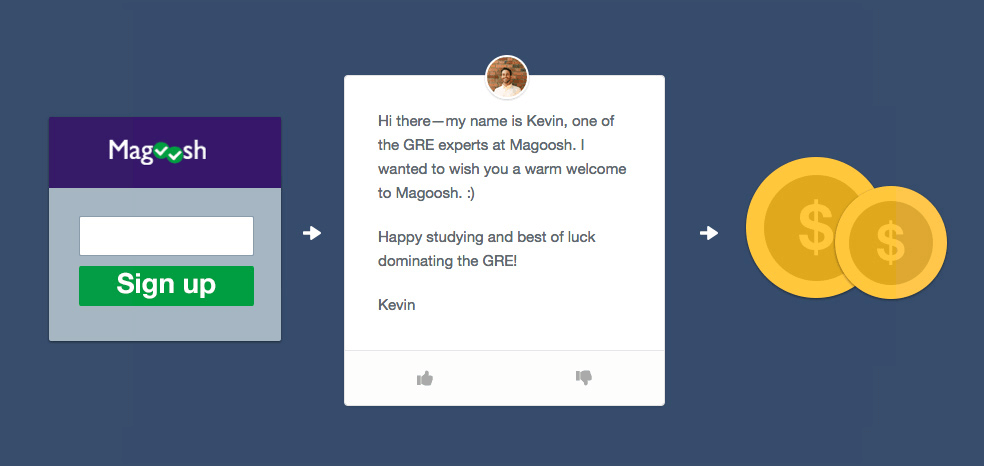 source: blog.intercom.com
This simple act allowed them to increase the conversion of new users into customers by 17%.
Additionally, Ty Magnin, Director of Marketing at Appcues, considers new customer onboarding is by 74% more significant than such metrics as acquisition, retention, or Annual Contract Value.
So, if business owners are interested in increasing their companies' profits, they shouldn't underestimate the importance of the onboarding process. As Alex Turnbull, CEO of Groove, says,
"The onboarding period is, for a business, perhaps the most critical time in a SaaS customer's life."
Best Onboarding Practices
Now we will list the best onboarding practices based on real industry examples.
1. Participate early in the customer's lifecycle.
We have already said how important it is to 'hook' the client at the very beginning of their acquaintance with the product. That's why the owners of Groove, an online Help Desk software, send onboarding prompts to their newcomers' Groove inbox.
These prompts are short letters greeting new users and showing them the product's various services and features.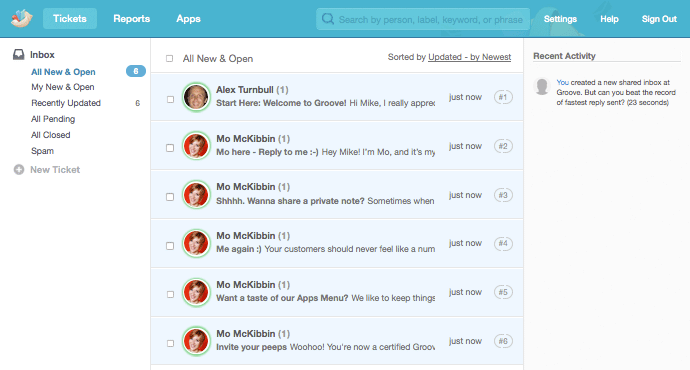 source: groovehq.com
Alex Turnbull says that users who read and react on these prompts are 80% more likely to convert into paying clients than those who do not read the prompts.
2. Make your SaaS sign-up process as easy as possible.
Of course, the appearance of the sign-up forms will depend on the specifics of the business and its target audience. But it seems that less detailed and simpler forms are still the best solution for acquiring new customers.
Brandon Hickie, Marketing Manager at LinkedIn, judges that
"Friction creates resistance, so requiring more of visitors to sign-up can scare them away."
People may not yet trust your business enough to want to share certain information. Plus, filling in shorter forms is easier.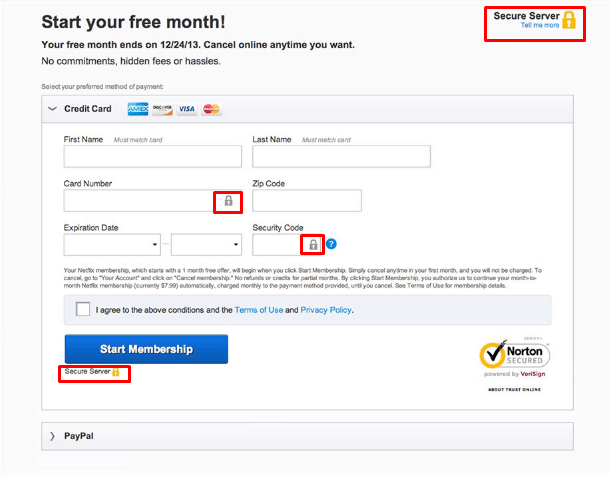 Netflix creates a sense of security with the help of a lock image. It is much easier for people to share personal information if they have the illusion of security. (source: useronboard.com)
3. Forget your 30-day trial – onboard and convert based on behavior.
According to MadKudu's survey, based on the analysis of nine SaaS companies, 80% of SaaS conversions happen in the first 40 days. This holds true regardless of whether it is a 15-day trial, 30-day trial, or freemium offering.
They also add that companies that tend to rely on the trial as the main conversion trigger miss opportunities.
Customers convert differently, so there is no need to focus attention on a trial consisting of a certain number of days. That's why Kevin Dewalt, Angel Investor and Advisor at MadKudu, suggests conversion based on behavior. He adds: 
"There is no "best" way to onboard because customers convert at different moments. There isn't anything magical about a 15-day, 30-day, or 43.7-day trial."
Here are some tips based on his research:
"Offer early conversion incentives for customers who get value sooner."
This means that you should offer to discount the full version of the product to those users who have already appreciated and understood the benefit of your product.
"Timed trials are great for creating a conversion incentive, but start them once customers get value from your product – don't rely on a 30-day trial for all of your customers."
If you see that the user is already benefiting from your product and is ready to use it, do not wait for the end of the trial. Offer to buy your product before.
4. Test different SaaS onboarding techniques and apply them to make users more successful.
We've already mentioned Magoosh, which managed to increase their conversion rate by 17%. They did it because they constantly experimented and found the most effective option to improve user onboarding.
Testing will let you know what SaaS onboarding methods are suitable for your company. Business owners should not be afraid of trying something new to see if their efforts will be rewarded.
Gather information and analyze why people churn and how you can make them satisfied with your product.
Carry out A/B testing, a comparison of two versions of a web page, to see which one performs better. This kind of testing can be a good tool in the optimization of the SaaS onboarding process.
It is important to remember that onboarding is not limited to a product only. Onboarding can also be provided as a means of supporting your SaaS solution.
Consider recommendations from Brooke Goodbary, former account manager at Intercom,
"Are there best practices you can share via email? Can you create awesome documentation to help users with technical integrations? Could a weekly webinar be an easy way users a platform to pose questions in real-time?"
5. Clearly define the choices that users can make and induce them to act.
It is very important to describe every step that your customers should take during the SaaS onboarding process.
The example of LiveChat, an online Customer Service and Help Desk software, is very illustrative.
There were certain complications with their old website design. After signing up, users were redirected to the application where they saw the code they had to install. There was a guide on how to do it.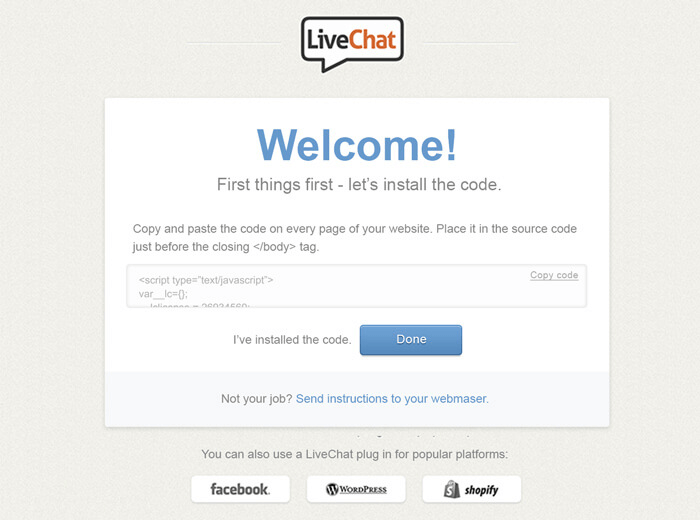 source: livechatinc.com
"The majority of LiveChat users, around 88 percent (!), wasn't able to complete this step. People either didn't know what to do with it or left it for later and never came back,"
states Jacob Firuta, content manager at LiveChat.
LiveChat solved this problem with the help of their new simplified website design.
source: livechatinc.com
Jacob Firuta adds,
"You want to know what's the best part about the change? The three options were available in the old onboarding as well. They were simply not eye-catching enough (integration buttons) or nearly invisible (send to developer link) to the users."
Due to the changes, LiveChat's conversion rate increased three times.
6. If your target customer base is large, use low touch SaaS onboarding.
"Low touch" means that company executives minimize their interactions with the users by relying on automated processes, such as providing automated tutorials for their customers.
Low touch onboarding is a great solution for companies that have a large customer base and find it difficult to personalize the user experience.
These businesses need to look for specific approaches, such as introducing innovations in their product with chatbots.
Slack's chatbot, for example, is a very effective and creative low touch onboarding technique.

source: slack.com
It guides new users through the product and answers their questions automatically. This is an excellent example of how to deliver useful information to a large audience.
7. Try to personalize the user onboarding experience.
This is a technique of "high touch," or so-called "concierge" onboarding, which is very useful if you want to treat each customer individually and meet his or her special needs.
We can describe this onboarding approach as looking after a user in order to lend him or her a helping hand if it is needed. "High touch" means that users can receive help and all the needed information personally via voice chat, email, or text.
Some years ago Pinterest decided to personalize their user experience. They identified customers' interests by specific areas with the help of A/B testing and set different content depending on the part of the country that was of particular interest of the user.
As a result, when they rolled out these changes, they saw an increase in new customer activation, and a 5% to 10% increase in people who come back to use Pinterest again.
8. Cater to multiple customer learning styles.
Each person prefers to learn information in his or her own way. For some customers, it is easier to learn something new with the help of text. Others prefer video or audio.
You should experiment with submitting information to find the most suitable way of delivering it to your target audience.
Musical.ly, an online video social network, meets new users with funny videos with people singing and laughing.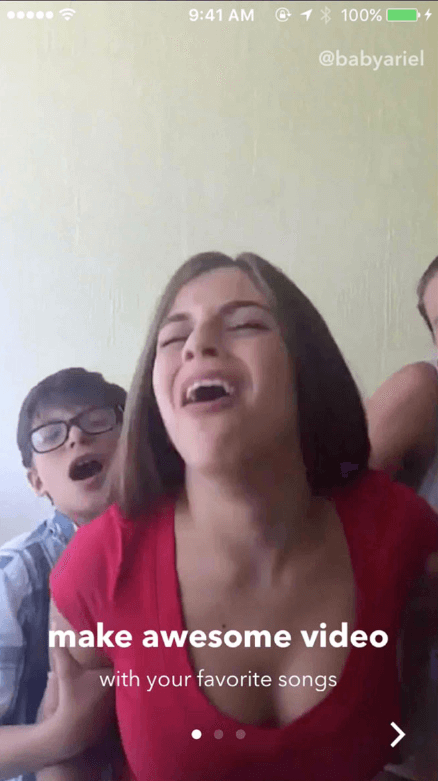 source: useronboard.com
This onboarding technique also illustrates the very essence of the product, which implies that users will be able to shoot and share the same vivid and weird videos.
To conclude, it should be understood that successful onboarding is always a process which requires constant iteration.
"User onboarding is not set it and forget it,"
confirms Samuel Hulick, user onboarding specialist at User Onboard.
Conclusion
We hope that our article has helped you realize the importance of a well-designed user onboarding process.
It can help business owners avoid issues with churn, which will grow if users find their experience with the product to be confusing.
The most successful companies invest a lot of money and energy into developing the most suitable and easy onboarding approach for their product.
All in all, User Onboarding is the process by which new users become proficient in a SaaS product. User onboarding includes the initial user experience with the product (such as a free trial), online training, and the customer success workflow that guides the customer journey. It is the process of improving a person's success with a product or service.
Best SaaS onboarding practices are:
Early engagement in the SaaS customer lifecycle.
Easy and clear SaaS signup process.
SaaS onboarding and conversion based on behavior.
Testing different onboarding techniques to find those suitable for your users.
Defining the choices that users have in order to prompt an action.
Applying low touch onboarding when your target customer base is large.
Personalization of the user onboarding experience.
Catering to multiple learning styles.
What do you think about SaaS onboarding? Do you have any additional tips on how to improve this process? Please leave your comments and share your opinion with us.

Done with reading? Now you may want to check this: