A Startup Guide for Hiring a Marketing Team
Startup founders usually start with a core idea. Then build a team of like-minded individuals to develop and implement it.
When the product is developed, a question always arises: "How do we introduce it to our target audience?"
If you are looking for an answer to this question, it's time to think about hiring a marketing team.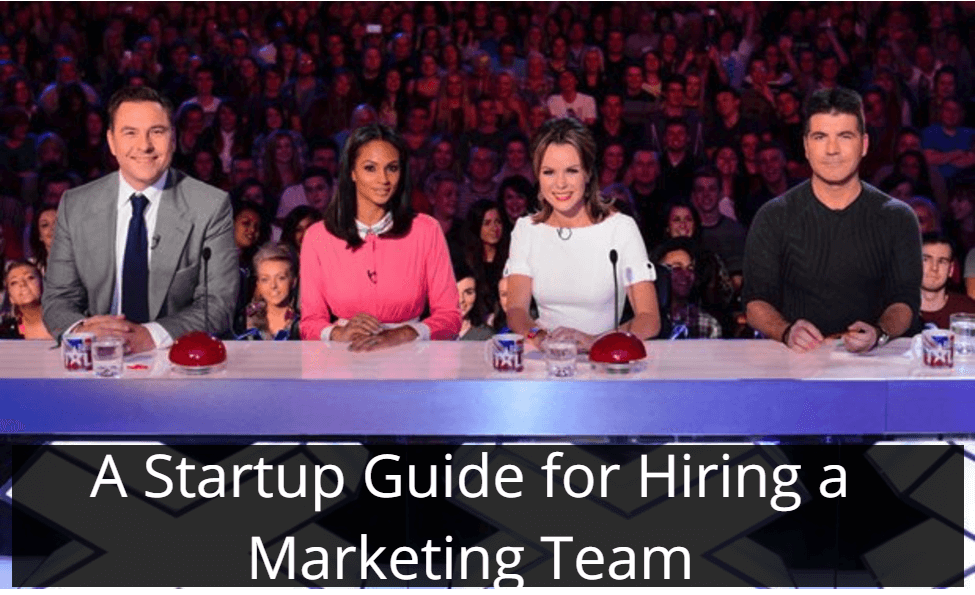 In this article, we'll discuss which employees comprise a dream marketing team for startups and how to hire them.
Which Employees Should Be in a Perfect Startup Marketing Team?
1. Marketing Director 
The marketing director enables communication between the marketing team and the startup founder, and is the first person you need to hire.
How Can Kraftblick Help Your Software Company?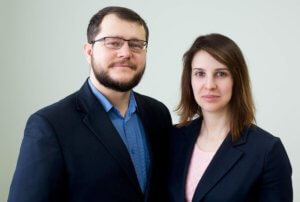 See you soon 🙂
A director should be an expert in marketing and at leading a team, and should have good ideas and a solid understanding of their implementation.

A description of marketing director responsibilities in a startup (Source: indeed.com)
A marketing director plays the lead role in the marketing team, responsible for the development and implementation of marketing strategies, for managing staff, gathering work results and reporting to founders.
2. Seasoned Writer and Managing Editor
Content marketing is now an integral part of inbound marketing. 89% of marketers in the B2B sphere in North America use content marketing.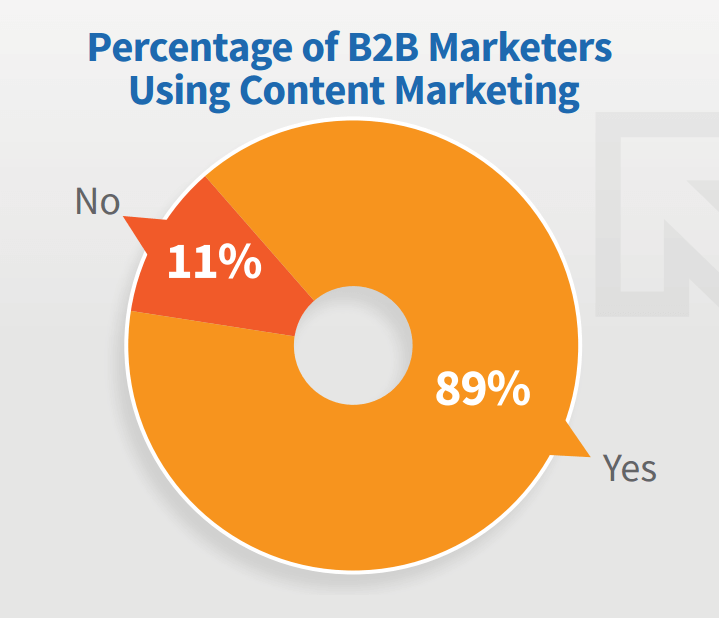 Source: contentmarketinginstitute.com
A seasoned writer is needed to create perfect content that will attract new prospects and increase Google search rankings. A writer's responsibilities include writing copy for a wide range of marketing channels, including websites, blog posts, and other media.
As an example, here are the requirements for a content marketer/writer for the company Blend.

Source: indeed.com
An editor is also essential. Editors can make your articles easier to understand, and more attractive to readers.
Editors have many responsibilities, including:
Managing writers.
Editing and proofreading copy to make it easier to understand and more appealing.
Leading content marketing efforts.
3. Data Scientist
Harvard Business Review called the occupation of data scientist the "Sexiest Job of the 21st Century" due to its unique set of analytical skills and great marketplace demand.
Increasing number of people are entering programs to study data science at an advanced level as a career.
Data scientists find and interpret large amounts of data from different sources, providing actionable analysis of data to move a business forward.
To be more specific, data scientists work with big data, predict changes, monitor the results of marketing campaigns, make reports and communicate their findings. Without their work you may not notice essential correlations between actions and their results. You will not be able to make accurate predictions of markets and the effects of business changes.
4. SEO Expert
Good search engine optimization (SEO) helps your website be ranked higher than sites that lack proper optimization. SEO experts may provide highly ranked keywords for your content tol make it more relevant. They may also find backlinks that result in a higher score, but only if they're from a variety of diverse and authoritative domains.
SEO is a very effective tool for pooling prospects and boosting conversions.
Without it, your content will not be visible to people looking for your products and services. This means that even after spending hundreds or thousands of dollars on content, will not be in a position to reap the benefits from it.
The CEO of marketing firm BIZCOR says, "as long as you are focusing on optimal user experience while performing methodic SEO strategies, you will be rewarded with higher positioning and organic traffic."
Another advantage of SEO is that it provides fairly good ROI.
According to indeed.com vacancies, a SEO expert should be responsible for:
Building the SEO strategy by leveraging the licensed SEO platform
Making websites, headlines and content recommendations and then working with copywriters to create SEO friendly content for the site
Identifying the keyword and keyword phrases to be targeted with the goal of page one rankings
Ensuring that the title tags, alt text and general technical implementation are SEO friendly
Updating, maintaining and submitting sitemaps to search engines
Back-link building with Google best practices in mind.
How to Hire a Marketing Team?
There are a couple of options for hiring your marketing team. The first is to find these specialists yourself. Another is to hire a marketing director and let that individual hire the rest of the team.
In both cases, you need to at least find a marketing director. Here are some tips that are suitable for finding director as well as other team members.
1. To attract the best marketers, provide opportunities for growth and communicate them clearly
In his book about motivation, Daniel Pink lists three things that motivate people to work. First, autonomy — the freedom to do what they like. Second, mastery, which is the ability to grow. And finally, purpose; knowing that what you do is important.
Teresa Amabile , Harvard Business Review (HBR) researcher, provides another motivation: progress. This falls somewhere between mastery and purpose and refers to being able to know that you have created measurable results.
When you're trying to convince a marketer to consider a position at your company, find out what they're interested in and haven't had an opportunity to try. This is an opportunity to sell them on the position based on autonomy.
Mention opportunities for growth that you may provide to a potential employee. Lars Lofgren, the KISSmetrics Marketing Analyst, gives great examples of these opportunities, such as developing and building a marketing team, running a specific kind of campaign, or having responsibility for a budget.
When you tailor the position to meet a particular interest, you'll have a much easier time finding the right person.
2. "Hire slow, fire fast" rule
Greg McKeown, the author of the New York Times bestseller Essentialism: The Disciplined Pursuit of Less, explains the idea of "hire slow, fire fast" at hbr.com.
He provides three reasons why the rule is both effective and compassionate:
The world needs healthy and growing companies that are capable of operating over the long run, instead of bloated, bureaucratic companies that are slowly dying.
It isn't compassionate to keep one person on board if it causes the rest of their team to struggle as a result. t."
Similarly, trying to force someone to be what they are not is neither sustainable nor humane. Making people do a job they dislike and providing negative feedback week after week will not lead to positive results.
If you have found a person for a position in your organization, don't hurry to hire as soon as possible. Look at other candidates, compare them and make a carefully weighed decision.
On the other hand, don't delay firing an employee person who doesn't meet your company's needs. Keeping them on for too long will just waste your money and not achieve results.
3. Train your existing staff
If you are unable to find a great specialist, it is possible that you can nurture one from within your own company. Find people who are interested in marketing, and delegate to them some relevant responsibilities. If they successfully cope with them, expand the role.
But be prepared to spend some money on your personnel training.
Wong Meng Weng, social engineer in Singapore, writes at quora.com: "In my past startups I have bought up to $10,000 worth of books, HBR articles, etc.– approximately $1,000 per employee."
It may sound strange, but this is the reality. The Association for Talent Development's 2014 report shows that the average per-employee expenditure on training is $1,208.

Wrapping Up
A great marketing team is a must for a growing startup that has a marketing budget, a mature product and salespeople ready to work with customers. The dream team includes:
A marketing director who will be responsible for every crucial decision taken within the team.
A writer who will create perfect content.
An editor who will breathe life into that content.
An analyst or data specialist who will find correlations between actions and their results.
An SEO specialist who will get your website to the highest possible position in Google search engine results.
To get the best candidates, provide great opportunities for growth to your potential employees, and communicate them clearly. The main motivators for workers are autonomy, mastery, purpose and progress.
Once you've found a suitable person, don't hurry to hire as soon as possible. But if you find out that a person is not a good fit, fire the individual without unnecessary delay.
If you can't find appropriate candidates, nurture from within the organization by delegating some marketing responsibilities to your existing staff.
What are your experiences looking for great candidates?
Done with reading? Now you may want to check this: