.io Domain for SaaS and Startups: Pros and Cons of Using in 2018
Every company founder's dream is to have the perfect website that will attract customers and successfully convert them into leads.
Even if you have already built a profitable business in the SaaS industry, you may not want to stop at this point. Instead, you may wish to design something new and find new opportunities to develop and promote it. For example, a new brand or a new product.
However, before creating a new website, you will need to choose and buy a domain.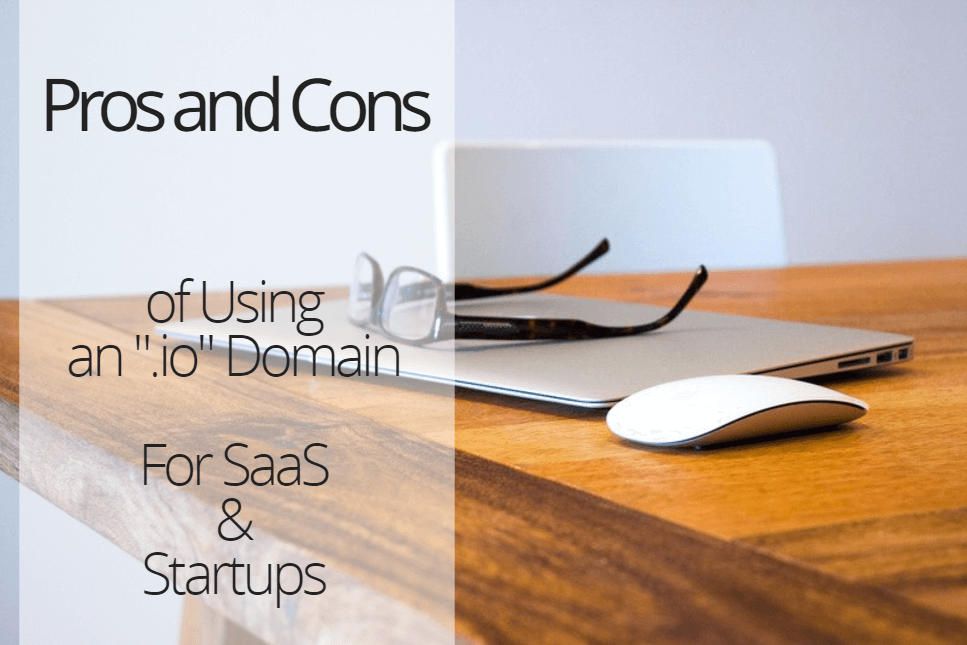 The total number of existing top-level domains is 1,528, so you may spend a lot of time deciding which one is the most suitable for your business.
Recently we've noticed that more and more tech startups are choosing a .io extension over a great variety of domains, and even over the conventional .com domain.
That's why in this article we've decided to consider why the .io domain is becoming so popular and what the pros and cons are of having this type of domain.
Let's start with the basics.
What Is a .io Domain?
Wikipedia defines .io as the Internet country code top-level domain (ccTLD) assigned to the British Indian Ocean Territory.
At the same time, developers associate  "io" with input/output which describes any program, operation or device that transfers data to or from a computer and to or from any other device.
Thus, it is possible that choosing a .io domain is how tech startups want to highlight their IT specialization.
How Can Kraftblick Help Your Software Company?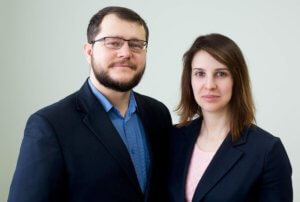 See you soon 🙂
On the other hand, people in various forums have referred this domain by using the expression "Internet organization."
There are a number of established companies that use a .io domain including canon.io, blockbuster.io, and coke.io. Surprisingly, even Google has a .io domain: google.io.
Below you'll find several advantages and disadvantages that influence the popularity of the .io extension.
Pros and Cons of a .io Domain
We've studied various forums and discussions where people shared their opinion about the .io domain to find out whether it is worth it to buy a .io domain or it is better to choose another one.
Here are our findings.
Pros of using a .io domain
1. .io domains are recognizable
The .io domain is one of the newest extensions, so it is no surprise that it has innovative and trendy connotations related to tech and startup communities.
People associate the .io domain with startups or companies whose primary service is either entrepreneurial or technology related.
Ben Verbeken,  CEO at seats.io, says:
"We took a .io domain because it refers to 'input-output.' And our customers (mostly tech savvy people) understand it like so."
These types of associations may help you boost your brand recognition. People will understand the specialization of your business even without learning more about your product or service.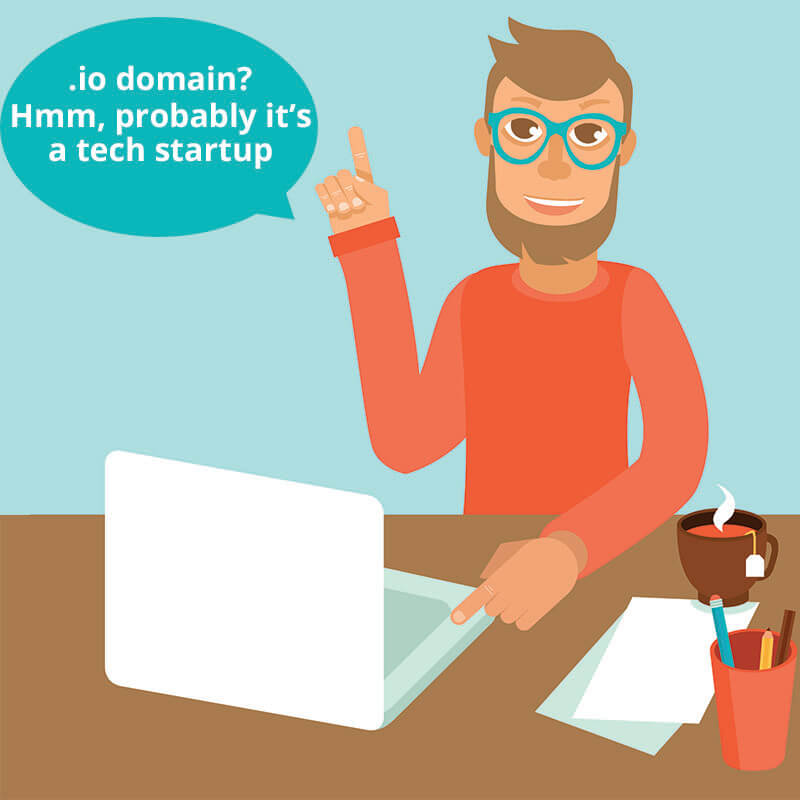 2. A wide range of .io domain names are available
Since the .io domain is new, there are more available variants of website names as compared to the .com domain.
If you want a .com domain, it will be harder to create a new name as many attractive ones may have already been taken.
The .io domain provides a greater possibility that the name you've created will be available and you will not have to change it.
Moreover, inbound.org says that a great company and website's name should be short, simple, memorable, and unique.
However, short, memorable and unique .com domains will cost you a fortune as their prices vary from hundreds of dollars to tens of thousands whereas the .io domain's cost is much cheaper.
3. Hacks with .io domains make your website's name memorable
A domain hack refers to using a domain name that suggests a word, phrase, or name when concatenating two or more adjacent levels of that domain. For example, "bir.ds" and "examp.le."
Examples of .io domain hacks include card.io, rub.io, postach.io and so forth.
With the help of this type of hacks, you can make your website's name memorable and catchy, and consequently, contribute to your brand recognition.
4. Google treats .io as a generic top-level domain
A top level domain (TLD) is one of the domains of the highest level in the hierarchical Domain Name System of the Internet. TLDs are divided into several groups: generic top-level domains (gTLD), country code top-level domains (ccTLD) and others.
Generic TLD suffixes (.com, .net and so on) are most often used internationally, while companies, services, and organizations that use cTLDs (country code top-level domains) are targeted to a specific territory.
For example, .eu refers to the country code domain of the Europe Union, .fr to France and continues similarly with other countries.
As we mentioned above, Google has categorized .io among its group of generic country code top level domains assigned to the British Indian Ocean Territory.
Google's ad targeting treats .io as a generic top-level domain (gTLD) because "users and webmasters frequently see [the domain] more generic than country-targeted."
Thus, the .io extension will not influence the organic search traffic to your website in a bad way. On the contrary, your website (if its rank is high) will be shown not only to British Indian Territory but also internationally.
5. A two-character domain means a shorter URL
.io is a two-character domain and is shorter than many of the other extensions. The easier it is for website visitors to type your URL into a browser, the better.
At the same time, there are a few cons associated with a .io domain, and you should be aware of them when deciding to purchase one.
Cons of using a .io domain
1. The .io domain is not a traditional domain
The .com domain has global recognition. It is treated as reliable and stable and communicates brand maturity.
The .io domain is relatively new, and, as such, it hasn't gained the same reputation as .com.
User "Hemingway" shares his opinion about the .io domain on brightjourney.com,
"Traditional wisdom holds you'll need to buy the matching (likely squatted, expensive) .com as you scale to avoid confusion, mis-typings, and broken links at a larger scale. If you have enough success to need this, this is not a bad problem to have."
At the same time, there are no TLDs that Google finds preferential to others. All of them are treated equally in rankings.
2. .io is not the first domain that the users will think of
.com is the most popular extension, and the majority of users will think of this extension first when searching for a company's website. When using other domains, you will need to point out that your domain name is example.io, not example.com.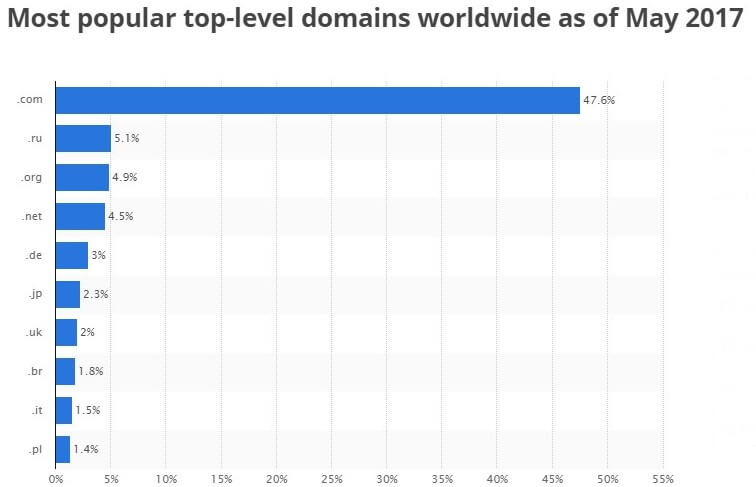 source: statista.com
As we've mentioned above, .io is more customary, and therefore, most recommended for innovative and/or technology related companies because it is more likely that their target audience will recognize and trust a .io extension.
3. A .io domain may signal brand weakness
A .io domain suggests that a company is probably new or has only been on the market for a short period of time, so, it's hard to evaluate its reliability.
Paul Graham, an English computer scientist, venture capitalist, and essayist, says,
"The problem with not having the .com of your name is that it signals weakness. Unless you're so big that your reputation precedes you, a marginal domain suggests you're a marginal company."
Wrap Up
As you can see, all the cons of using a .io domain are connected with prejudices concerning all of the domains except for .com.
However, there are not enough .com domain names for everyone, especially ones that are short and memorable.
New domains are growing in popularity because the number of vacant .com domain names is continuously decreasing. Nowadays it's can be hard to find a catchy name that has not been bought yet.
The .io domain can be a good alternative to .com.
Despite the fact that the .com domain is considered traditional, the .io domain can provide several benefits for your company:
– The .io domain is a great choice for tech startups, as in most cases it is related to the tech world due to the association with input/output.
– .io domain hacks can help you invent a catchy name that is unavailable with .com.
What do you think about choosing a .io domain? Share your opinion in the comments section.

Done with reading? Now you may want to check this: