AdWords for Custom Software Development Company: When Does It Fail?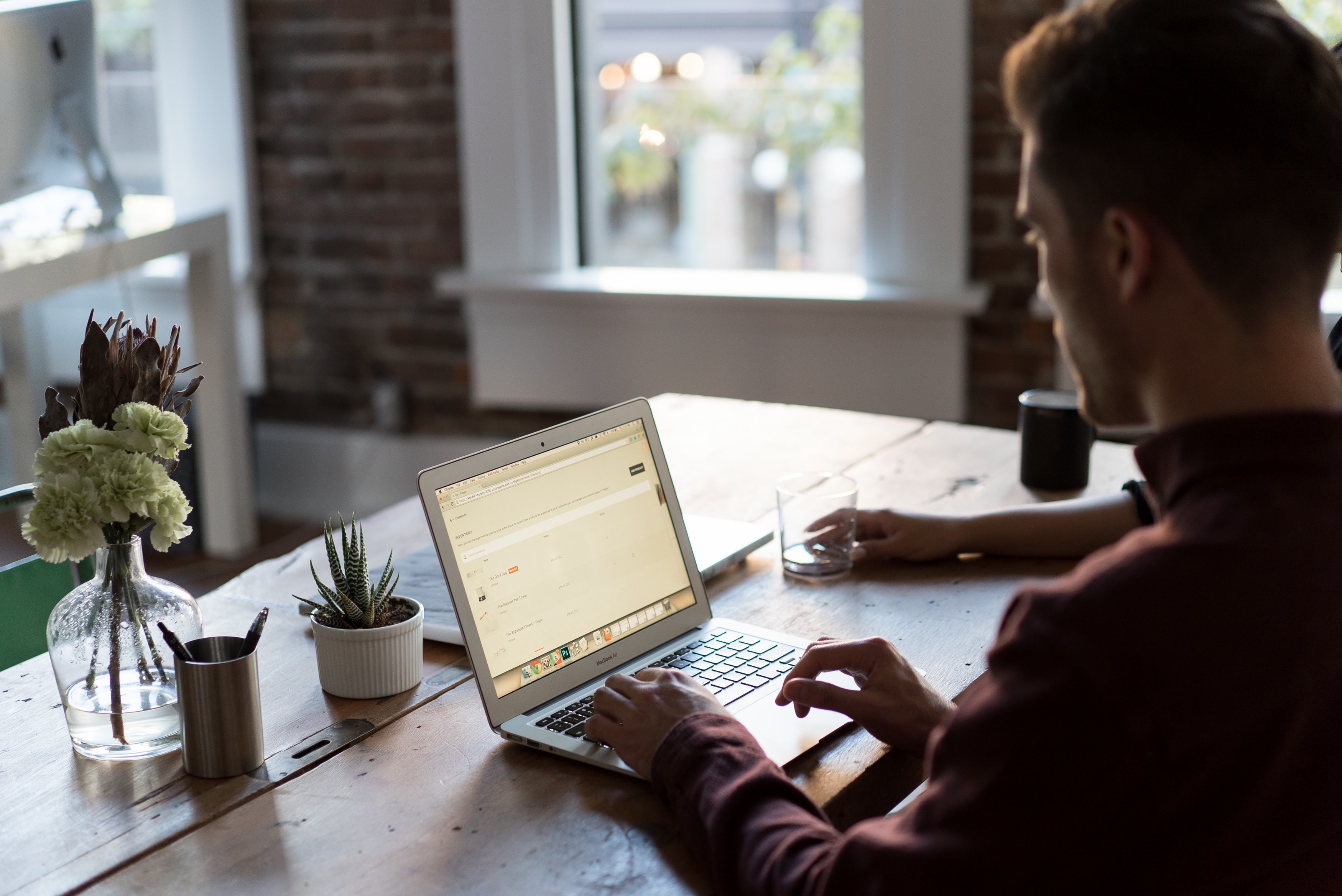 Nowadays many custom development companies already use Google AdWords and see the impressive results. Nevertheless, even the most experienced professionals often encounter failures. Why does it happen? Let's see the most common mistakes in details.
1. Underestimation of Competitors' Strength
We know that Google AdWords is a huge search network. However, we often forget that competition is high, and the typical CPCs are high as well.
There are many powerful competitors in the software development market like, for example, the IBM Corporation. In February 2016 its traffic cost $813K. Do you want to know how many of its distant competitors paid for their Google traffic?
Trying to win only by the budget volume is rather a risky strategy. It is not that you will surely lose. The point is to pay attention to every element of your campaign.
How Can Kraftblick Help Your Software Company?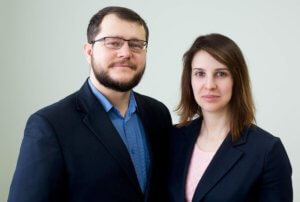 See you soon 🙂
While giant corporations try to inhibit other competitors with the budget size, you can step forward applying more flexible tactics (e.g. relevant ads, keywords, landing pages, specific keywords, etc.).
2. Low Budget
Some IT companies set their budgets pretty low and then meet high bidding requirements that eventually destroy their chances to get profitable with Google AdWords.
It is a rare case when someone nails a campaign right from the start. It takes some time to run and optimize the campaign settings to improve the return.
Let's say page conversion rate is 2%. It means only two clicks out of hundred will become conversion clicks. Therefore, to gain one lead we need fifty clicks. For example, you use the "software development" keyword targeting the UK. Its suggested bid is $20.42.
To get fifty clicks, we will need $1,021. Just for one lead.
It should be noticed that every business is unique and has different marketing goals. A company that needs to focus on sales will set a different budget than a business working on a branding campaign.
The first step of figuring out the starting budget is to estimate the average CPC for your keywords. You can do it with the help of Keyword Planner. In addition, it gives you ideas about similar keywords that may have lower CPC and be more suitable for your business.
Using the method described above you can count the cost of one lead. Depending on how many leads you are going to attract with your AdWords campaign, you can predict an estimated budget.
It's worth noting that lead cost should be lower than CLV (customer lifetime value). Otherwise, your AdWords campaign isn't profitable for your business.
Start with a budget big enough to get a considerable amount of traffic and "food" for analysis.
3. Too Many General Keywords
 Searching for software development, a user may be interested in information about many different things.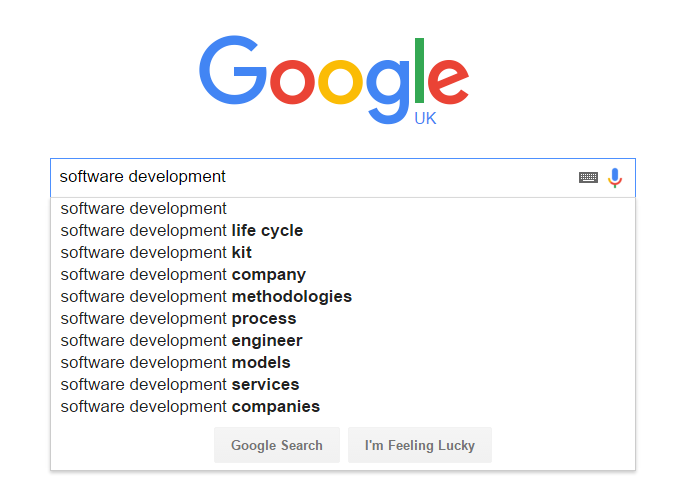 Before creating AdWords campaign, you should know possible user queries that you want to use for your campaign. Keywords used by IT firms can be divided into two types: general and specific.
Specific keywords (e.g. "software development services") are more expensive and not so popular. But they bring high-quality traffic to the website because visitors looking for services are easier to convert.
General keywords (e.g. "software development") are broad and can deliver more traffic amount. Even though their conversion rate is lower, with the help of carefully selected negative keywords they can convert as well.
Combining general, specific and negative keywords will help you attract quality traffic and convert it later on.
4. Little Attention to Landing Pages
With so much investment in traffic, many forget about the second part of lead generation – conversion rate. That is where landing pages come in. They help convert more traffic into qualified leads.
What happens when a visitor clicks on your ad? Does he know what to do next?
The goal of landing pages is to convince the visitor to make an action. The traffic coming to your site is not supposed to turn into leads by itself.
Let's imagine a visitor is searching for services and opens your website. What will happen if there are no call-to-actions on the page? A person will compare services to other companies and go further. Maybe forever.
It's not a good idea to expect a visitor to become a talk initiator.
Probably he's not ready for the contact, but you should motivate him. This is how it works.
You need to create a relevant landing page for your ads. The best landing pages focus on a single call-to-action, have no distracting information and sell the exact thing people clicked on your ad for. It should have the same idea as your ads suggest.
5. Craving for Quick Results
Google is a popular search network. You may think that once you create a campaign you will immediately get a lot of new customers. But the idea is that advertising on Google Adwords takes time. Don't be too worried if your campaign is not picking up on the first day.
Every campaign is exclusive. It has its own unique keywords, locations, bids, ads and so on. There are no two identical businesses as well as advertising campaigns, thus, each campaign must be managed differently.
The best Google Adwords strategy for custom software development company is to analyze and optimize it on a regular basis. Some metrics should be checked every day, some of them once a week or once a month. It takes time, especially in such competitive industries like software development. You must be patient and let your campaigns grow up.
Usually, an custom software development company starts getting leads during the first weeks after AdWords campaign launch. Adjusting the stable process may take around 1 – 3 months.
6. Lack of Сonversion Analysis
Now your Google AdWords campaign is already started and the keywords and ads are generating clicks. Wonderful! Getting clicks is good, but until you analyze the performance of these clicks, you cannot understand which of them actually lead to conversions.
You can record a conversion when a customer subscribes to newsletter, submits a form, requests a quote, etc. First of all, you should determine a certain customer's action that you want to count as a conversion.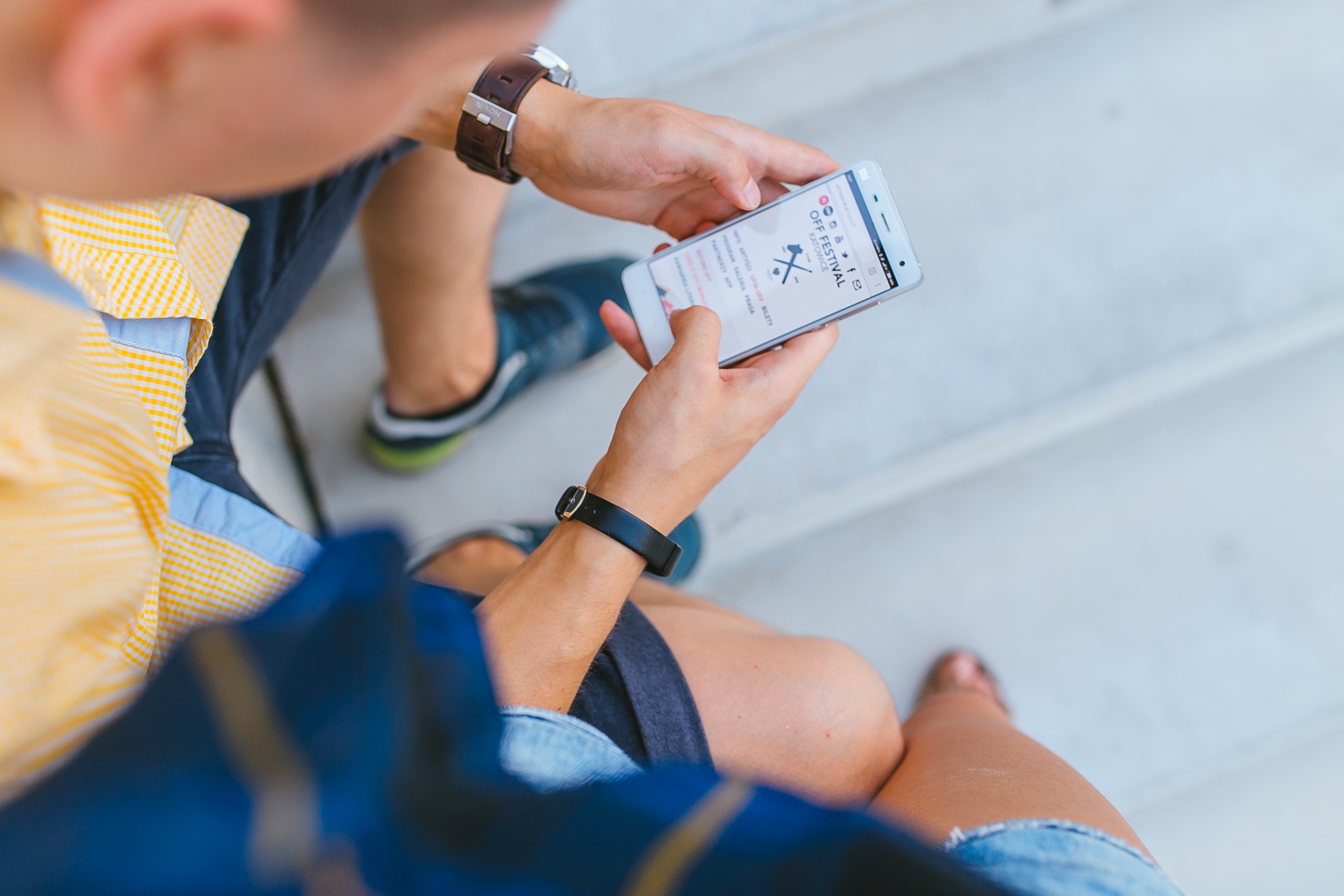 Keep in mind that conversions stats in AdWords is the sum of all conversions of your account. It may appear that you have 100 conversions, but it doesn't mean 100 AdWords visitors became leads.
Which conversion has the biggest impact on your business? Probably the "Form submission" or related ones. It may bring you only 30 conversions. If you ignore this fact and take the overall number of conversions into account instead, you will never know how your ads are really performing.
7. Slow Response to Submitted Forms (>24h)
If you are not responding to your web requests in time, leads will probably go to your competitor. According to Douglas Karr, "you have 100 times the chance of contacting a lead if you respond within 5 minutes versus 30 minutes after submission. And you have 21 times the chance of qualifying the lead if you respond within 5 minutes versus 30 minutes after submission".
When you add a form to your website, you give visitors the opportunity to contact your company directly. Do not leave them waiting for response if they need your help.
8. Avoid Results Tracking
In your account, you can measure success by monitoring the statistics provided by Google AdWords. Understanding the key statistics gives you the opportunity to evaluate if this type of digital marketing is working for you and whether you need to change something about your campaign.
Here are the most important AdWords metrics for custom software development companies that should be tracked on a regular basis:
Key business metrics:
Сonversions
Сost/conversion
Conversion rate
Detailed analysis of the campaign:
Cost per click (CPC) – the amount you pay for each click on your ads;
Click through Rate (CTR) – rate of users who clicked on the ad to the total number of ad impressions;
Quality Score (QS) – rating of keywords quality and relevance;
Search Impression Share – impressions you've received to the estimated number of impressions you were eligible to receive;
Traffic quality indicators:
Bounce rate – the rate of single-page sessions (when a person leaves your website from the entrance page without interacting with the page);
Avg. session duration – total duration of all sessions to a number of sessions;
Pages / session – the average number of pages viewed during a session.
All these metrics should be monitored against your campaign goals to help determine what you ultimately need to optimize.
The best option for custom software development company would be to check key business metrics once a week and detailed metrics and traffic quality indicators twice a week.
Take Advantage of Marketing Synergy
To achieve the best results with Google AdWords, you can also use other online channels for promoting custom software development services. A user may initially find your site upon clicking the ad and then coming back from other channels.
1. Email Marketing
For software development companies with its limited audience, one promising channel is email marketing. Cold emails help target the exact person you need for your business.
Your target audience wants to read meaningful and entertaining content or see case stories highlighting best practices. Most people will not get interested in the "look what we can do" template.
2. Content Marketing
If you care about nurturing and enriching customer relationships, content marketing will be a smart choice.
For brand development and long-term business growth, this form of marketing is undisputed. Producing content that engages your target customer will make you stand out from your competitors.
By meeting your customer's needs with the content you create, your business can become the "go-to" place for customers. According to the research, "of marketers who publish posts on a daily basis, 82% report that they've generated customers from their blog". Sounds impressive, doesn't it? When done right, content marketing can lead to better placement in search results.
3. Bing Ads
It may be reasonable to use Bing Ads to lower advertising cost. For quite some time, experts argue that Bing Ads are  "more "efficient" than Google AdWords but Google obviously has a much greater search volume and higher CTR".
However, if your advertising campaign is limited to a small geographic area, Google AdWords may be the only platform where you'll gain significant search volume.
So How to Avoid Failures Using AdWords?
One of the main marketing goals custom software development companies set is attracting leads at the optimal combination of cost, time and efforts. AdWords can be a powerful way to attract a wealth of new customer opportunities.
Using relevant ads, keywords and landing pages are the key to success. If you create an ad and a landing page that correlate with visitors' query, motivate them to make an action on a website, new customers will not be long in coming.
Ongoing monitoring and analysis of the campaign let you determine which areas you need to optimize. Without tracking, you will not have a complete idea of which approaches are useful for your business and which ones are just waste of time and money.
Setting a significant budget will provide you with the reasonable amount of traffic to analyze and optimize your AdWords campaigns.
In custom software development area clients don't buy products or services impulsively. Often it may be long sales cycles. B2B recipients can click on your ad, look through the website, receive a cold email a couple of days later, read an article on your blog and only then decide to submit a contact form. This means custom software development industry needs multiple promoting actions giving synergistic effect when combined.
Done with reading? Now you may want to check this: