How Content Marketing Can Help Increase Hourly Rate of Your Custom Software Company
With the correct approach to content marketing, you can get more leads as well as increase prices for your services.
In this article, we explain what custom software companies can do to make their content marketing efforts bring better clients (the ones with bigger wallets).
According to "IT Outsourcing Statistics 2017/2018" by Computer Economics, the percentage of total IT budget being spent on outsourcing in the United States and Canada rose from 10.6% in 2016 to 11.9% in 2017.
Clearly, outsourcing is becoming more popular, and businesses engaged in outsourcing software development are seeing increasingly lucrative opportunities.
In this paradigm, the two most obvious ways to increase profits are to garner more leads and to increase hourly rates.
You can do both simply by improving the content of your site, and this measure alone will be enough to realize positive results. No wonder the world's best marketers bet big on great content.
According to statistics from Skyword, the higher the rank of the marketer, the more he or she understands the value of content.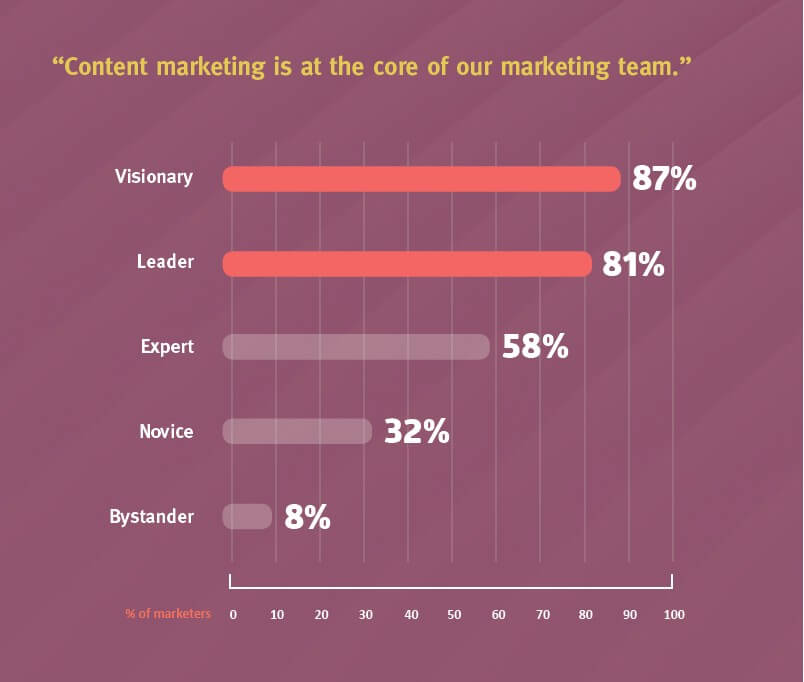 Source: skyword.com
In this article, we'll discuss how content may affect the price of your services. We will also offer some practical tips to help you improve your content.
How Quality and Relevant Content May Affect Your Outsourcing Developers' Rates
It's quite simple. The content of a potential contractor is very important to customers in today's market.
According to a study by Demand Gen, 75% of buyers and customers who bought products or services said the winning vendor's content had a significant impact on their buying decisions.
With the help of high-quality, relevant content, you'll be able to show readers your level of expertise, which may leave them prepared to pay more for your services.
Articles on your website show off your expertise in an advantageous way, and relevant and good-looking articles do it even better.
How Can Kraftblick Help Your Software Company?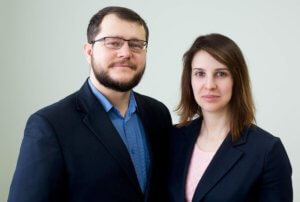 See you soon 🙂
But an opportunity to increase rates isn't the only advantage of having quality content.
If you ensure your articles are good, more readers will subscribe to your blog, which means you can get more leads.
So, if you work with content correctly, it will become the first step in your marketing funnel (a reader > a lead > a customer), allowing you to take a more systematic approach in generating quality leads.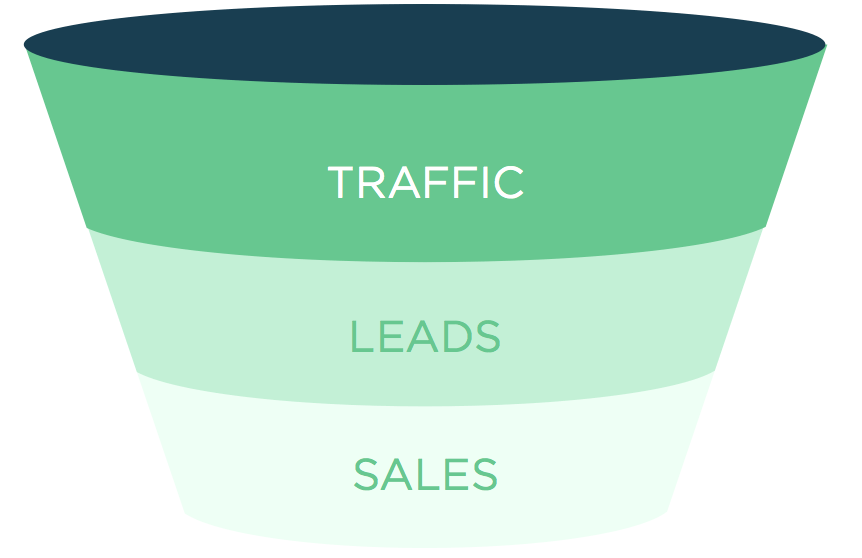 Illustration of a content marketing funnel. (Source: medium.com)
Increasing both the number of leads and your hourly rates may help you boost profits dramatically.
How to Make Your Content Marketing Efforts More Effective
Let's list all the things you can do to improve your content, step by step.
1. Conduct competitor research
Competitor research (we have already shared a lot of details on how to do it here) is a great way to recognize your weaknesses and get some fresh ideas. To conduct the analysis, find popular blogs from your niche and make sure that the blogs you've chosen as models bring tangible results to their owners.
Here is what you can do:
1) Select the sites of competitors with the most (in your opinion) quality blogs
2) Add all these sites to Ahrefs, one after another
3) Open the Top Pages tab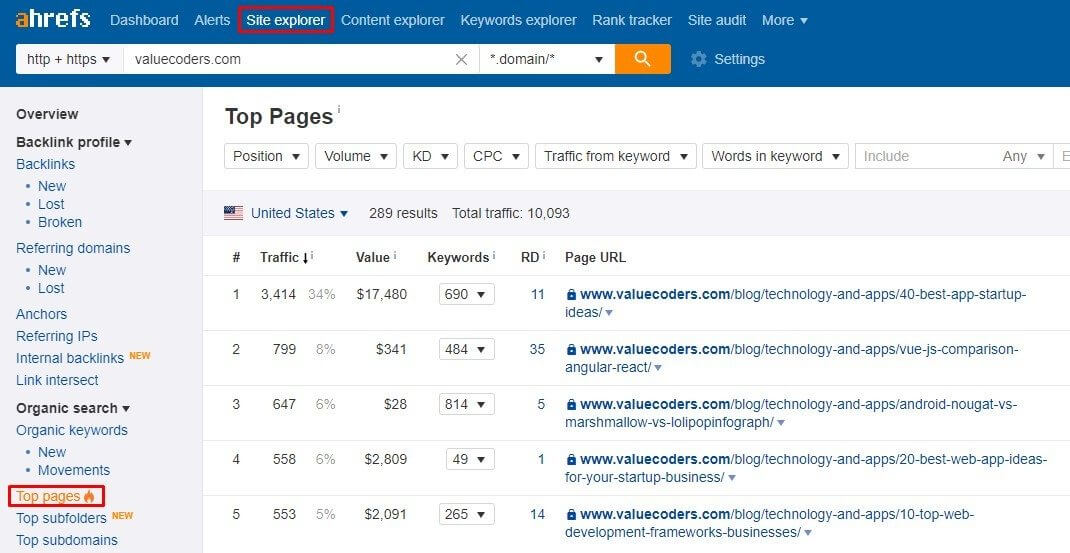 4) Filter all results by the "blog" keyword to leave only blog pages (the links should contain the word "blog")
5) For all the domains, check the amounts of traffic they receive.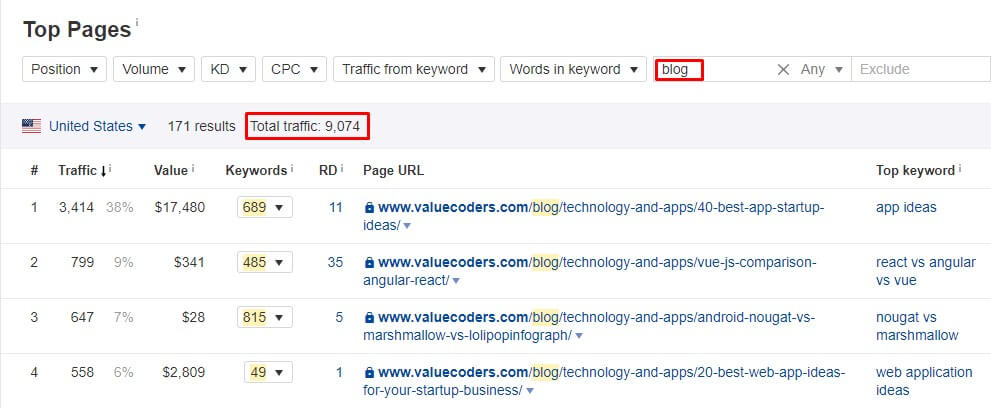 You should bear in mind that these numbers may not be completely accurate. These are the estimated numbers that Ahrefs calculates based on a page's specific Google position and keywords.
However, this data can be enough to compare several competitors' blogs and understand which of them work best.
You can also roughly calculate how many leads each blog may receive. Let's take the approximate conversion rate, about 0.1-0.5%. Thus, if a blog gets 5,000 visitors, it may bring about 25 leads from the target locations.
Now you need to collect some more data to understand in detail how the blogs of competitors work.
Here are some things you may check:
Learn how many words the articles contain on average.
Check out which spheres a competitor is most focused on.
The frequency of releases
Check how many times a week or month a competitor publishes articles.
Check out a competitor's blog to learn whether there are any particularly interesting and useful articles — or are they all more or less generic?
Examine what the articles look like; do they contain pictures, screen shots, or infographics?
2. Use the competitor data to improve your blog
After you have collected all the necessary data, you can begin to improve your blog.
Now you know exactly which of your competitors' blogs draw significant traffic and have a good potential for lead generation. It is from these blogs that you should learn.
Use the data on release frequency, design, article types, etc., and try to apply these standards to your blog.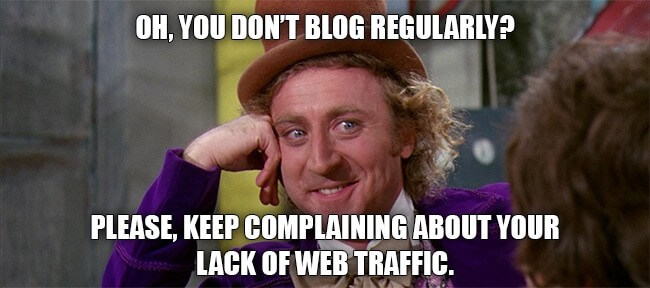 Source: weheartit.com
There is a chance that after this your blog will receive more traffic, and the readers will better convert into leads.
3. Follow these handy tips
In addition to improvements that you can make by observing your successful competitors, be sure your blog meets or exceeds the minimum quality bar.
Here is what you can do:
Make sure your posts are relevant to your target audience and contain valuable information for readers.
For this, you need to deeply understand your audience, its needs and pain points.
Make sure your posts contain enough images, screenshots, videos, etc., to make the texts more visual and less boring.
Try to emphasize the essence of the text with images, and choose ones that will organically fit into your articles.
Also, forget about pictures from photo stocks.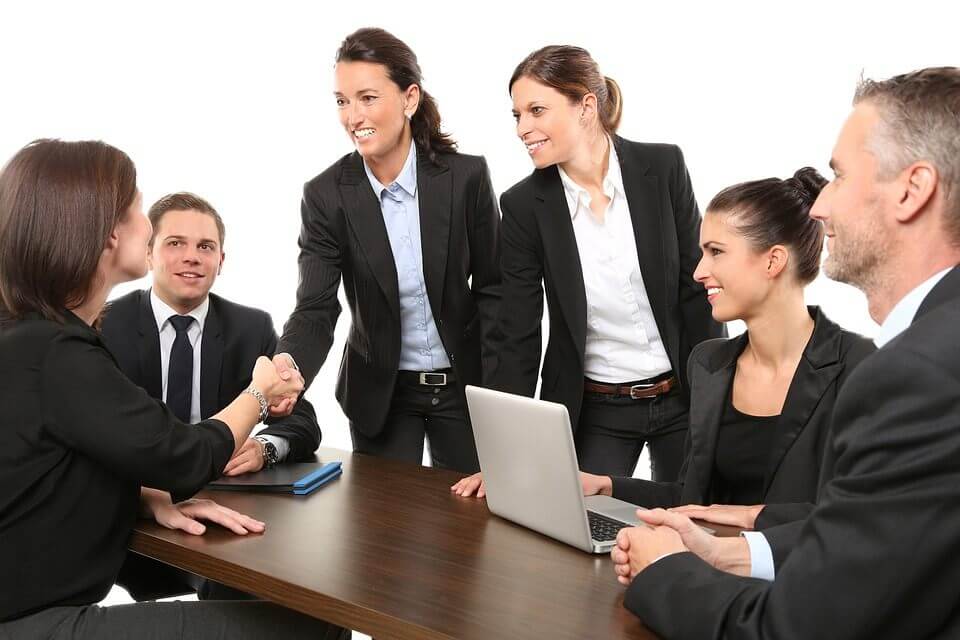 Another successful deal in the parallel universe. (Source: pixabay.com)
Make sure that the fonts are not too dim or fine.
Make sure the colors are visible. Use a 12-point font or a bigger one.
Make sure your texts are divided into paragraphs.
Do not publish posts that look like walls of text. Respect your reader.
Make sure the texts match your audience regarding style.
To do this, you need to know your audience and how to talk to them in a suitable manner.
For example, if your readers are serious businessmen, you should avoid inserting juvenile jokes into texts.
Make sure the posts don't contain obvious ads, which may repel your readers.
No one likes blatant advertising, and the readers of your blog are no exception.
Wrapup
In the article, we've discussed how you can increase your outsourcing team's hourly rates via content marketing.
The thing is that good and relevant articles show readers your expertise and also bring your site a lot of high-quality traffic, which can later be converted into leads.
T o make your blog more successful and attractive to readers, you can do the following:
1. Conduct competitor research
Using Ahrefs, you can find out which of the competing blogs are the most effective. Then you can learn from the success of these blogs.
2. Use the competitor data to improve your blog
Using the information on competitors to improve your content and its design, then change the frequency of releases, and so on.
3. Follow several blogging standards
Make sure your posts contain enough pictures to keep them visually interesting, that your articles are relevant, and so on.
How often do you conduct competitor research to improve your content?
Done with reading? Now you may want to check this: