Kraftblick Research Reveals IT Companies Fail Telling About Their Expertise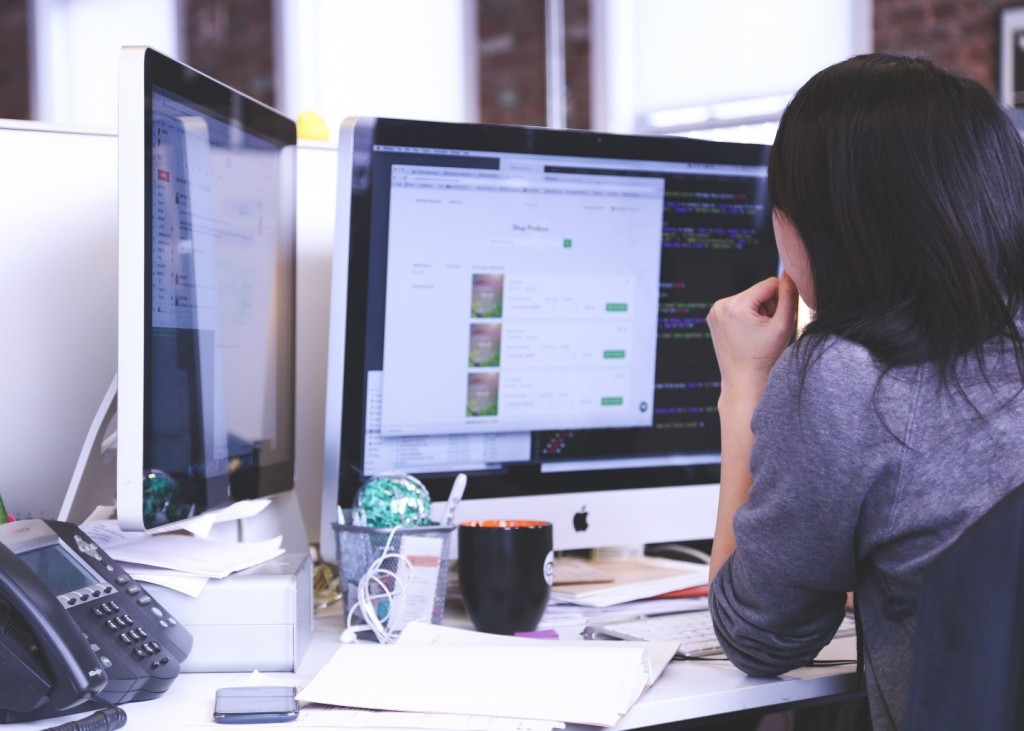 Kraftblick team specializes in marketing for IT businesses and has to examine websites of outsourced development companies regularly. Sometimes it can take a while to define if the vendor provides custom software development services or not.
In that regard, we decided to conduct a research to find out why it happens and what mistakes custom software development companies make while telling about their services on websites.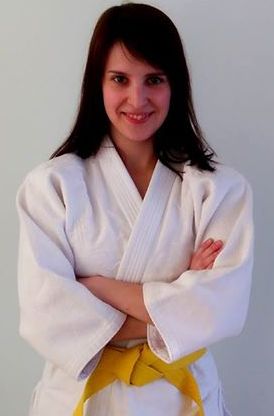 We help software companies build lead generation systems.
Leads don't just pop in. They are a product of a well-thought marketing strategy, well-tuned processes, and well-deserved experience. We have it all.
Step 1. Visitors' Expectations
First, we emphasized the main expertise-related questions that visitors who land on websites of custom software development companies expect to be answered:
Does the company develop custom software or deliver its own products and solutions?
What type of development does the company provide – web apps, native apps, MVP websites, enterprise software?
Does the company have experience in specific industries (logistics, healthcare, finance, etc)?
What particular types of clients does the company work with (start-ups, small businesses, large corporations)?
How long does the company exist?
Does this company have a portfolio of similar projects?
What other businesses have chosen this company as a service provider?
Based on the answers provided on a website visitors decide if a given company can meet their business needs or not.
Step 2. Website Review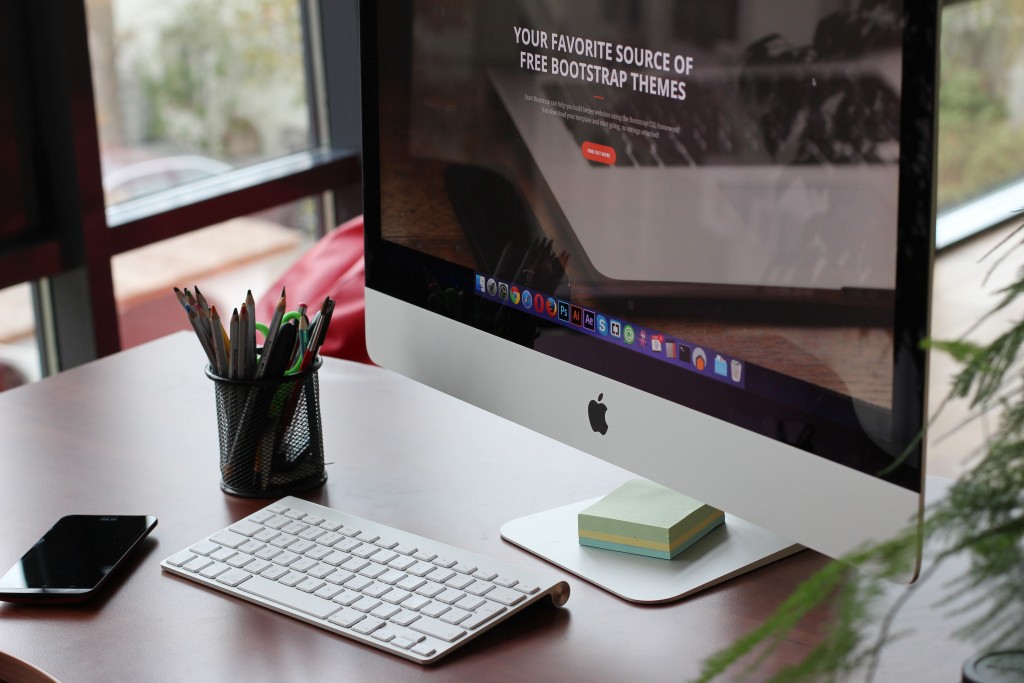 We analyzed the websites of more than 40 companies from the Web & Software Development list on Clutch, a reputable research & reviews platform on top development, design & marketing companies. Estimating the websites, we took the position of a marketing agency's decision maker who needs to develop his own product or to find business partners for joint projects.
After that, we compared the expectations of visitors (our team played this role) and the information provided by the analyzed companies and that is what we found out.
1. No section or page with services info
Not all of the analyzed websites have a special page like "Services", "Expertise", "What we do", where they would describe their services.
There is always a risk that if a visitor does not see a proper page solely related to services, he will leave the website without even trying to find this information somewhere else on the website.

This website doesn't have the "Services" page, although this is partly offset by a clear headline and subheading that provide information about company's offer.
2. No page with company general info
Some websites avoid this type of pages for unknown reasons.
However, the "About us" page is important in informing visitors about firm's mission, team and main specialization. This page can include a company's story describing its milestones and big events.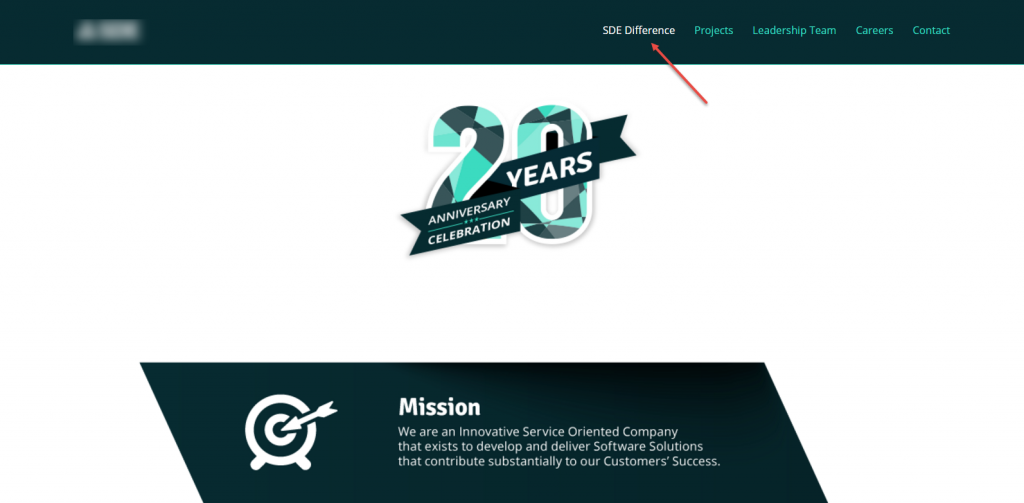 This website provides company information on the page with a mysterious name.
3. Info about services is unclear (incomplete, not specified)
It takes around 10 seconds for an average user to decide whether a web page is worth his time.
The example below demonstrates how the company describes web development services without mentioning the "web" and "development" words on the page.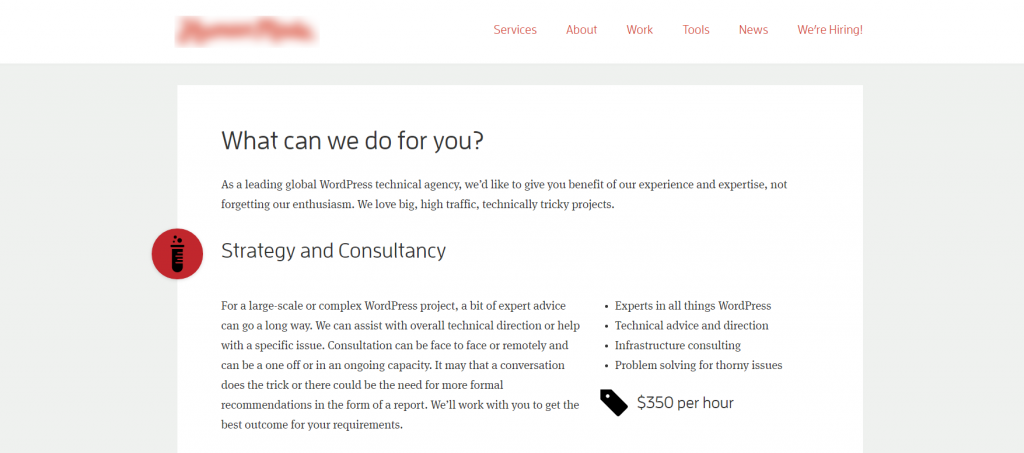 The "Services" page with unclear services-related information.
The problem of unclear information can lead to at least two consequences, unpleasant for many custom software development providers:
A visitor makes a wrong conclusion that this company does not provide the service he is looking for (or he has doubts that the company provides the required service). As a result, he may decide to navigate to a competitor's website instead.
A visitor makes a wrong conclusion that this company does provide the service he is looking for (but actually, it does not). He gets in touch with the company's specialist and wastes his own time and time of the expert. It can be a matter of a few-minutes talk, but nevertheless, it may be frustrating for some people.
4. No services-related information on the homepage
Not all of reviewed companies give at least a quick list of the main services on their website homepage (in a headline or short review at the top of the page). However, 86% of buyers want to see service information on the website homepage.
Thus, homepage must summarize the services and values of the custom software development company in a brief but clear message.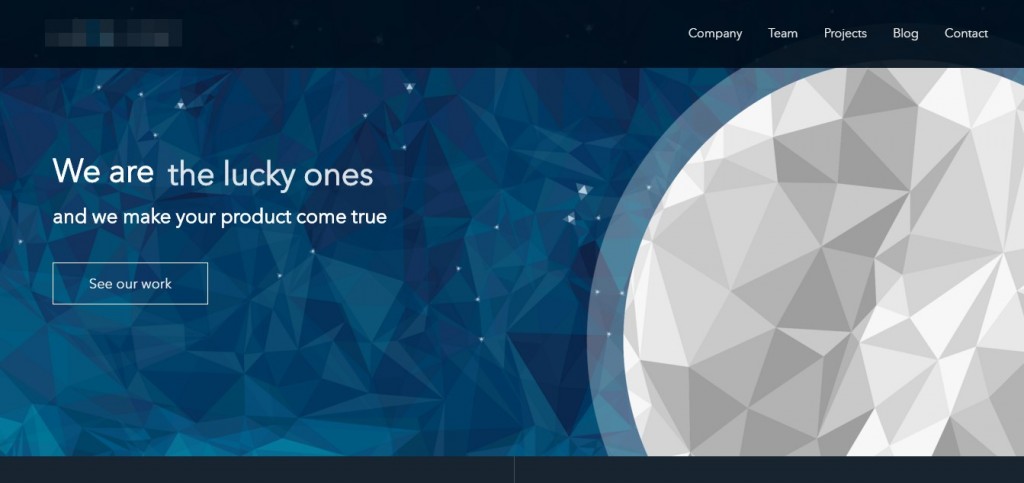 This homepage provides neither any details about the company nor services-related information.
5. Technological jargon distraction
Some outsourcing development companies tend to describe their services using too many professional technical expressions.
Software development services are quite complex, so there is a high risk to confuse customers completely with many unfamiliar words. Even skilled CTOs prefer easy-to-comprehend sites, and it's better to write as simple as possible.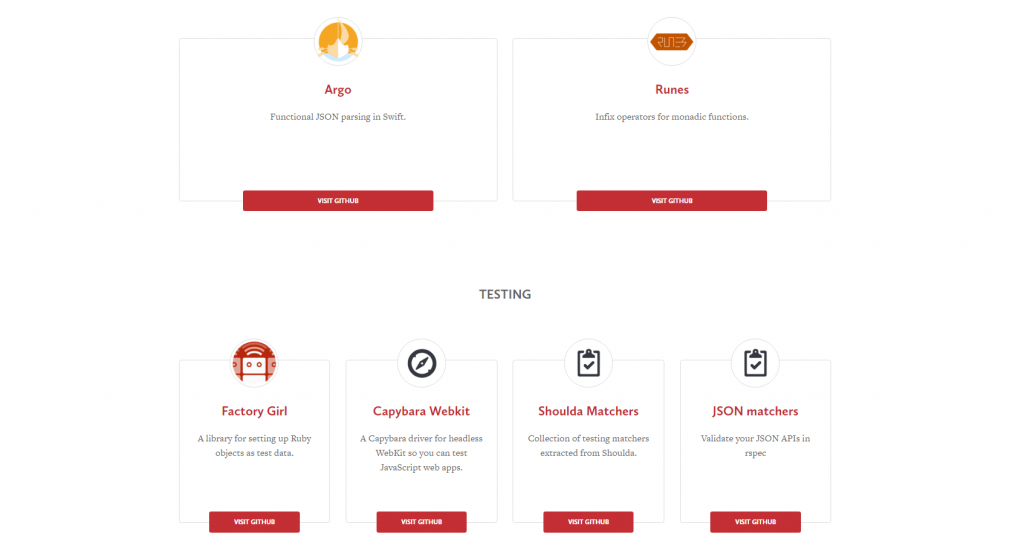 A lot of unusual expressions and unfamiliar words can confuse visitors of this page.
6. Problems with navigation
There are a few things more frustrating than complicated navigation. It includes confusing navigational structure, mystery category names, hidden search, etc.
When a website distracts or confuses visitors, they will either need more time to find what they came for, or they might forget their initial goal altogether. Both way, they will not perceive this website as user-friendly and leave dissatisfied, probably with no intention of coming back.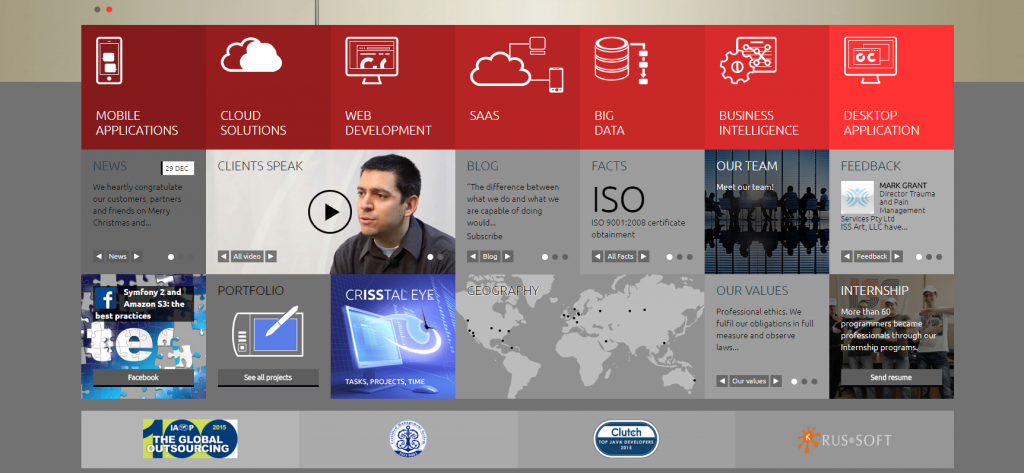 This homepage confuses visitors more than navigates. It can take some time to realize that this is not an iconography or image but a menu with links.
7. No credibility-proving info
A website of a custom software development vendor should provide at least some information about previous customers such as customer list or testimonials.
This information helps build trust between the company and its prospects until they start working together. In this case, the words of other customers are the only way to evaluate the credibility of the company.
Since custom software development services are expensive, trust is a critical factor for both sides.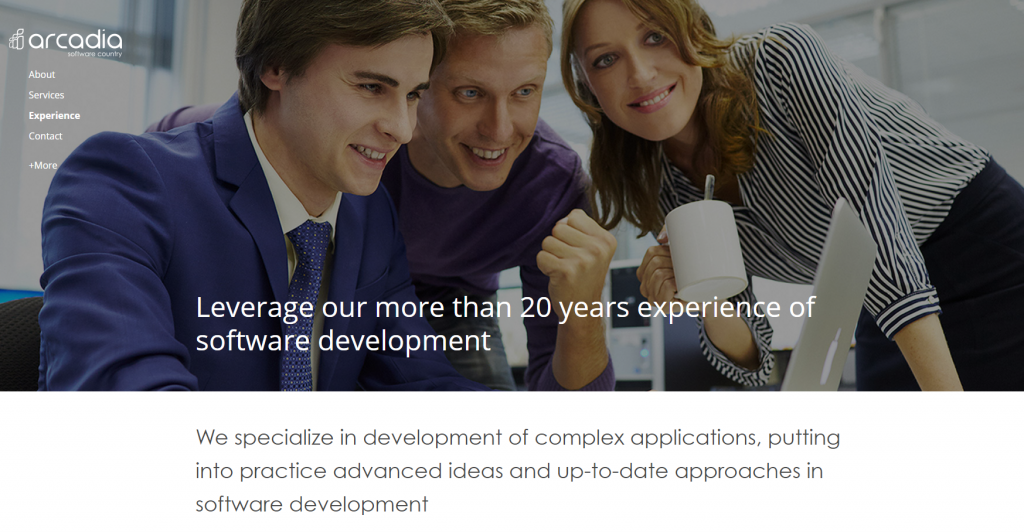 Arcadia. The company's great experience in software development would be even more impressive with testimonials on the homepage.
8. Info about services has no visual and logic structure (or structured inappropriately)
Most people don't read website pages – they scan them.
That's why a good structure of information is very important.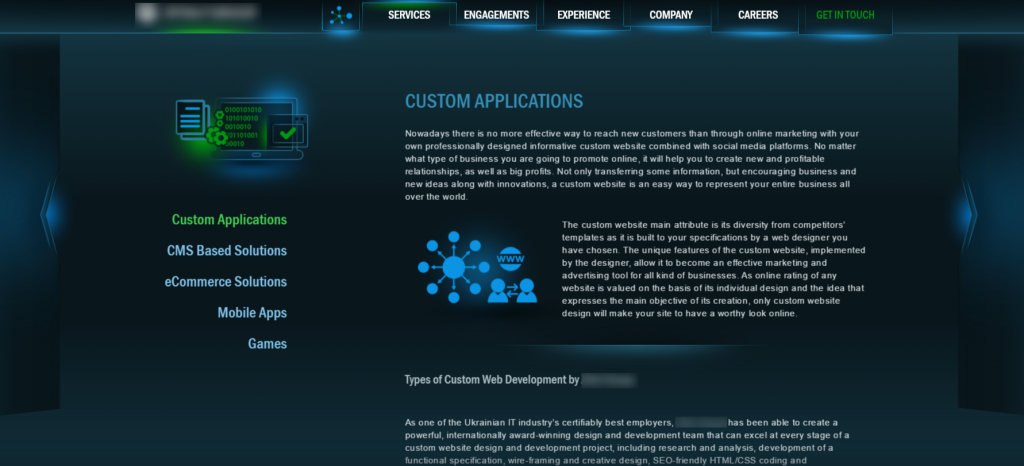 This page copy is grouped together in a way, making it daunting to read.
Step 3. Guidelines for Adjustments
Finally, we created the list of step-by-step actions to solve the revealed problems. These actions are essential for the following custom software development companies:
сompanies having high bounce rate (>70%) on their services-related pages
companies spotted troubles with the Users Flow report (if a visitor spends quite a long time on the website opening and closing "Services", "About company", "Home" pages – it's a warning sign)
Here is the action plan for these IT companies:
Identify all buyer personas of a company.
Analyze their needs through online research and personal interviews (telephone questionnaire, for example). Ask them to check your site and provide their feedback.
If the company has more than one buyer persona, define more than one way to treat them. There should be an individual approach to each customer segment in accordance with its specifics.
Decide prospects that deserve the most focus and effort.
Adjust information on the website according to the acquired results.
Record the bounce rate before and after adjustments, taking into account traffic quality and sources.
Additional tips for all custom software development firms:
Designing the website structure for outsourcing software development company, keep in mind logical pathways (at least one) visitors come across on the website, for example:
"About" page (Who are you?)
"Services" page (What do you do?)
"Our work" page (How do you do it?)
"Contact" page (How can I contact you?)
Every professional services website should have some form of these pages.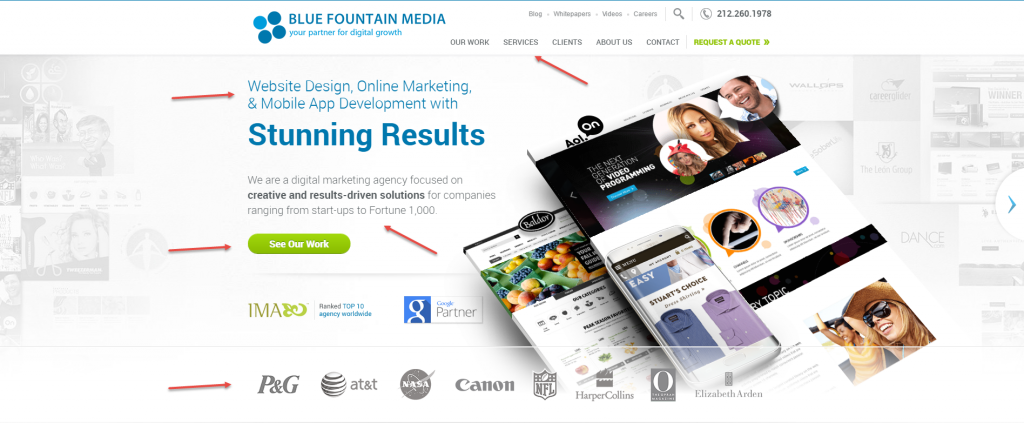 Blue Fountain Media. It's a nice example of how a company can quickly answer most of frequently asked questions without page scrolling.
Do not scare visitors by excessive information about services or by complete absence of it. A mix of iconography, headings and small pieces of content can give just enough detailed information without being totally overwhelming.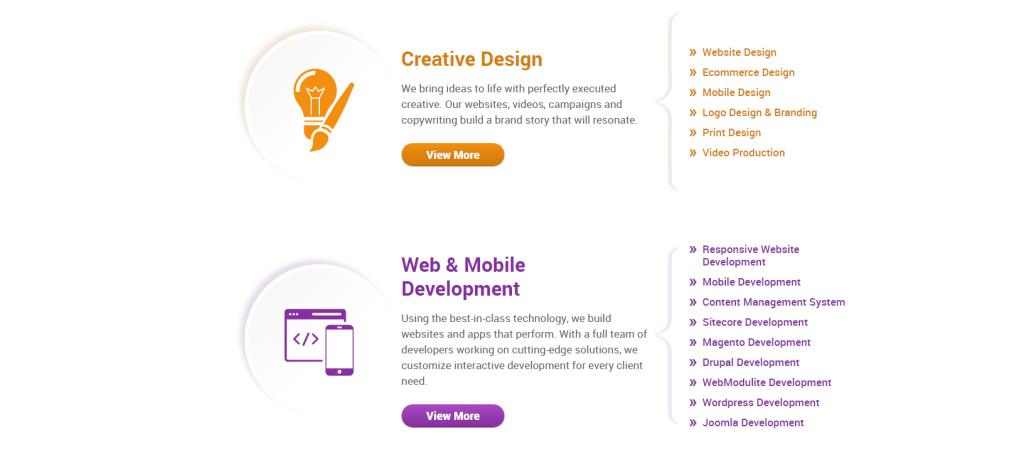 This is the example of a good way to present company's services.
Work on the copy of services-related pages and ensure that your visitors will be able to understand what you are offering within the blink of an eye.
Get rid of the developer technological jargon and write the copy using your buyer persona language. The ability to translate a complex subject into easy-to-understand language is a very important skill required to build a good company reputation.
Try to explain complex services easier, avoid ambiguous interpretation of the information and don't make clients read between the lines.
Make the website navigation as clear as a box of chocolate: people must know what they are going to get before they click. It should be clear what information lives behind each section of a navigation bar. Guide your visitor intuitively through the website and show them what you have to offer.
Create the logical and consistent structure of pages. It's easier to read a logically and visually structured page copy compared with expository prose. Try to understand how your visitors would expect you to structure the content on website pages.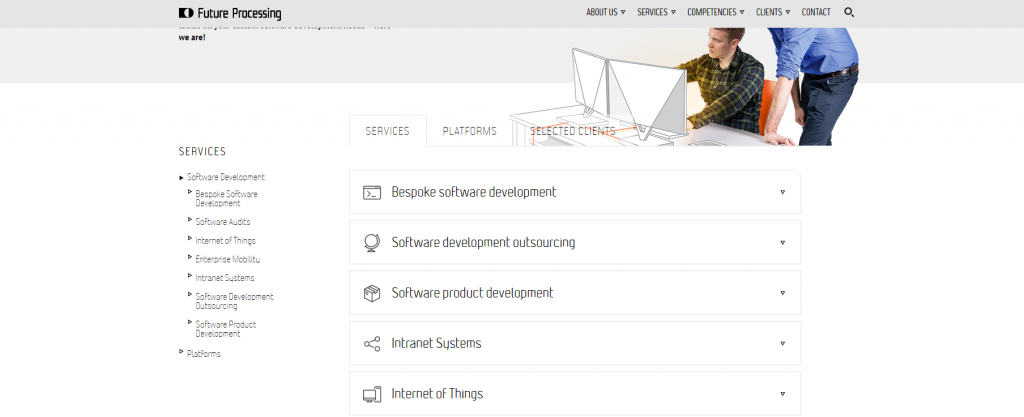 Future Processing. Intuitive, simple and clear structure of page copy.
Provide information about industries, sizes and types of business the company works with.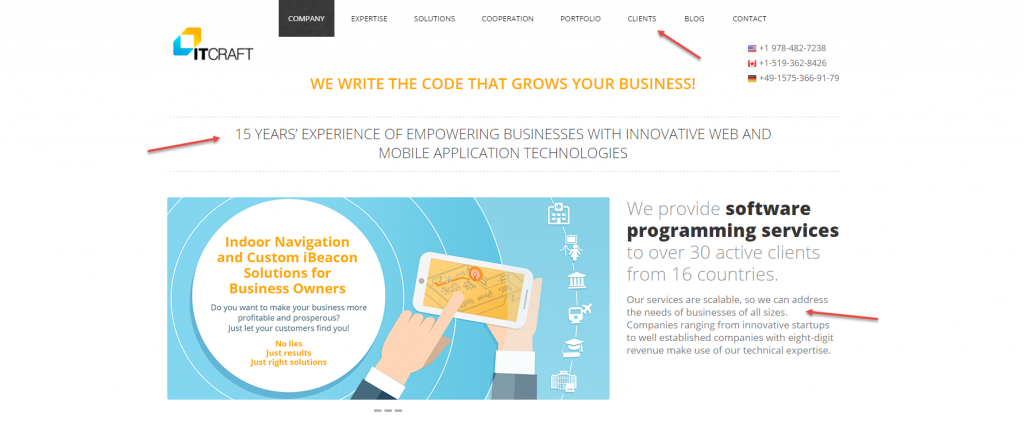 Itechcraft homepage.
So What Do We Have?
The important thing outsourcing software development providers should do is to study needs of the company's buyer persona by putting themselves into clients' shoes.
Even though software companies' clients are not only business managers and CEOs but technical specialists too, it's better to describe services in a simple and clear language anyway. CTOs want to find the necessary information on the website as quickly as other people. Otherwise, they leave the website in a moment.