SaaS B2B vs SaaS B2C: Marketing Differences And How They Affect Your Business
We have already written about the indispensable advantages of marketing for SaaS B2B. To make your marketing efforts effective, you need to consider all of the nuances of your business.
Today we will discuss the differences between SaaS B2B and B2C business models and how they can affect your approach to marketing.
Let's take a look at both of these types of businesses separately.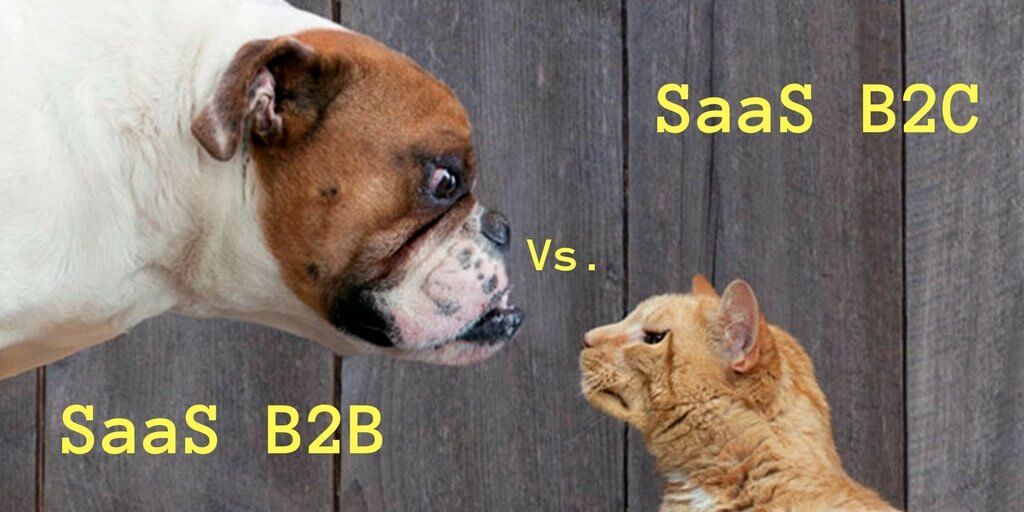 SaaS B2B companies sell products and services to other companies. WORK[etc] is an example of a SaaS B2B company – a company that offers cloud business management solutions to the B2B crowd.
On the other hand, SaaS B2C businesses sell products and services to consumers. HyreCar, for instance, is a car-sharing marketplace that gives people the opportunity to rent a car via the Cloud, and provides so-called "ridesharing" services.
It may seem that SaaS B2C and B2B have many things in common. They are both based on subscriptions and deal with such metrics as churn rate, customer acquisition cost, and lifetime value.
At the same time, B2B and B2C SaaS companies have many differences, such as customers, budgets, and sales cycles.
How Can Kraftblick Help Your Software Company?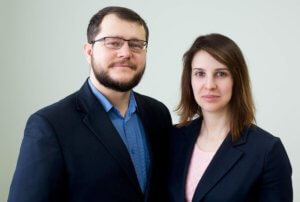 See you soon 🙂
So, understanding that B2B and B2C businesses are different, the natural consequence is that their marketing approaches vary.
Where do SaaS B2B / B2C Differences Originate?
Many of the differences between marketing for SaaS B2B and B2C businesses become visible at the stage of building a marketing strategy.
When developing a SaaS marketing plan, you must take into account several permanent peculiarities of a B2B business.
First of all, there is an opinion that it's easier to target customers in B2B, because B2B business owners understand quickly who represents their ideal customer.
According to Conductor's "B2B vs B2C Content Marketing" survey, B2B marketers are better at targeting their audience.
Secondly, B2B customers are often more experienced and better versed on certain topics than B2C customers. That means that B2B businesses require a more professional and thoughtful approach.
Eric Wittlake, a Senior Analyst at TOPO Inc., confirms,
"One of the differences is the people you are marketing to are experts. In consumer marketing, you rarely market to experts."
Thus, SaaS B2B and B2C marketing approaches have a number of points that distinguish them.
SaaS B2B vs. SaaS B2C
Now let's take a look at the general differences between SaaS B2B and B2C marketing.
During the process of communication between a product provider and a consumer, the language itself must be different.
Jacqueline Zenn, Digital Marketing Consultant, Y Charter, believes that,
"Marketers can use industry jargon to excellent effect on B2B platforms. On B2C, the voice must be at least relatable to the majority of consumers — meaning fewer buzzwords and (usually) simpler language."
SaaS B2B and B2C businesses use social media differently.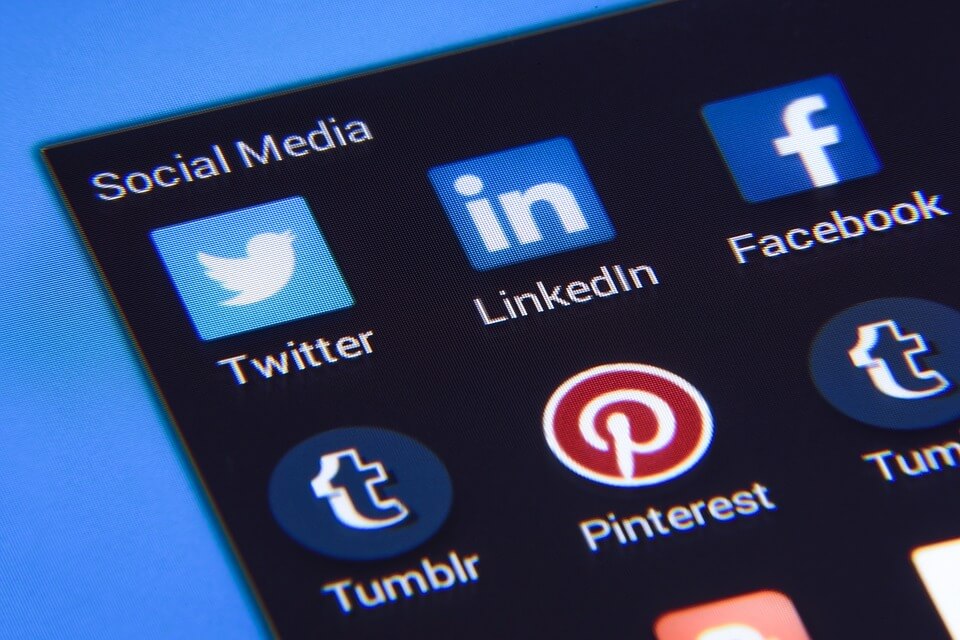 source: pixabay.com
Both B2B and B2C marketers use social media for their purposes, but their social media platforms and the methods of they use vary.
According to the statistics from the "State of B2B Product Marketing 2015" survey, 76% of B2B technology marketers use social media to market their products. When asked about platforms for their product launches, 81% of B2B technology marketers said that they use LinkedIn, and 71% said that they use Twitter.
"Social Media Marketing Industry Report" by Social Media Examiner delivers another opinion. Their report claims that Facebook is the most important social network to both B2C and B2B marketers.
Eleonora Israele, a Senior Analyst at Clutch.co, indicates that B2C companies are more likely to look for potential customers on more entertaining platforms such as Facebook, Twitter, Pinterest, or Instagram.
In addition to these platforms, B2B companies also use LinkedIn, AngelList, and Google+ where they can find people who prefer a more serious approach. This audience has more expertise and is eager for more sophisticated content.
In contradiction to B2C buyers, B2B businesses need more nurturing and deeper relationships.
Jon Bischke, CEO at Entelo, states,
"Personal networks seem to matter more in B2B. Relationships with potential customers, influencers, etc. play a huge role in B2B success."
He also provides the example of Dave Duffield, chairman and co-founder of Workday. Jon says that Dave achieved success due to a broad network of contacts and the fact that he knew everyone in the business.
Deeper relationships require more emotional involvement. According to the statistics, B2B customers are much more emotionally attached to brands than users of B2C solutions.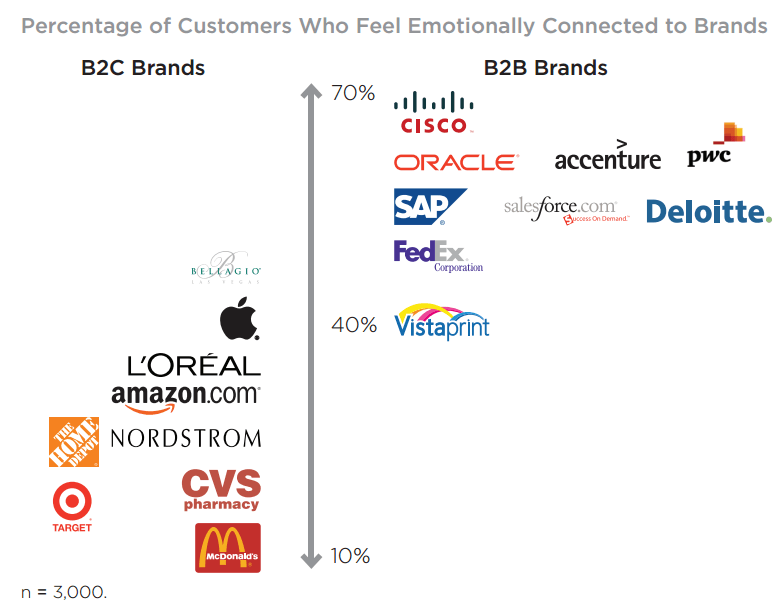 source: cebglobal.com
Despite the fact that branding is important both for B2C and B2B, the brand plays a more substantial role in B2B SaaS marketing.
Here is an infographic showing the impact of branding on B2B companies' success.

source: cebglobal.com
The graphic shows how branding improves the most important indicators of B2B companies that have succeeded in making themselves a known brand.
The buying process in B2B sometimes starts long before clients contact a company. It is very important that a brand is somewhere nearby when customers are searching for a solution.
Also, because of the huge sums of transactions, users of B2B products need to trust B2B companies. The company must show that it is trustworthy and credible. Branding is one way to ensure that that is the case.
The fact that the product is convenient and can solve consumers' problems is more important for B2C. Branding is not as critical for B2C companies.
Marketing automation has different goals in SaaS B2B and B2C businesses.
Marketers in both spheres use marketing automation to optimize the working processes. It makes life easier and improves the quality of work. But, taking into account the specifics of the two business spheres, the goals they want to achieve differ.
Eleonora Israele states,
"Marketing automation in both groups set vastly different goals. B2B desires lead generation with person-to-person interaction while B2C focuses on branding and building customer loyalty."
The graphic below confirms her assertion.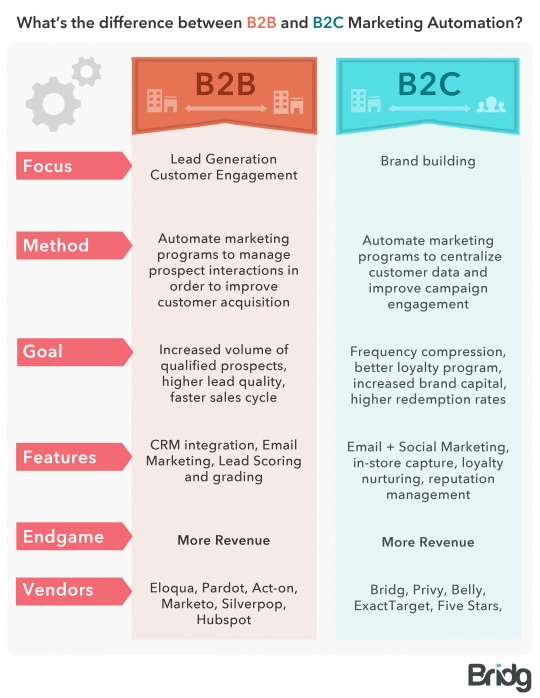 source: bridg.com
Content Marketing for SaaS B2B and B2C. Different or The Same?
Let's take a closer look at the differences in content marketing. It is one of the most important components of the marketing process and it will help us deepen our knowledge of the topic.
The goals of B2B SaaS and B2C SaaS content marketing differ slightly.
In fact, the ultimate goal of B2B and B2C content marketing is the same – to increase brand-awareness and attract the target audience. But some small differences still exist.
Here are statistics from research done by Content Marketing Institute. They are based on the responses of more than 5,000 marketers.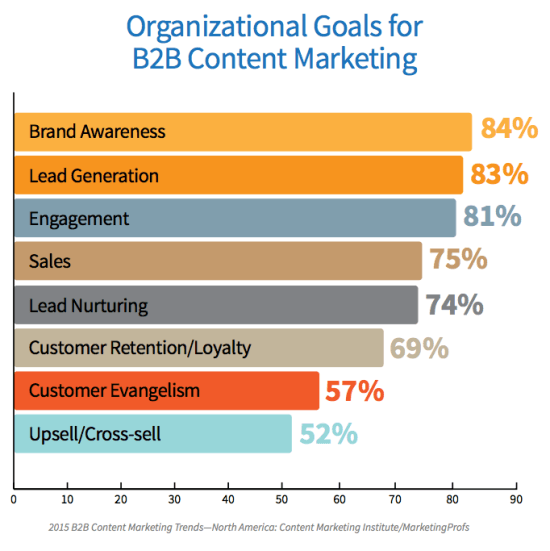 source: slideshare.net
The distinctions are not that large. There are only some minor differences in priorities.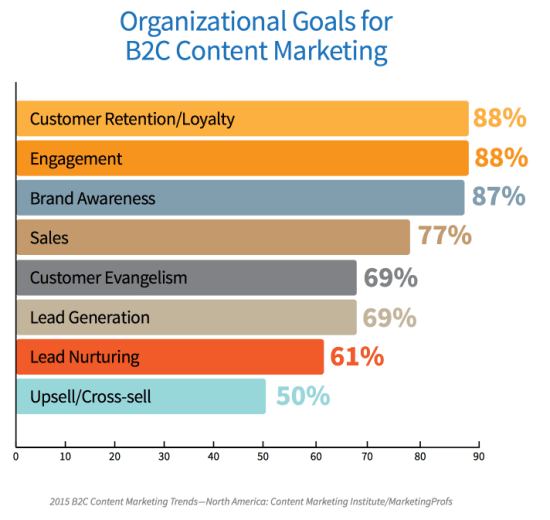 source: slideshare.net
According to these statistics, we can conclude that brand-awareness matters for the both types of marketing, with B2C businesses prioritizing customer retention.
B2B SaaS and B2C SaaS content marketing have different Buyer Personas.
Buyer Persona (BP) is a sketch of a key part of your potential audience. Marketers create BPs to deliver the right content to the right audience to ensure that their content remains relevant.
When you market to B2B customers, your approach to content will be highly focused.
For example, if your product meets the needs of enterprises, you will tailor your content strategy only for those enterprises.
B2C content marketing is more complex.
Even if your product fits a small niche and is highly specialized, it is likely that you will have to orient your content towards different types of Buyer Personas. This is because clients may be everything from amateurs to those with a lot of experience. Content that is suitable for newbies will be useless for experts.
Despite all of these differences, developing the right Buyer Persona is essential for the both types of marketing. As Adam Kearney, VP of Marketing at MemberClicks, said,
"When it comes to online lead generation, the key is diversification. There's no magic bullet that meets all needs."
Content marketing for SaaS B2B and B2C is not the same in terms of tactic usage.
The infographic below from the Content Marketing Institute shows us some of the nuances in the usage of B2B and B2C content marketing.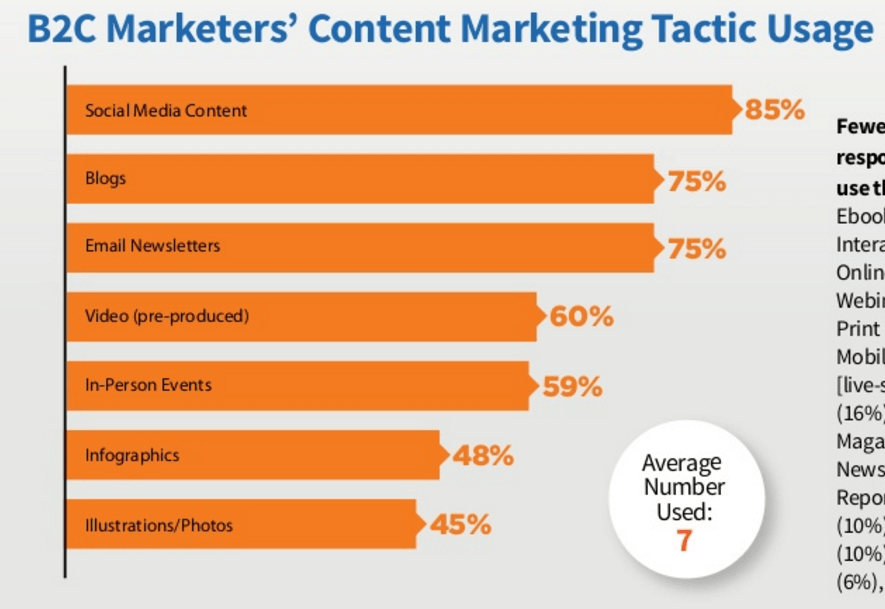 source: contentmarketinginstitute.com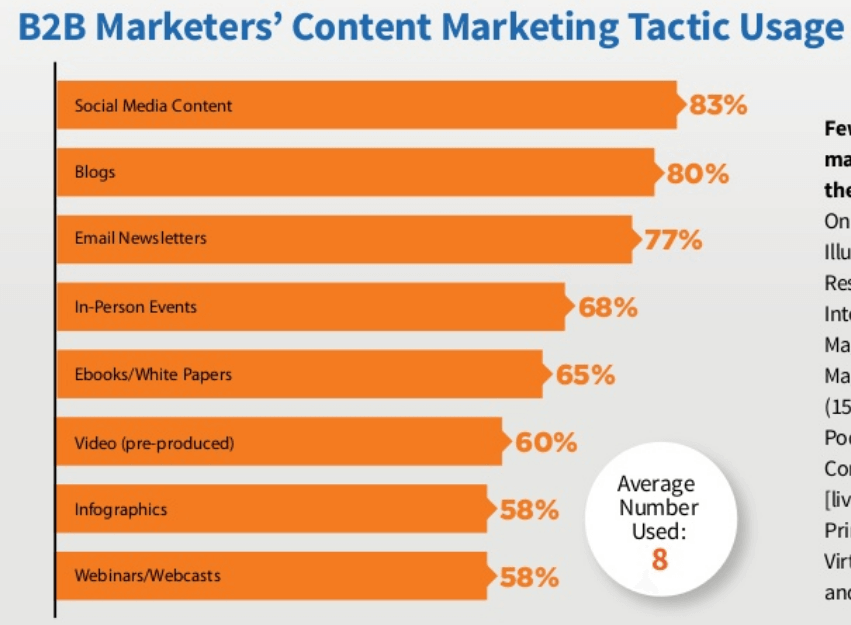 source: contentmarketinginstitute.com
As you can see, despite the similarities in the first three positions, there are still some differences.
For example, B2C content marketers do not use e-books at all, while in B2B the usage of e-books is one of the most popular content strategies.
"This is the most cost­-effective strategy I've included, yet also the most valuable to your clients. E-books are a great way to get a niche market educated on something that is relevant to your product or business,"
says Cara Tarbaj, a B2B digital marketer at Wishpond.
There is a contrast in the content itself.
Jacqueline Zenn, a digital marketing consultant at Y Charter, states that the B2B audience requires very meticulous content and marketing teams should try hard to please this type of customer. She adds,
"On the other hand, B2C social media activities simply need to meet the basic needs of being useful, humorous and shareable, which admittedly, can be just as complicated."
It is safe to say that the very essence of the content varies.
Sujan Patel, a growth marketer and co-founder of Web Profits, confirms,
"B2B content should inform and educate, while B2C content should inspire."
The SaaS Buying Process: Logic vs. Emotions
There is an opinion that the B2B buying process is more logic driven, while choices made by consumers are usually based emotions. In fact, it is not that simple.
Finances Online's article "10 Key Things You Should Know About B2B Marketing," contained this statement:
"Consumers have this tendency to make buying decisions that a rational observer (a B2B buyer that needs to make a profit every month) would think as ludicrous. Consumers buy what they want, not what they need."
But, later in the same article, we find this quote:
"Because of the accountability that controls most B2B buyers, security and trust are key issues. No B2B purchaser would prefer risking his or her reputation or livelihood purchasing an unreliable service and product. This makes emotional concerns such as security and trust absolutely critical."
It means that in both B2B and B2C marketing there is a place for emotions in the decision making process. In B2B marketing they usually just recede a bit more into the background.
DWS Associates tried to organize all the factors that may influence B2B and B2C purchase processes in the following chart.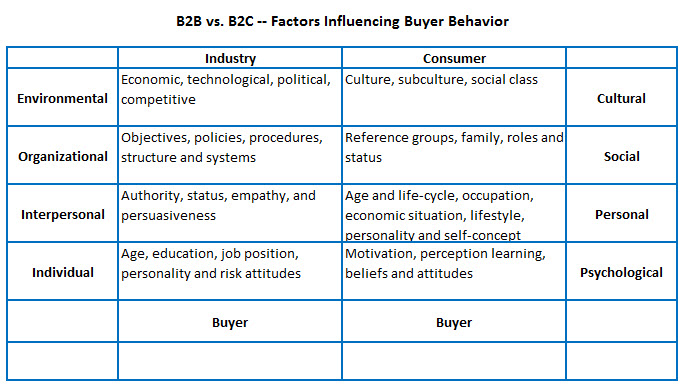 source: dwsassociates.com
We should mention one more important thing. The SaaS B2B buying cycle is longer and more complex than the B2C decision process. Why is this the case?
Primarily because in the B2B buying cycle the actual decision to purchase is made by several people. According to the "CEB Highlight Series: The Changing Business Customer" report, the average B2B buying group includes 5.4 buyers.
This human factor cannot be ignored. Even people who work in the same company and have similar interests do not always agree. This alone creates certain difficulties.
Marika Krausova, a research consultant on the CEB Sales Leadership Council team, says,
"Diverse stakeholders representing different areas of the business have their own agendas, beliefs, and assumptions (sometimes conflicting ones) that makes it hard for the buying group to reach consensus and progress through the purchase."
An additional reason why the B2B buying process is more complex than that of the B2C is that a contract between a B2B customer and a solution provider often involves significant amounts of money. Also, the relationship may last for years, so a group of people making decisions slowly and thoroughly can take the time to weigh all of the pros and cons.
Here is how the stages of B2B and B2C buying processes look from the DWS Associates' point of view.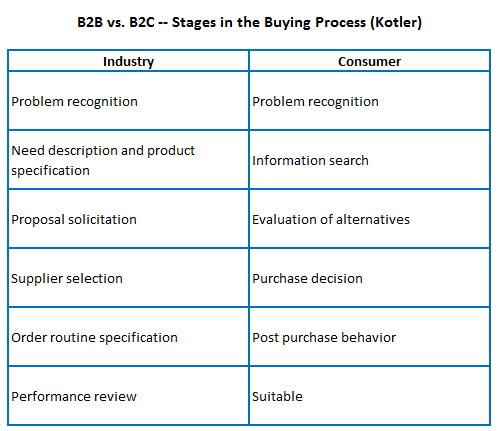 source: dwsassociates.com
Conclusions
Despite the fact that both B2B and B2C companies provide technical cloud solutions, their marketing approaches have their own specific needs and features.
SaaS B2B customers are experts. They require a more professional approach but they are also easier to target.
Branding plays an essential role in SaaS B2B marketing. SaaS B2B clients expect more nurturing and a closer relationship.
SaaS B2B and B2C content marketing have different goals. The tactic usage of content marketing also differs.
Emotions play a more important role in the B2C buying process.
The SaaS B2B sales process is longer and more complicated than that of the B2C.
Do you agree that marketing for SaaS B2B companies differs from SaaS B2C? Are these differences critical when it comes to marketing and promotion? Let us know in the comments!
Done with reading? Now you may want to check this: