The Word of Mouth in SaaS World and 6 Solid Reasons Why You Can't Rely on It
In one of our previous articles – "The Best SaaS Marketing Strategy is Building an Awesome Product. True or False?" – we explored the idea that you can achieve success without marketing just by building an awesome SaaS product.
The word of mouth in SaaS world is a free and powerful tool, after all.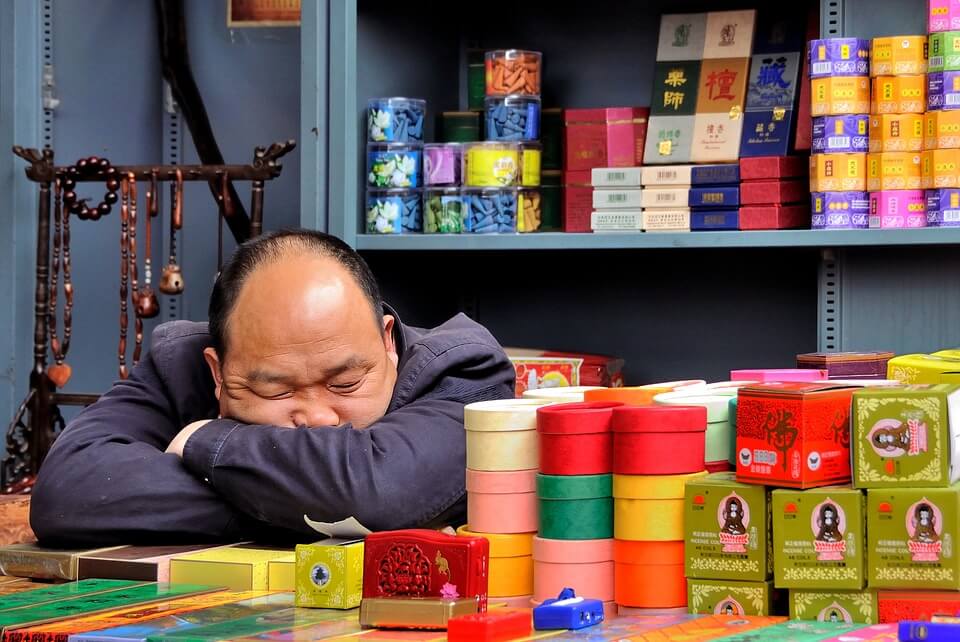 source: pixabay.com
We gave as examples the success of Trello and Pipedrive, which became established based on the word of mouth concept.
Word of mouth is indeed very powerful, and many companies rely completely on it.
But forgoing formal marketing strategies has many potential dangers. As we also saw in the article, the "just build an awesome product" approach sometimes can lead to failure, as in the case of Navilytics.
What distinguishes successful companies from unsuccessful ones, is that the former understand the undeniable advantages of proper marketing.
How Can Kraftblick Help Your Software Company?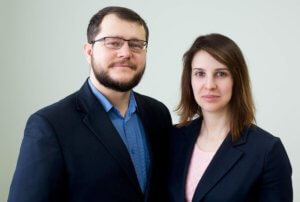 See you soon 🙂
Here are six reasons why you need to understand these advantages as well.
#1. Even if you have a good product, you can't rely on or scale the word of mouth channel. 
Word of mouth is great when it works well, but it is very unpredictable. Companies that pin their hopes on word of mouth tend to look like this.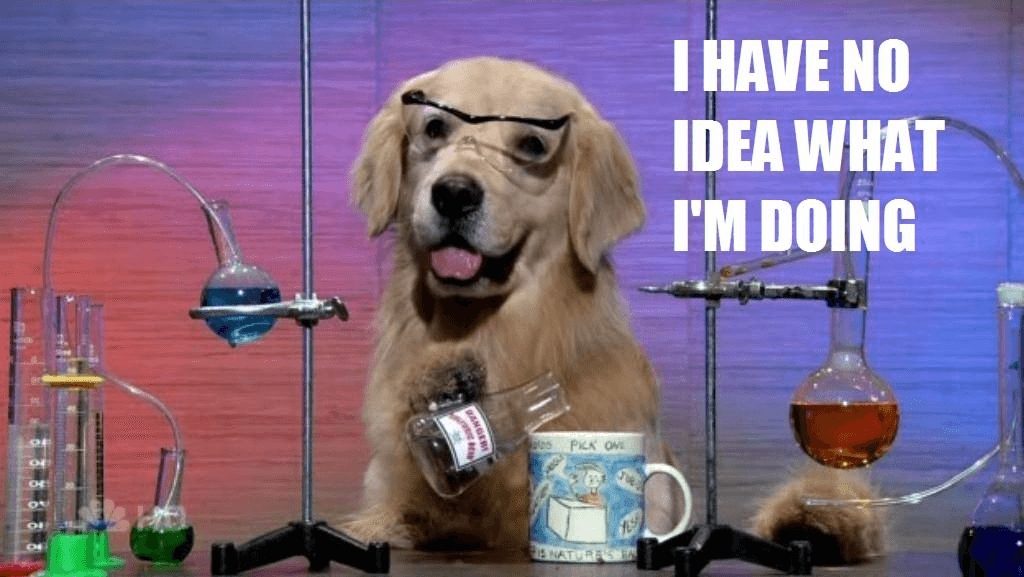 source: thumbpress.com
Jason Lemkin, сo-founder and CEO of EchoSign, said that if the customers are happy, the customer base self-propagates. But he also admitted that it took at least three years until his product going viral actually resulted in serious cash flow.
Furthermore, even when it works well, word of mouth doesn't last forever. Companies hire marketers and develop marketing strategies because this becomes necessary for further growth and development when the initial burst from word of mouth dwindles.
#2. Your company will not be able to grow steadily without a clear marketing strategy.
Many experts confirm that stable growth is the only guarantee of survival in the world of SaaS.
Tomasz Tunguz – a venture capitalist at Redpoint – tells,
"If a typical SaaS business loses about 2% to 3% of their customers each month to churn, the business must grow by at least 27% to 43% annually to maintain the same revenue."
McKinsey's article "Grow fast or die slow," which is based on research into 3,000 companies, provides some interesting facts:
Let's take Groove as an example.
The company received traffic when they got news coverage, but it came in small and uneven amounts.
"That's not a sustainable way to grow, and we knew that we needed a better long-term strategy,"
said Alex Turnbull, Groove's founder and CEO.
When the company decided to start blogging, activity on their website grew from 100 people per day to more than 1,000.
#3. An awesome product is not enough to draw investors' attention.
Investors are seeking fast growing companies.
Joel York, CEO of Markodojo, says,
"The economics of a SaaS contract are like that of buying a stock or a bond, where you make an upfront investment based on the promise of future returns. It is determined by how effectively the underlying business manages its future."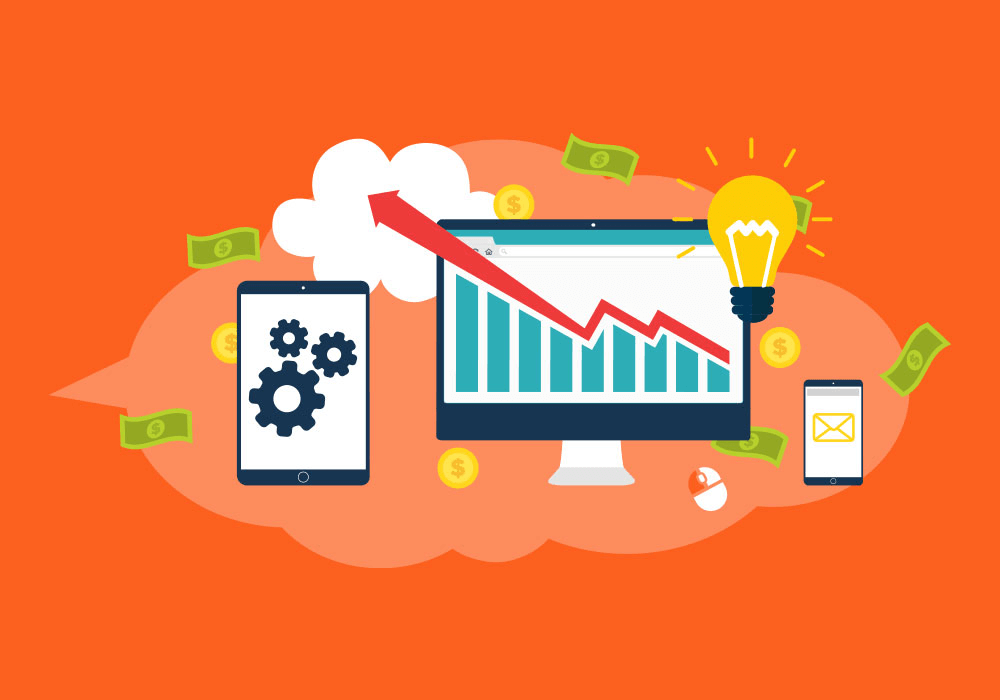 source: inc42.com
Investors need guarantees that their money is in the right hands. That's why your firm should have a clear plan – to show that it has future and is rapidly growing and developing.
David S. Rose, entrepreneur and angel investor, avers,
"Marketing strategy actually is quite important to most investors. The bottom line is that if no one shows up to buy or use your product, it doesn't matter one whit how cool or great or innovative it is. They very much want to see how you are going to get your first customer, and your second, and your third."
Investors won't lend money to a company that relies only on word of mouth. If you want to draw their attention, you must have a clear marketing strategy.
Marketing is the only way to understand the scale of growth of your company.
Tim Matthews, VP of Marketing at Imperva, conveys that with good knowledge of your traffic channels and conversion rates, marketing can help you calculate your company's future revenue based on your marketing activity.
If you need more convincing about investors' concerns in this area, here is a great article by Brendan Baker, an American blogger and investor. He clearly describes the importance of showing investors your company's exact market potential.
#4. Customers will become more demanding in the very near future.
Customers will increasingly demand a more personalized approach to service; and just having a good product won't be enough.
According to the Walker Info "Customers 2020" report, customers at the end of the decade will be better informed and more in charge of the experience they receive. They will expect companies to know their individual needs, and personalize the experience.
Don Dodds, Managing Partner at M16 Marketing, relates,
"As customers become more discerning, you need to step your game up to inspire and impress them, and to retain their interest."
Marketing, especially Agile, allows you to maneuver and adapt to the needs of the audience. If you want to know more about Agile marketing, we discuss it here.
#5. It is more expensive to build a company just with a great product, than with a great product AND marketing.
Development and support of your product requires a lot of money, but a proper marketing strategy can help you find the best way of distributing your product from the very beginning.
With a well-crafted strategy you can find the right market for your product, where it is in demand, and therefore not difficult to sell.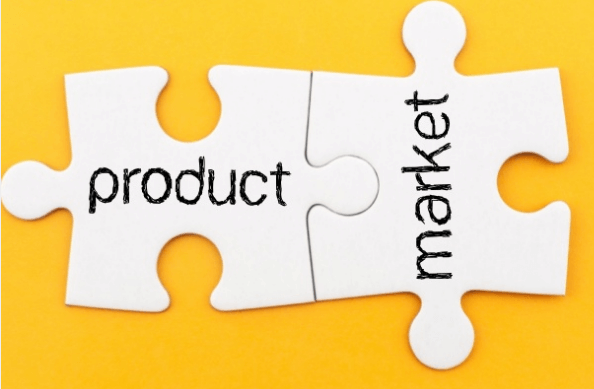 source: slideshare.net
"In a great market – a market with lots of real potential customers – the market pulls product out of the startup. The market needs to be fulfilled, and the market will be fulfilled, by the first viable product that comes along,"
confirms Omer Khan, Founder and CEO of ConversionAid.
This will quickly bring the right customers to you, and you'll be able to start selling very fast.
"If you think marketing is too expensive, you should try how expensive it is to build a company without it. Marketing is the highest ROI toolset in the startup arsenal,"
states Lisa Calhoun, Board Member of Women Who Code.
#6. Marketing matters for the most successful companies.
The "Gartner CMO Spend Survey 2016-2017" shows how much leading corporations spend on marketing.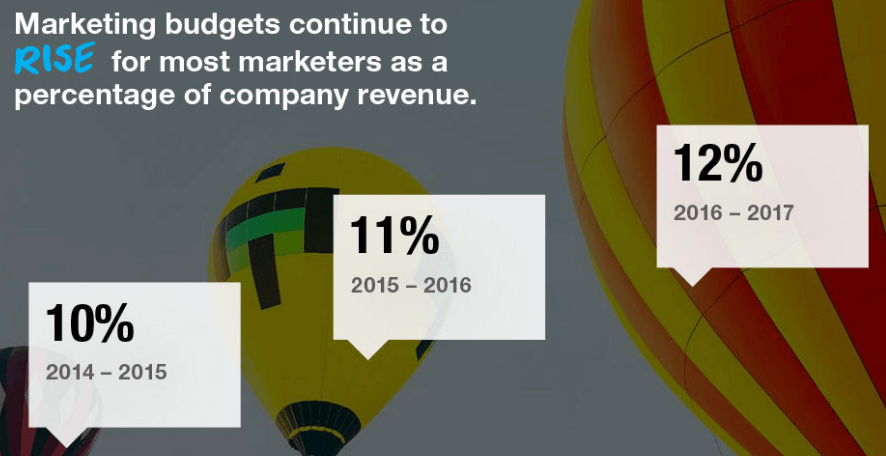 source: gartner.com
We can see that marketing budgets grow all the time.
Let's take Salesforce as an example. This enterprise spends about half of its budget on marketing. Even more interesting is the fact that, despite these already large figures, its annual marketing expenses are actually rising each year.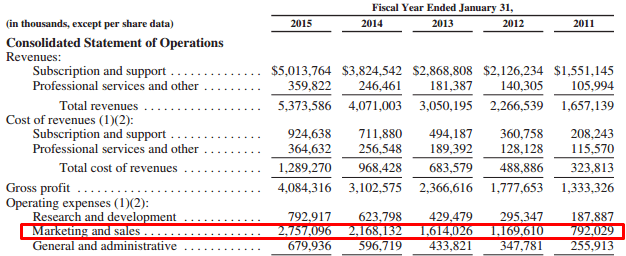 source: annualreports.com
We can see that the best of the best are in no hurry to give up marketing.
Of course, you may fairly say, "These are giants. My company can't afford marketing investments." But recall that at some time in the past, these companies were also small. Salesforce used marketing from the very beginning.
According to the statements of Salesforce CEO Marc Benioff, they understood the significance of marketing even before launch.
Summary
Let's summarize why you need to promote your SaaS.
Even if you have a good cloud product, you can't rely solely on word of mouth. Without marketing efforts, it may take years to turn a profit.
Your company will not be able to grow steadily without a clear marketing strategy to prevent uneven and unpredictable traffic growth.
An awesome product is not enough to draw investors' attention. You need a good marketing plan to show investors that your company has potential.
In the near future, сustomers will become more demanding. You will need to flex your marketing muscles in order to impress your clients.
It is more expensive to build a SaaS company with a great product alone than to build one with a great product AND marketing, because marketing brings you customers from the very beginning.
Marketing matters for the most successful companies. Some of them understood the significance of lead generation strategies even before they launched.
Done with reading? Now you may want to check this: