5 Jobs of a Startup CEO That Aren't CEOish At All (and Should Be Delegated)
Some time ago there lived a very talented CEO. He helped his employees fix any problem, and his team appreciated and respected him a great deal for his support. People from other companies dreamed about working with such a CEO.
However, this CEO wanted to complete all the tasks by himself. Eventually, he became overworked and ended up in the hospital. He knew everything except the art of delegation.
Just imagine how happy he might have been if he had found this article before that occured!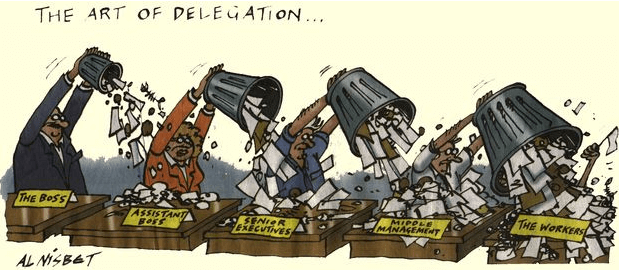 Source: Al Nisbet, New Zealand Cartoon Archive
Why is delegation vital for you and your business? What jobs and tasks should be delegated and to whom?
In this article, you'll find out how not to repeat the CEO's mistakes and how to find the time and power to implement a truly CEOish job.
Why Should You Delegate?
If you are constantly working late, it's high time to delegate some of your responsibilities or reconsider your delegation methods.
How Can Kraftblick Help Your Software Company?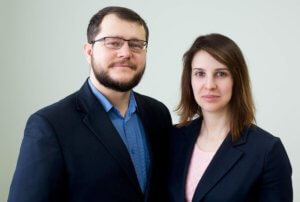 See you soon 🙂
Carol Walker, a former political news correspondent with BBC, says:
"A classic sign of insufficient delegation is that you are working long hours and feel totally indispensable, while your staff isn't terribly energized and keeps strangely regular hours."
There are several reasons why every CEO should delegate certain responsibilities.
Delegation Saves Your Time
Undertaking low-value tasks that other people can do instead of you means you are spending your time unproductively.
Harvard Business School studied 15 executives at different companies who needed to dramatically reduce their involvement in low-value tasks.
The hbr.org website writes,
"The benefits were clear. For example, when Lotta Laitinen, a manager at If, a Scandinavian insurance company, jettisoned meetings and administrative tasks in order to spend more time supporting her team, it led to a 5% increase in sales by her unit over a three-week period."
As a CEO, you should determine and communicate the organization's strategic direction. Without a specific strategy and clearly set goals, your employees' work will have no sense of direction.
You need time to create ideas on how to develop your product, brand, and business as a whole to set the right strategy.
Without implementing these CEOish tasks, your business will not grow and could face many difficulties. So it's vital for you as a CEO to make time for management, new ideas creation and for advanced training.
Delegating some of your responsibilities will give you more time to work more efficiently so that you don't have to perform generic tasks or do massive amounts of work every day.
2. Delegation Allows You to Feel Better
Trying to do every task by yourself is extremely stressful and overwhelming. Consequently, both your performance and health may suffer greatly.
Steve Tappin is a CEO confidant and author of "The Secrets of CEOs." When he was doing research for his book, he interviewed 150 chief executives about business, leadership and the harsh realities of their job.
Tappin and a neuroscientist specialist carried out physiological and neurological tests on chief executives. The results paint a picture of chief execs being overworked, overstressed and exhausted.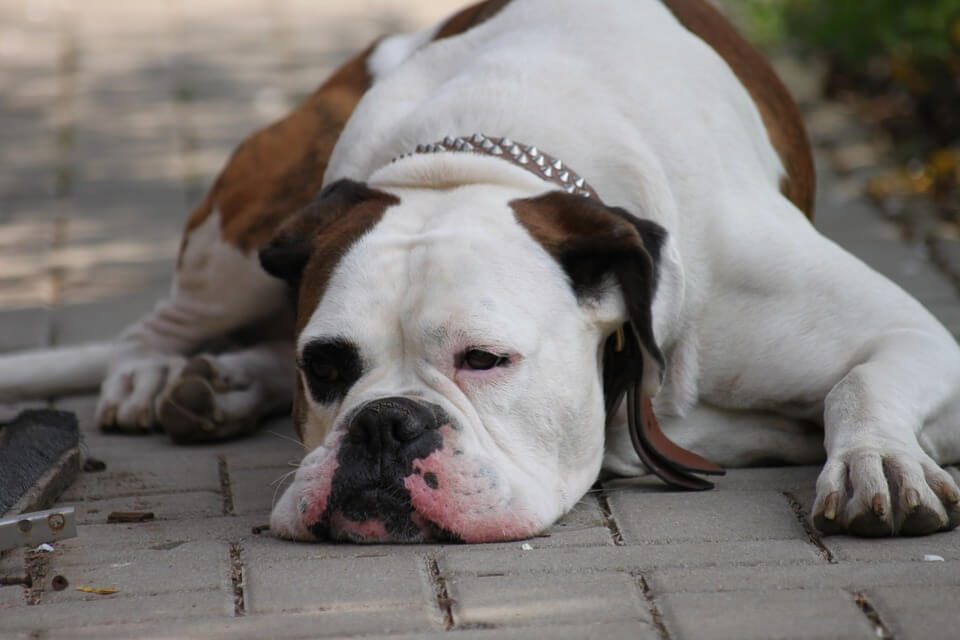 Source: maxpixel.freegreatpicture.com
Tappin says, "The major emotions a CEO has are frustration, disappointment, irritation, and overwhelm. In many cases, people were burned out and stressed. The end game is that they've got very low energy. People assume CEOs are superhuman, but they're grappling with a really hard job."
For this reason, delegating will relieve some responsibilities that cost you energy, health and time and permit you to feel better and be more productive at work.
3. Delegation Allows You to Earn More
Recent research shows that delegation can also contribute to an increase in earnings.
In 2014, Gallup studied profiles of 143 CEOs included on the Inc. 500 list and the annual difference in business performance between CEOs with a high delegator talent versus those with less.
It appeared as though CEOs with higher delegation skills earned 33% more revenue than those with low or limited levels of this talent.
Now that you are aware that delegating responsibility is vital for your business, let's talk about the tasks that should be delegated as soon as possible.
Tasks and Jobs That Should be Delegated
1. Streamlined Processes
In every company there are repetitive everyday or weekly tasks.
In most cases these processes are already streamlined, i.e. they are regularly done according to the same plan.
Once the process is clearly determined, it's time to delegate.
In Kraftblick, when we streamline some processes, for example, writing a quality article, we create checklists or write step by step plans for our new employees.
They follow these plans and implement these processes by themselves. It saves time and ensures that everything will be completed according to the written plan.   
Raad Mobrem, CEO of the order-management software Lettuce, shares his experience:
"When something needs to be done, we can walk an employee through our current processes and say, 'Here's what we like to do, and this is how we do it.' It's a clear path of where we're going and how we do things."
If you notice that there are repetitive patterns when performing tasks, structurize them, make an instruction and delegate them to your staff.
2. Administrative Tasks
These are all tasks that seem quick, but if you were to add them up, on average, they would consume a lot of time. However, if you were to delegate them to a personal assistant, it could add a bit of free time to your average working day.
Administrative tasks may be, for example, scheduling your calendar and appointments, making phone calls, booking travel plans, writing correspondence and sorting through it and so forth.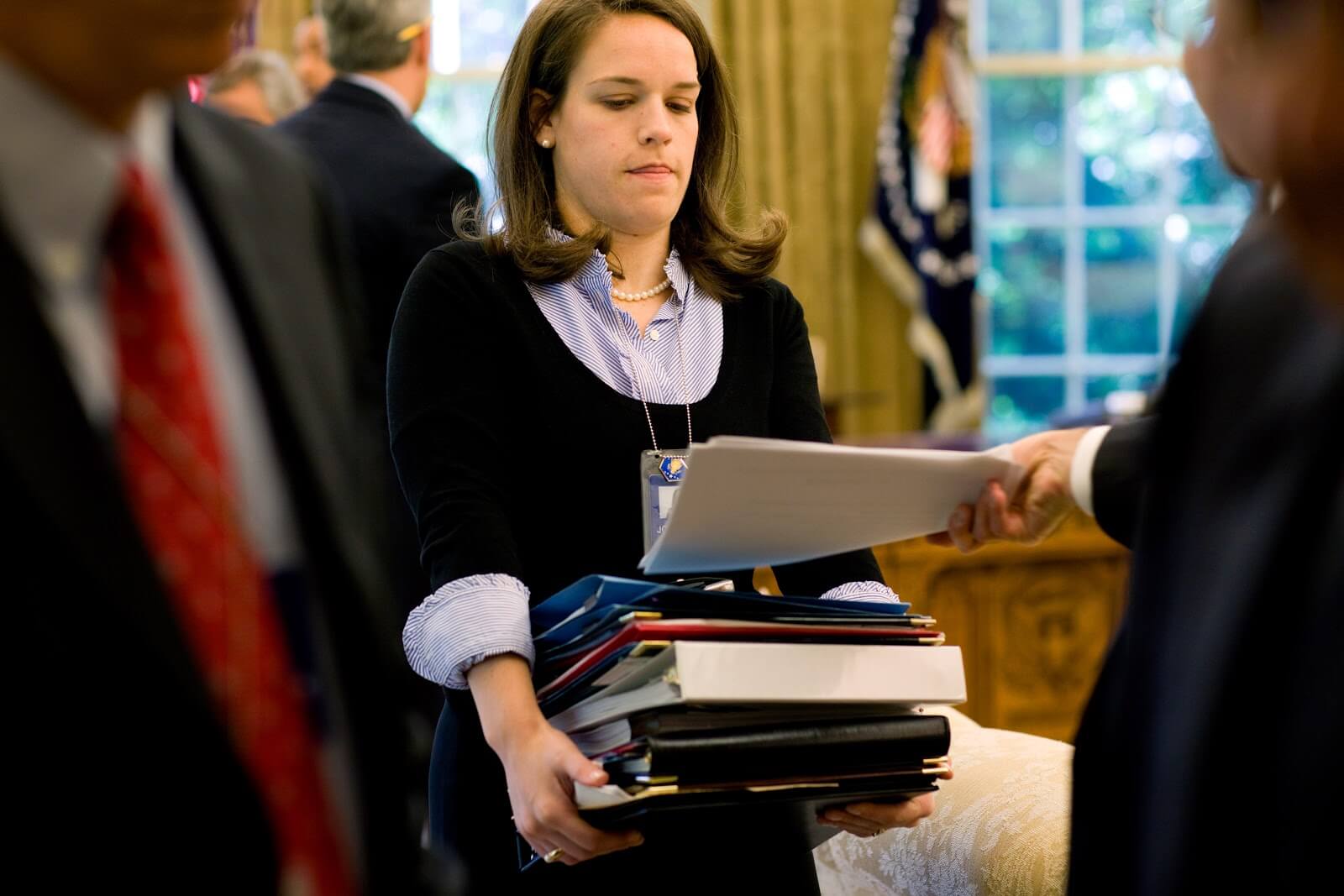 Hire a personal assistant who will perform all the administrative tasks. (Source: wikimedia.org)
Paul Statham, Founder and CEO of Condeco Software, says:
"Behind any great executive is a brilliant personal assistant, whose ability to know what is needed to help the business run smoothly can help transform a company."
Thus, hiring an assistant will free you from performing regular administrative tasks.
3. Finance, Accounting, Bookkeeping and Tax Filing Outsource
Accounting is a huge portion of work that is time-consuming. It includes sending out invoices, inputting financial information, running payroll calculations, and many other tasks.
Joonas Ahonen, BBA, entrepreneur shares his financial experience:
"Where I live, accounting is usually outsourced when the company is being founded. We have lots of accountants around with their own companies and since what accounting does is pretty much defined by law, there's no reason to hire someone when you can buy it as a service for a relatively low price."
Outsourcing can be considered as a way of delegating. The only difference is that if you outsource, you are delegating  tasks to a company, agency or person who doesn't work for your company.
Outsourcing Finance & Accounting services is expected to increase in growth over the next few years. The main reason why companies begin to outsource is that it leads to cost savings, more efficient processes, and accurate reporting.
The most commonly outsourced services within accounting are payroll accounting, accounts payable, and accounts receivable.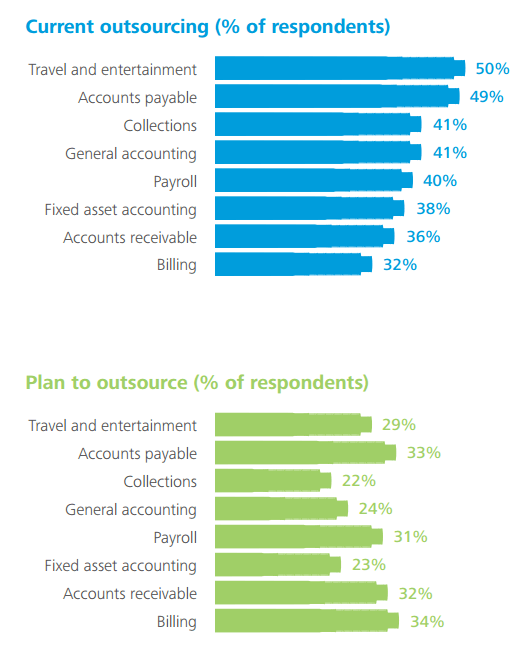 Source: Global Outsourcing and Insourcing Survey Report by Deloitte
Jag Dalal, managing director of thought leadership at the International Association of Outsourcing Professionals (IAOP) says,
"That [accounting] allows a company to have continuous improvement in their accounting and finance operation, while the company itself can focus on its core competencies."
By delegating your finance, accounting, bookkeeping and other administrative tasks to your staff or outsourcing it to an agency you'll free yourself from routine work and save time significantly.
4. Marketing
You may create a marketing team with the staff you already have. Give trial tasks or projects to a staff member you trust, or to someone on your team who's expressed a particular interest in marketing and communications.
Alternatively, you can hire an experienced marketer and allow him/her to create a marketing team depending on the amount of money you have.
Marketing tasks may include posting on social media, blog posting, curating email lists, and so forth. Make sure the tasks is clearly articulated according to your expectations.
Gartner writes that up to 50% of digital marketing activities are outsourced.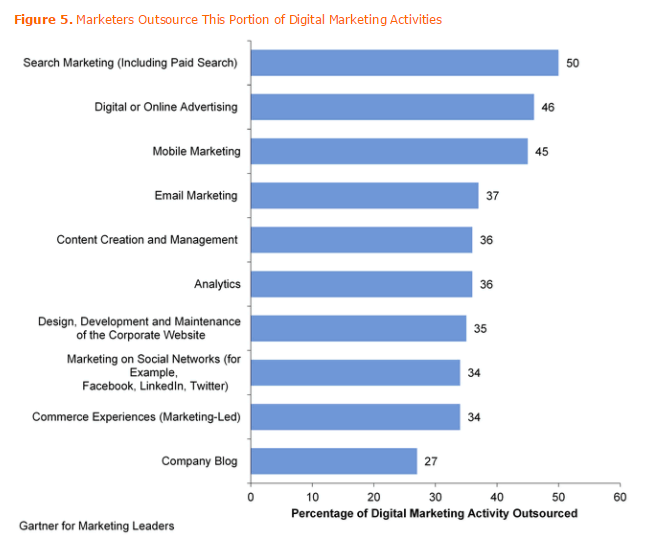 Source: gartner.com
In addition to finance and accounting, you may outsource marketing to an agency thereby reducing costs greatly.
5. Technical Support
Learning how to solve technical problems may take more time than hiring someone to handle it.
A good idea is to find a person who will technically support your customers, if it's needed and at the same time carry out different technical tasks at your office.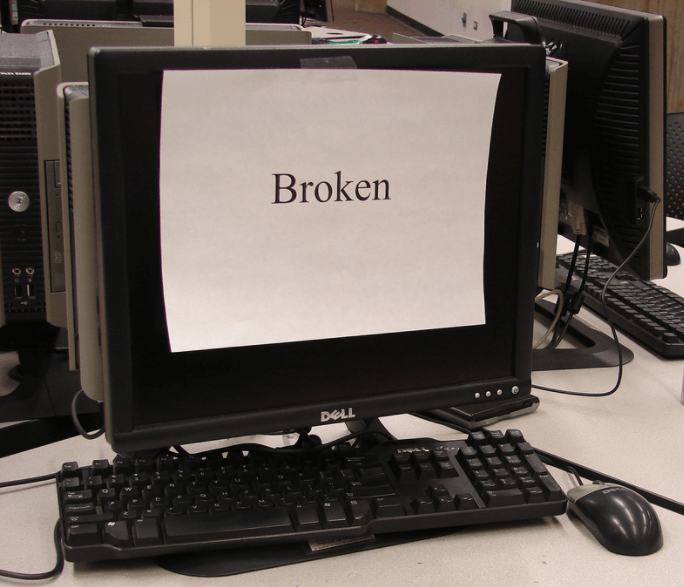 Source: flickr.com
You may train a member of your staff or hire an experienced specialist for this job. Outsourcing may seem irrational in this situation because when a computer or program fails to function, someone from another continent can hardly help you.
Now you know what to delegate. The next step is to know how to do it.
How to Delegate
Your delegation process should be well-set up to work properly. Here are some useful tips on how to make this process more effective.
Let Your Staff Do the Task by Themselves
The best way to teach your employees to become self-sufficient is to let them do the work by themselves.
Bob Marsh, CEO of Detroit-based Level-Eleven, says that when he wants his employees to internalize something he lets them complete the task by themselves:
"It helps people internalize it, because they've made their own thoughts and decisions on it."
Instead of thinking about how to provide instructions for a particular task, it's more efficient to tell your subordinate to take the lead on the activity, get the team together and produce the best practices.
With this type of approach, people become more involved in a task as they generate and discuss their ideas, thoughts, and decisions.
Don't Micromanage Your Team
Providing clear instructions is extremely important, but it doen't mean micromanaging.
Wikipedia defines micromanagement as "a management style whereby a manager closely observes or controls the work of subordinates or employees. Micromanagement generally has a negative connotation."
Micromanagement decreases your employees' motivation.
In 2014, Forbes.com contributor Kristi Hedges listed eight common causes of demotivation among employees.
While the causes are not listed in any particular order, micromanagement is listed as number one simply because it drives people crazy.
Harward Business School defined this demotivation as "Set-Up-To-Fail Syndrome."
Harward Business School states,
"When people are micromanaged, it undermines their confidence and their performance — creating a vicious cycle where the delegator micromanages even more."
Give your subordinates plenty of rope to make decisions and be responsible for them. This will prevent the feeling of being micromanaged and allow them to stay motivated.
Conclusions
Not delegating may have extremely unpleasant consequences. To be a good and healthy CEO, delegate every possible task to staff, freelancers or agency.
There is a list of non-CEOish tasks that can be easily delegated:
– Administrative tasks (e.g. managing your calendar, scheduling appointments, returning phone calls).
– Accounting/Bookkeeping/Tax Filing (e.g. sending out invoices, inputting financial information, managing records).
-Marketing (e.g. creating ad, designing and placing ads, scheduling blog posts or social media content).
– External and internal support (e.g. customer and employee tech support).
Encourage your team to work independently and be responsible for their decisions and results. For these goals, don't micromanage your subordinates, give them opportunities to carry out tasks by themselves and encourage them to ask the right questions.
To your opinion, how important is delegating? Share in the comments section.

Done with reading? Now you may want to check this: