How Startup Companies' Blogs Should Differentiate from the Blogs of Large Companies. Part I
Note: We wanted to create a detailed and useful post on startup blogs, which is why our article came out quite voluminous. So we have divided it into two parts.
In part one of the article, we will discuss how startups differ from enterprises and how these differences influence content production. We will also consider the reasons why startups should not blog like large companies.
In part two, we will share some useful tips on how startups can improve the effectiveness of their blog.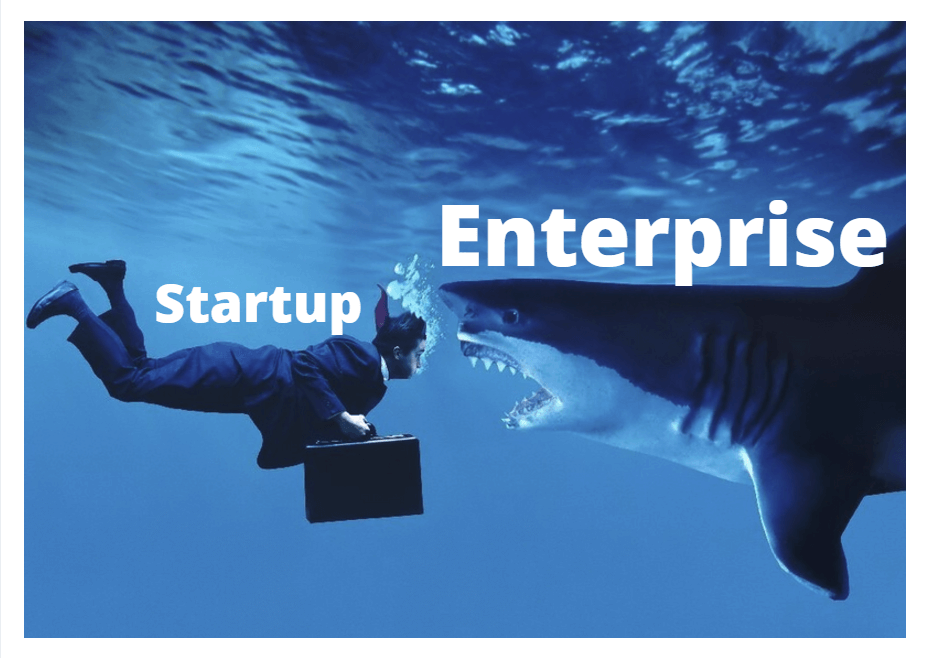 What will happen if a startup which produces augmented reality devices, for example, blogs in a laboriously "clever" style? Or if the company tries to aim at five different target audiences?
Nothing good. It will probably miss the right target audience and, consequently, no one will take an interest in their blog posts or even in their product.
One of the reasons for this may be that business owners follow the example of big and successful companies when trying to improve their own blog.
How Can Kraftblick Help Your Software Company?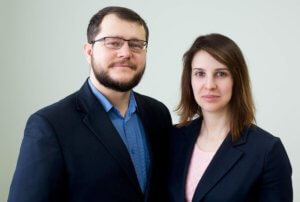 See you soon 🙂
However, adopting the methods of larger companies without considering the specifics of your company can do harm to your blog because blogging for large businesses is done in an entirely different way.
In this article, we will consider what the crucial differences between startups and large companies are and how these differences affect the way they deal with blogging.
Moreover, you will find out what this dog has to do with all of this: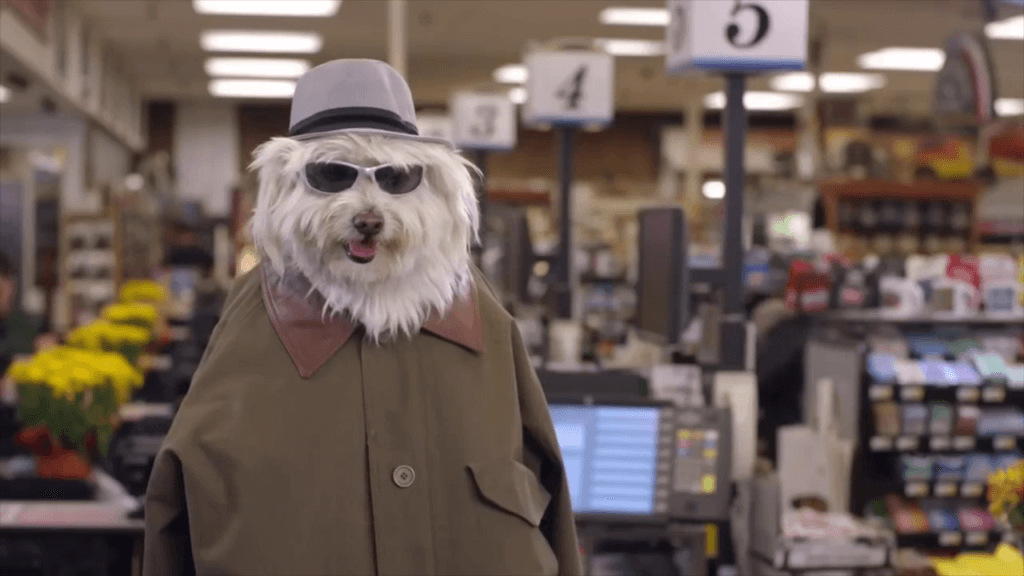 Source: youtube.com
Defining a Startup and a Large Company
It is quite easy to describe the concept of a large company. Many experts have given precise definitions of it.
For example, the National Institute of Statistics and Economic Studies says that a large enterprise is a company that "has at least 5000 employees" or has an annual turnover greater than $1.6 billion and a balance sheet total of more than $2 billion.
So, when hearing the words "large company" or "enterprise," we will probably imagine huge and wealthy companies such as Microsoft, Apple, Google, and the like.
As for startups, there is no universal definition of them. Moreover, today companies that have already been on the market for five years could still be considered startups due to their slow development.
Startups are usually small groups of enthusiasts or people who are driven by some dream or idea.
As Julie Zhuo, product design VP at Facebook says,
"Startup is a lifestyle, not simply a job, because it's difficult to separate the success or failure of the startup with the success and failure of yourself and your career."
We will try to define a startup by material criteria such as budget and the number of employees.
Take, for example, the "50, 100 or 500" rule by Alex Wilhelm, an Editor in Chief at Crunchbase, that will help define a startup according to its budget:

Source: techcrunch.com
Let's say that your company is going to make a $49 million or less in revenue on a forward year, has 99 employees or less and is worth less than $500 million, then your business can be called a startup.
Now that we have clarified the definitions of a startup and a large enterprise, let's consider the differences in the way they approach blogging.
How Blogging for Startups and Large Companies Differs
Startups and large companies have different goals
A startup may have a lot of specific and small goals. For example, finding and allocating money to buy certain technical equipment or hiring a specialist dealing with PPC, and so on.
Although, strategically the only goal of any startup is to bring the value of its new and unique product to people with the confidence that they can "hook" potential customers and become very successful.
Julie Zhuo states,
"Startups have one goal: make something valuable enough that people will actually use it."
So, their blog articles will mainly deal with topics related to their product or service.
Here is an example of blog articles by Apixio, a company that offers its Medicare risk adjustment product. (Source: apixio.com)
In contrast, large enterprises are mostly engaged in continuously improving and upgrading what they have already achieved.
Julie Zhuo expresses the enterprises' attitude quite accurately,
"Big companies focus on growing what is already successful."
They are also interested in entering new markets, winning new target audiences, and probably dreaming about world domination.
A typical feature of large companies' blogs is that they are involved in covering and promoting various exhibitions and events that the business supports or sponsors and their new or updated services.

Source: blogs.microsoft.com
Thus, we can say that content marketing for startups will be more focused on proving their credibility as well as showing their uniqueness to potential customers.
Large companies, with the help of content, try not to let customers lose interest in well-known products.
That's why big enterprises may regularly present their products from a new angle so that the audiences stay with the company.
Startups and large enterprises have different content marketing budgets and numbers of staff
Taking into account the "50, 100 or 500" rule for startups and the definition of a large company, we can see that startups and large companies have extremely different budgets.
Consequently, the opportunities for content production are not comparable.
For example, a startup may not have enough money to hire a lot of professional writers full-time.
That is why sometimes startups prefer to save money by delegating content production to one person who is already responsible for several other tasks.
In most cases, this person may be the CEO, CMO, or CTO who is doomed to work 24 hours a day.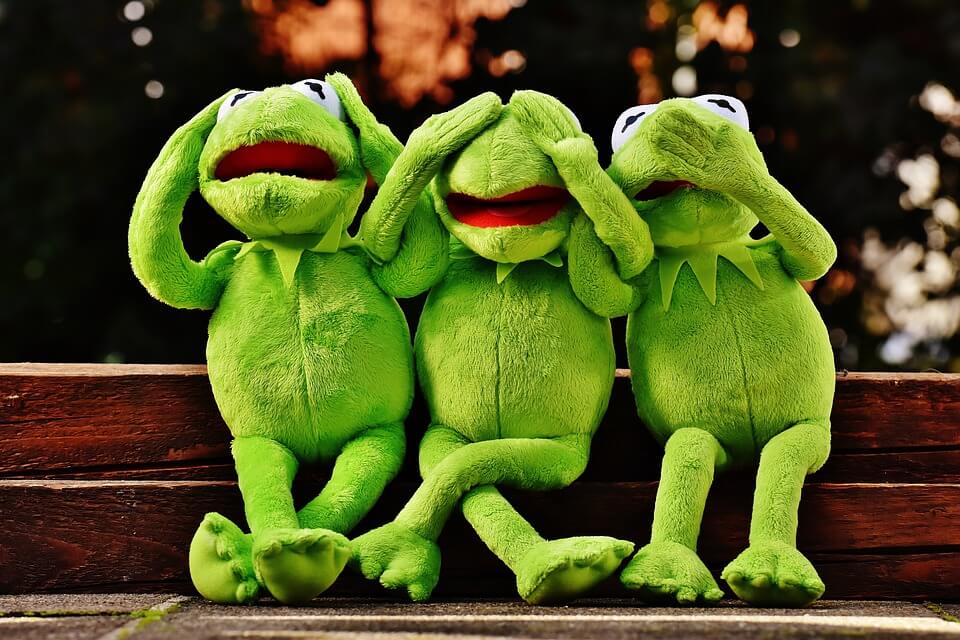 That's probably what the startup owners look like when they decide who of them will be the writer. (Source: pixabay.com)
On the contrary, large companies can afford to keep an entire staff of professional and experienced writers.
The Content Marketing Institute confirms that large enterprises have entire departments that deal with content: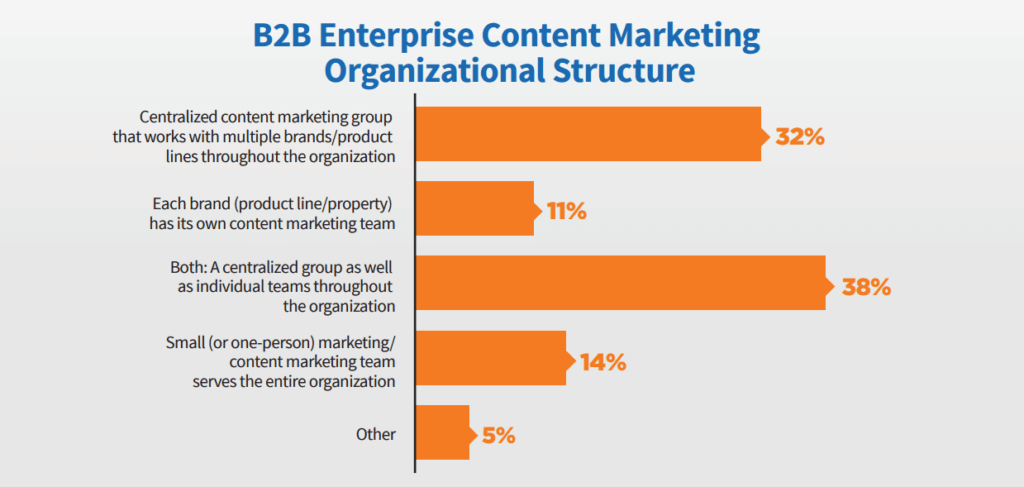 Source: contentmarketinginstitute.com
Moreover, large companies allocate huge funds for content promotion. For example, they probably would not hold the belief that paying for PPC advertising campaigns is an unaffordable indulgence.
Why Startups Shouldn't Follow the Example of Large Companies' Blogs
Many startup owners strive to adopt the strategies of large companies' blogs and hope to repeat these companies' marketing successes.
However, in most cases, their efforts do not bring about any positive results. Why?
Because startups may unwittingly aim at large companies' target audiences
Due to the peculiarities of human nature, we may unconsciously adopt behaviors from those we look up to. Psychologists call this phenomenon "behavior modeling."
For example, if you were to consider a particular person as an authority, you may unconsciously begin to adopt their facial expressions or behavior.
Hence, startup owners may also unconsciously adopt certain blogging features that are typical for authoritative large enterprises. But, in fact, these features may be completely inappropriate for a startup.
For example, by copying large companies' blogging approaches, you may switch from a topic related to your product and unconsciously create an article that is aimed at the wrong target audience.
You may also write about unfamiliar matters which might be a large company's specialization but not your startup's and would demonstrate incompetence.
Therefore, startup owners should avoid following the same approaches as large companies' blogs because they may lose their focus.
Because startups may unconsciously copy the writing style of large companies' blogs
Big companies' blog posts are written in a specific and official style which, in most cases, are not appropriate for startups.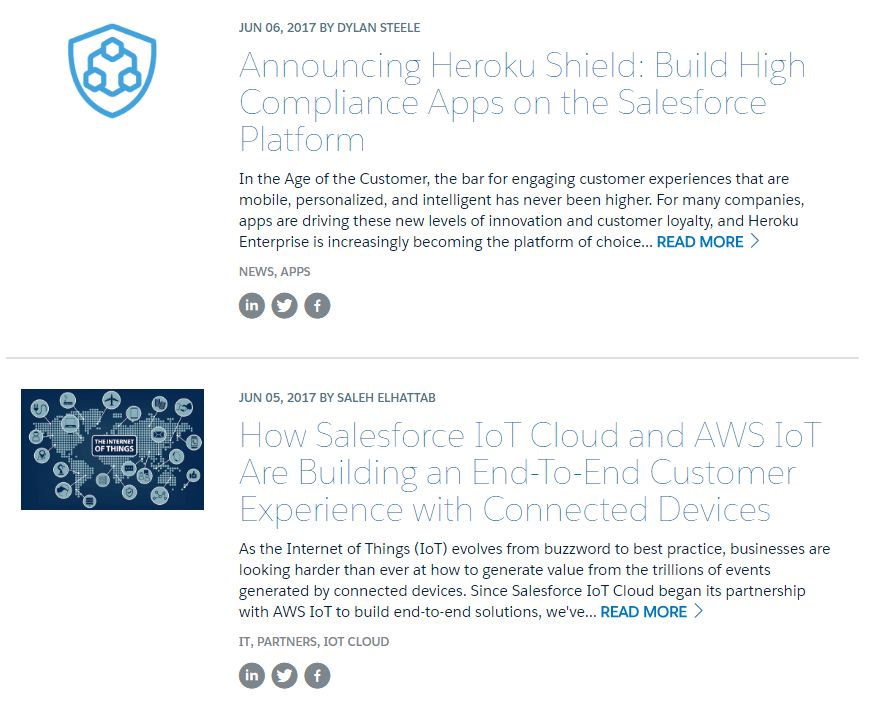 The content of large companies savors some officiality. (Source: salesforce.com)
If a startup posts articles that are written in a manner similar to a large and established company, it could give the impression that the startup owners are posturing and trying to appear more experienced than they are in reality.
This is because people will still perceive them as the owners of a small unknown startup that has yet to earn a good reputation and are already trying to behave as though they have a big company.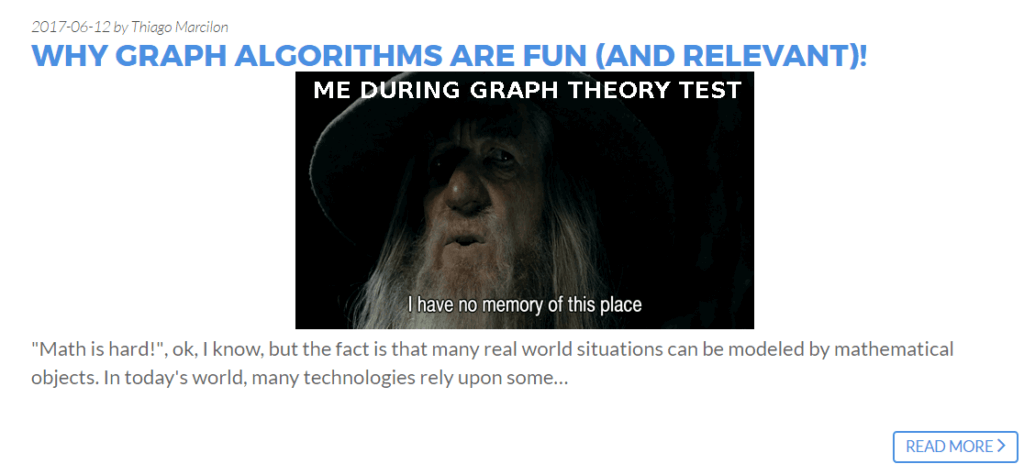 This style is more appropriate for a startup: humor, memes and a more catchy presentation of the material. (Source: dailydrip.com)
Do you remember the dog from the beginning of the article? At first, it seems as though the picture does not match the contents of the article.
However, in fact, it serves as a metaphor for what owners of startups look like when they write pretending to be very serious: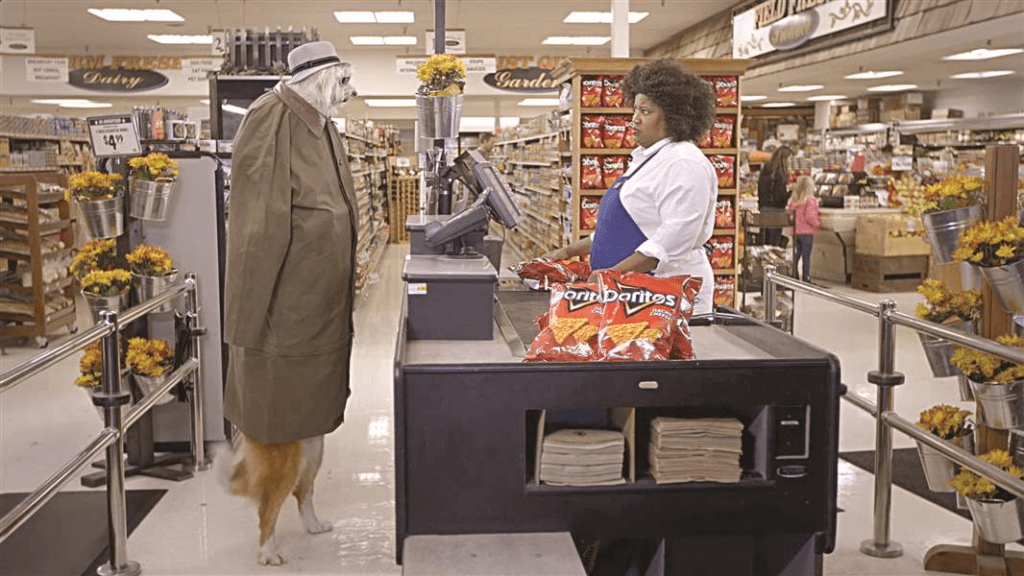 A dog trying to look like a man in order to purchase products  (Source: toledoblade.com)
Because of this reason, startup owners should approach their tone of writing carefully. Part two of our article will tell you in detail how to do it.
Conclusions
Startups should not adopt all the blogging practices of large companies because without proper consideration they will miss the right target audience. Consequently, no one will take an interest in their blog posts or even in their product.
Startups and large companies have different goals, budgets, and numbers of staff. All of this influences their blogging approaches
Startup owners also shouldn't use the example of large companies' blogs because they may unwittingly write with consideration towards big companies' target audiences and unconsciously copy the writing style of blogging for large corporations.
In part two, we will share how startups should blog and give some practical advice.
Done with reading? Now you may want to check this: